Strava Business: How to advertise your brand on Strava
Strava is one of the best ways for brands to connect directly with the athlete. Strava Business is a platform that has been established to effectively advertise brands to extremely focused target markets – essentially users already engaging with the products. Strava advertising is a must for all sports brands in the future, breaking down geographical and time barriers that could potentially prevent effective athlete-brand connections. The aim is to create a Strava Marketing Strategy.
We are witnessing a shift in the marketing world, where athletic focused advertising is no longer as effective in the form of annoying 'pop-up, in your face' ads, but integrated into physical challenges, clubs, and the athletic activity itself. This is a win-win for the business and the athlete. Luckily, Strava Business exists to help brands reach athletes directly. 
What is Strava Advertising?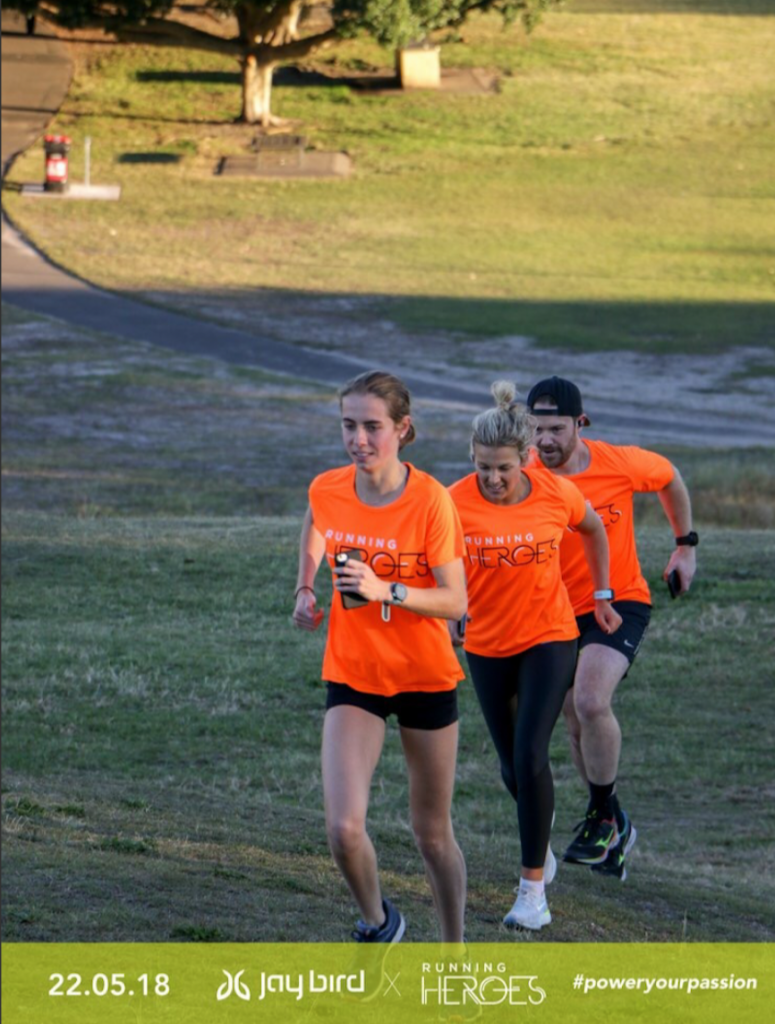 Strava allows its brands (which they call 'partners') that have connected with the platform to establish connections with motivated athletes from all over the world, from many different athletic disciplines, with a variety of goals. That's a market waiting to be tapped in to. I recommend establishing what your brand goal will be when establishing its presence and forming an athlete-brand based community on Strava. Think creatively. If you're a sports watch brand, you can use Strava to highlight particular activities and segments to promote a certain model of your watch. Polar has done this, and Strava wrote a case study on it which you can read here.
In my screenshot below from a Parkrun, I completed a few years ago, I even listed the watch I was using – A Garmin Forerunner 735XT. This is a form of brand exposure via an athlete on Strava. See it like this – if a well-known athlete with a large number of Strava followers completes a race, the activity upload is going to get a lot of traffic. The traffic/athletes viewing the activity can see what gear the athlete used, and are more likely to go out and buy the same gear.
Athletes on Strava are diverse. There are road runners, trail runners, track runners, cyclists, swimmers, hikers, kayakers, surfers, skiers.  The list is long, and they're all on Strava. I personally follow athletes from all of these disciplines and also use my own Strava for running, swimming, cycling, skiing, and surfing. These connections can be formed via:
Establishing sponsored virtual challenges for athletes 

Creating clubs athletes can join – these form communities which brands can directly engage with. 

Just as on Instagram and Facebook you can directly engage with athletes. Whether this is via 'Kudos' (Likes), commenting on activity uploads, finding athletes on leaderboards from segments and routes, shared activity uploads. These features are all a part of the camaraderie and fun that have allowed

Strava to build a platform of over 50 million athletes from 195 countries. 

Sponsored Integrations 
I'll break down these components of Strava Business for effective Strava Advertising below. 
Strava Challenges: Sponsored Challenges to introduce and engage your audience
Strava Challenges allow your brand to directly engage with athletes and keep your brand at the forefront of their minds. Athletes thrive off challenges, and its a cyclical process too. Once we complete one challenge, we become hungrier for the next. Trust me, I'm one myself. We don't settle, and the motivation and friendly competition Strava fuels with its challenge leaderboards, kudos, commenting feature, and reward incentives only fuel the fire. See the screenshot below of an example of a UK based club challenge I'm currently completing from the US/Australia. The 2020km in 2020!
I noticed that they're currently advertising a club event (see the blue URL link) – a virtual monthly 5k race. I clicked the link, and was taken to this page, where I could join the race and even invite friends to join me:

As a brand club page, you could set challenges just like the one above.
Challenges are completely customizable. You can choose:
The duration of the challenge – it could be 1 week or 1 month

Age – you have the option to open the challenge to certain age groups only

Who can enter – it can be a private club challenge, or open to all of Strava. You choose your field. 

Gender competing – can decide to have all race results compiled as one, or categorized into gender results. 

The sport for your challenge – eg. running, swimming, cycling

The style of your challenge – it could be run a half-marathon as fast as you can, complete this specific trail route as fast as you can, or run for 20 hours this month. Be as creative as you like with this. The more diverse you can offer, the better. 
Challenges facilitate the process of continual user-brand re-engagement. By setting regular and interesting challenges, and providing reward incentives, users stay interacting and engaging with the brand and motivated to virtually compete. Clubs can post challenges by posting on their club page and inserting a segment link at the end of their post. See the screenshot below from the Boise Summit Series Club Page for a brief example:
Challenges increase brand exposure and therefore new potential customers. Other Strava users can see their friends complete challenges through activities posted in their feeds, and friends also get notified when their fellow athletes join a challenge. Strava will then ask if you'd personally also like to join the challenge with a simple click of a box in your personal activity feed.

Another perk is that the Athlete's personal profile/dashboard has a featured gallery of the current challenges they are participating in, alongside a virtual trophy cabinet presenting the challenges they have completed. Athletes can track their progress in a challenge anytime, via their personal profile, activity upload, or on a club page. Athletes will also tend to post their challenge completion on socials – even better for your brand.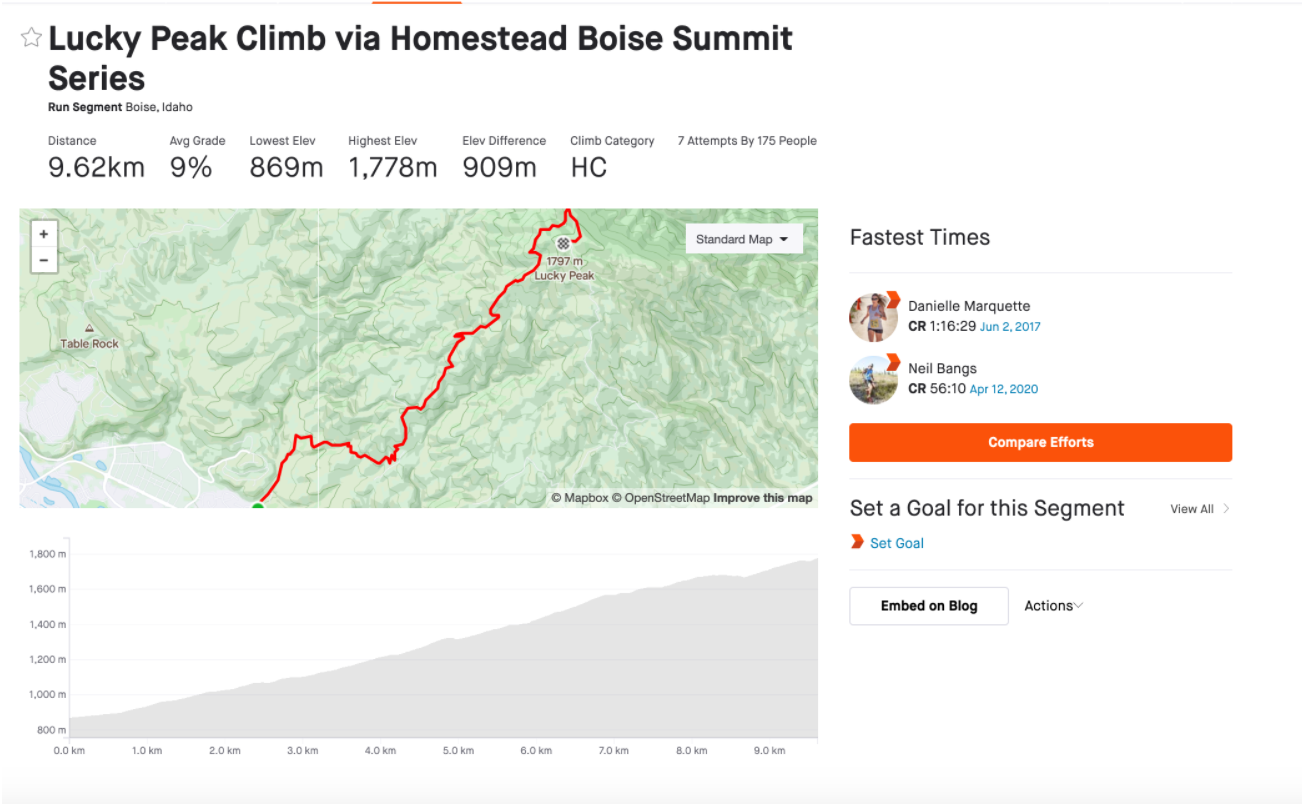 A screenshot of a segment (route) that is being used as a virtual trail race on Strava, facilitated by the Boise Summit Series Club.
Strava Challenges are a new form of sports-focused advertising. The brand in a sense, is the instigator for the athlete to continue participating in challenges and setting new goals. This is motivational and has a positive influence on potential customers. This is very different to a traditional marketing advertisement. 
Challenges facilitate a community brand experience for athletes. Athletes will begin to associate a positive and 'human' feeling to the brand. It won't seem like just another label. With Strava, this is often one of fun, camaraderie, and friendly competition. 
You can reward your participating athletes and community – challenges have incentives. Athletes who complete the challenge will receive a finisher's badge in their digital trophy case, displayed on their profile.
You could also choose to offer product discounts, such as online store discount codes, race entries, tailored experiences. I've even seen local club based challenges offer physical prizes. I personally won a challenge and collected a physical prize in-store. The store had set-up its own Strava running club, complete with challenges and prizes. 
Using Strava Challenges to promote your brand is an extremely effective and innovative way to engage a community that has already established a common interest in the sport, they likely have similar goals alongside drive and determination to take on new challenges.
On their website, Strava explains the benefits of sponsored Strava challenges are brand building, meaningful customer interactions, and conversions. I'll explain in my own words below: 
Brand building – Think of it like driving new traffic (customers) to the brand, and capturing their attention.

Meaningful customer interactions – provide content they can engage with, and then interact with the community. 

Conversion – We nurture the athletes to further engage with the brand and be a part of the larger brand community. 
Strava Clubs: Cost-effective athlete-brand strategy
Strava clubs are free to create. This is one of the most cost-effective strategies to promote your athletic or sports brand on the internet and more specifically – social media platforms. Strava has cleverly taken the idea of a physical sports 'club' – complete with a community feel, camaraderie, friendly competition, organized events, members from all walks of life and with similar interests – and made it a virtual reality. This breaks down geographical walls and therefore expands brand exposure to athletes remarkably. 
Clubs are very easy to set-up. This process is carried out directly through your Strava profile, under the "Explore" tab → "Create a Club" black icon on the top right as shown in the screenshot below. You'll then be guided through the user-friendly prompts. 
Strava clubs facilitate athletes to engage directly with your brand and feel a part of a larger brand-focused community. This is especially true when your personal Strava Business Brand Strategy involves challenges that can be integrated into your club. Let's look at Red Bull Australia Club as an example – see the screenshot below: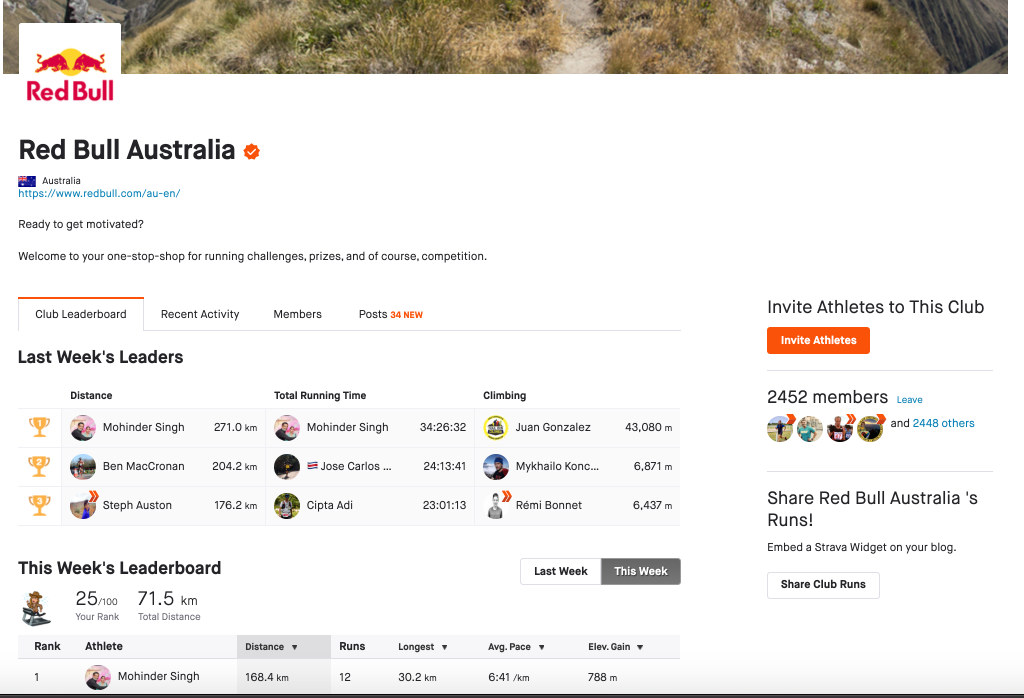 I can see that some of my Strava friends are also apart of the club, in the right-hand column where it says "2452 members". I can also see where I rank this week so far, and follow along on other athlete's training journies who also have an interest in Red Bull Australia and its associated interests (adventure sports, outdoors, action etc). 
Clubs allow you to target both local and international athletes, and can be established for any sport that Strava offers activity logging for. This could be cycling, running, swimming, mountain biking – you name it. The next task is promoting your club on Strava and on your social media platforms. 
Content – Brand Strategy via Strava Clubs – if your brand or organization posts content, such as blogs, you can publish the content directly to the club page, and athletes can choose to share it on their socials. Blog content posting is a must for any brand wishing to grow. Contact me here to learn more about the content-brand strategy. See the screenshot below for an example of content posting in the form of blog content on the Red Bull Australia club page: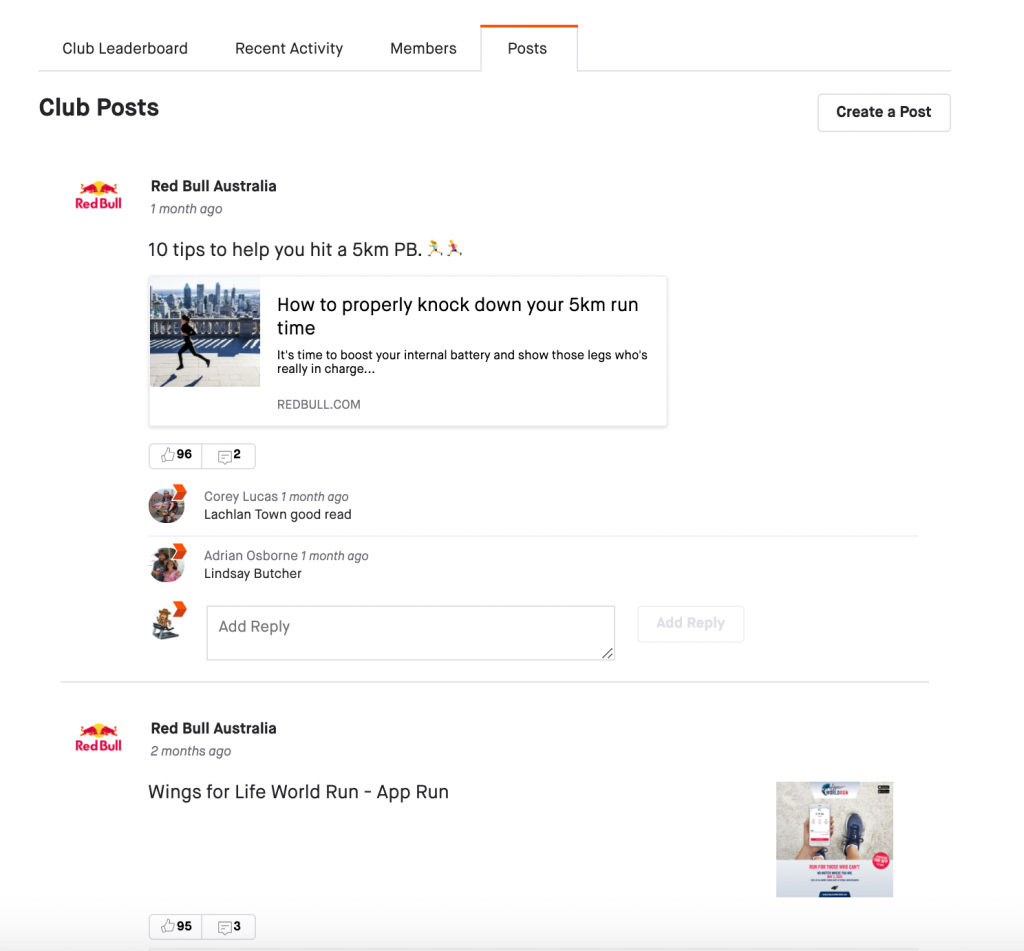 Your content will naturally gain exposure on Strava. The platform has established an algorithm that delivers every club post directly to the athlete's feed. Strava promotes on their website that athletes engage with club posts at higher volumes than traditional social media platforms. This is because Strava is a very athletic-specific social media platform. The members of Strava are already interested in sport, health, and the outdoors – let's take the guesswork away from targeted advertising. 
Want to join Run Rally?  It's a Strava club connecting runners locally and internationally that I personally manage. Click here. 
Strava Partnerships or Strava Partner Integrations
Strava Business allows athletes and brands to create 'Strava Partnerships', also known as sponsored 'Strava Partner Integrations'. When we talk about a Strava Partner Integration, we are discussing activities that appear on an athlete's feed that have a direct association with a Strava partnership brand. For example, a Zwift activity uploaded on to Strava will feature the Zwift banner on the activity itself, in the athletes feed. This will be visible to all the athletes following the Zwift user, and if the activity is labeled as public, it will also appear in any relevant club feeds they have joined. This is maximum brand exposure.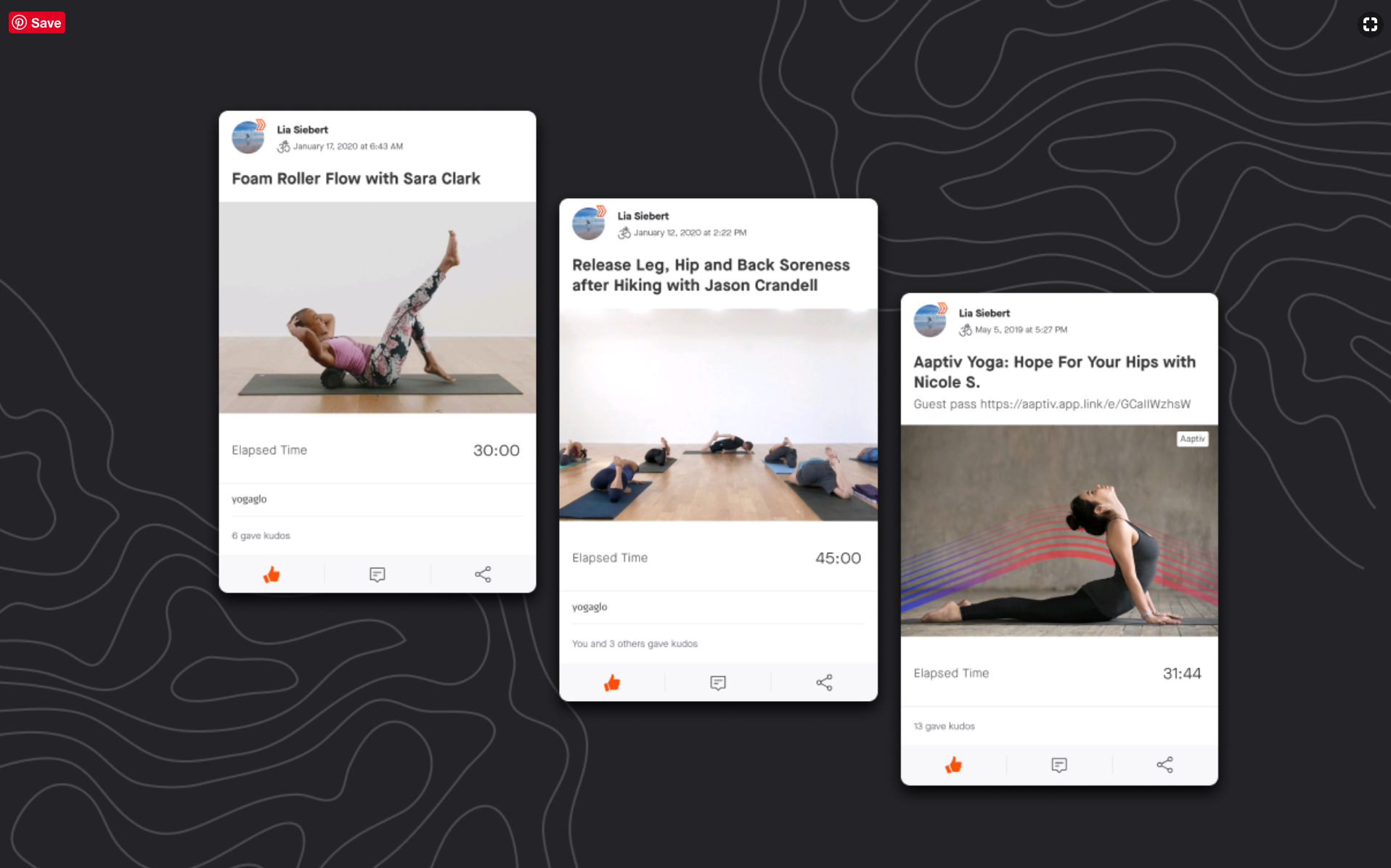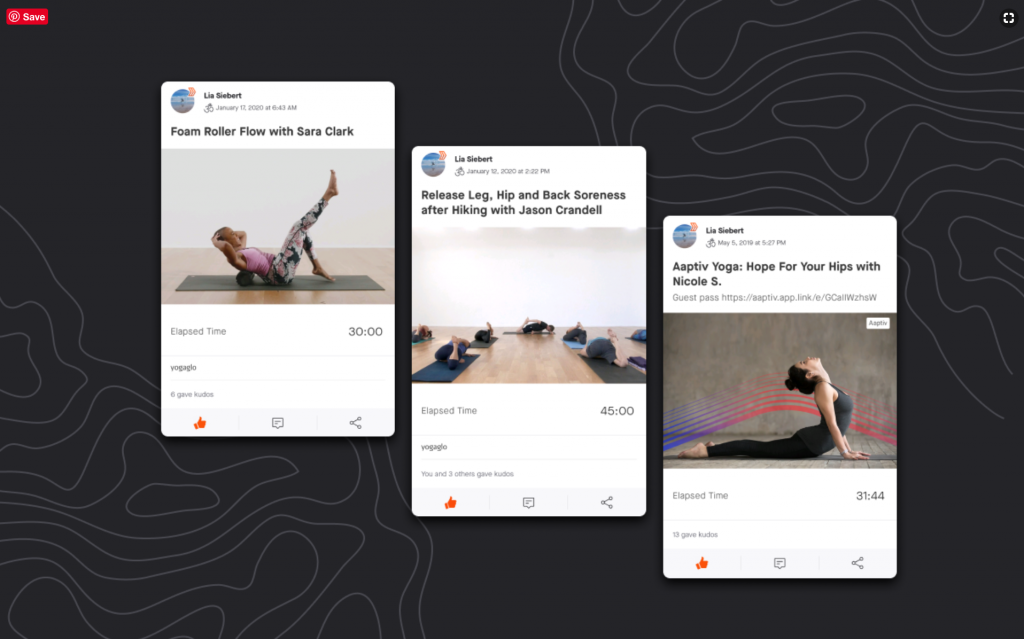 Strava has listed a number of brands that they have formed partnerships with on their website. To provide a few examples of well-known Strava partner integrations:
Zwift

– at-home cycling and run training game that connects these athletic communities virtually.
Peloton

– at home cycling workouts that boast a live and on-demand feature, and high-quality, professional coaches.
MindBody

– the app that connects people with fitness interests to local and online classes. Whether it's yoga, strength training, group runs, or spin classes. Mindbody has it. Mindbody connects directly with Strava, to make your activity uploads seamless.

Interestingly, as an activity uploader (the athlete), you have the choice as to whether you want your activity to upload with the recognized partner integration. This is found under Settings → Partner Integrations. 
Strava Community: Exposing your brand to 50 million + users
Strava explains that its platform allows brands to directly "interact.. with the most engaged community of athletes in the world." I personally can testify to this, as I use Strava myself, along with most of my Australian teammates. I have email notifications set up to notify me when a Facebook friend signs up to Strava. In light of recent world events, I have had influxes of emails notifying me of friends signing up – not specifically high-level athletes, but from all walks of life! It is essential that your social media marketing strategy is solid in today's increasingly online-based consumer habits. If you're a business owner of a sports brand, I can't stress the importance of establishing yourself on the Strava platform now and get in early before this is the new normal. 
How to Contact Strava and how to take the next steps forward. 
Strava has its own contact form to assist you with Strava Business queries. They specifically ask if you are interested in establishing a Strava Business model targeted at Challenges or forming a club. The form is available by clicking here. 
If you want personally tailored advice on how to effectively establish and grow your brand or small business on Strava, or develop a Strava Business plan strategy – fill out my form here, and I'll get back to you as soon as possible. Feel free to also join my communal run club on Strava, Run Rally. Click here.