Strava Premium Review: A Guide to Strava Premium
Strava recently made some changes to Strava Premium, which is known as Strava Summit. Some of the most well-loved features are now for subscription-only members. In this post, I'll review Strava Premium, and consolidate at the end whether it is worth the small cost. You'll have probably made your decision by then, anyway. 
I want to deviate for a bit and mention how I recently listened to an interview with Noah Kagan and Mark Gainey, one of the co-founders of Strava. Gainey discussed the early growth and scaling strategies of Strava – give it a listen here. What caught my attention most is how Strava was established with the "inch wide, mile deep" customer focus strategy. Gainey and Horvath value the user experience on Strava more than anything, and this is a testament as to why most Strava features were previously free. 
Gainey explained that their dedicated user base loves not only the Strava platform but the company of Strava itself, and what it represents. They decided to make most of Strava's previously free features behind the paywall. This is because, for $5 a month (the price of a coffee!), this dedicated user base is very likely to become a premium user. The analytical features, such as route planner, Strava segment creation, and leaderboards are worth it. When I recently read Strava's Brand Playbook, a quote stood out to me:
"Strava is a community of people devoted to putting effort into their activities. For them, being active is not a chore. It's part of who they are. They're people who balance their commitment with real-life" – Strava Brand Playbook
I also listened to Fitt Insider podcast with John Vennare, where he also interviewed Mark Gainey. This is also worth a listen, just click here. 
Strava Marketing Consultant
Hire me as your Strava Consultant – I work with individuals, clubs, businesses, and start-ups. Get in touch with the form below: 
What do you get with Strava Summit?
The new structure of Strava Summit unlocks all of Strava's features, some of which were previously free. They've recently integrated some new features too, such as the new "Training" tab in the mobile application which allows you to track and analyze activities on a week-to-week basis. 
Here's a quick breakdown of Strava Premium v Strava Free, which I pulled from the Strava Website: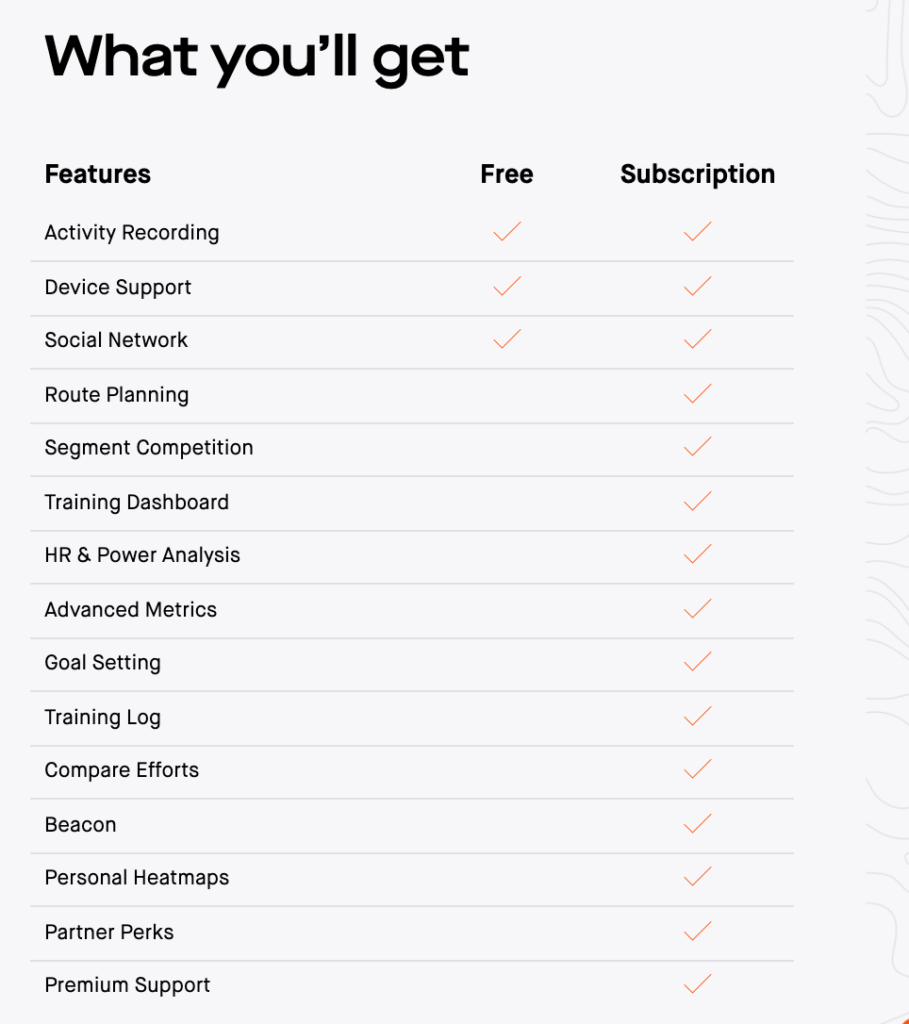 What does Strava Summit do?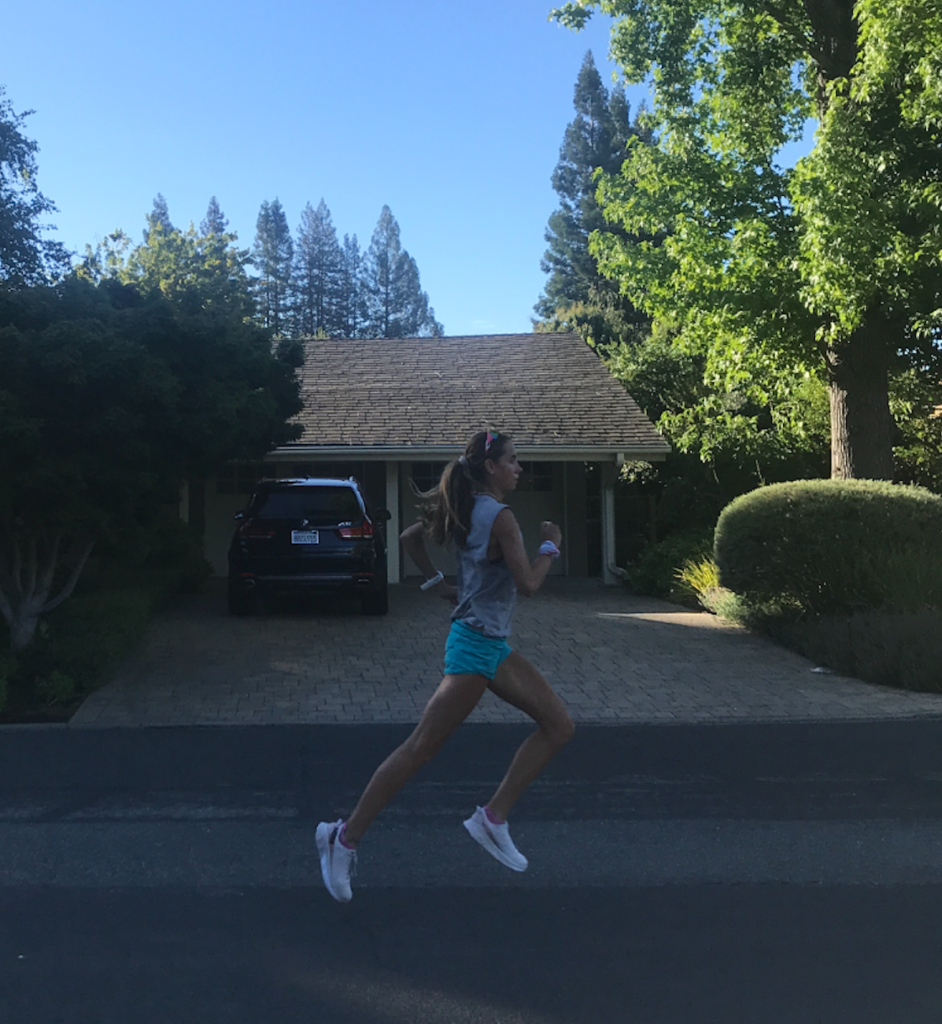 The free version of Strava no longer includes popular features such as route building, segment leaderboards, and advanced performance metrics. Free users will no longer be able to see entire segment leaderboards including specific metric rankings (such as age, gender, weight etc). Free users will receive access to view the top 10 athletes' rankings on segment leaderboards. 
To break it down (as per the Strava website as a guideline) – if you choose to subscribe to the paid service, you'll get access to:
Compete in Strava Segments: Compete on mapped out segments (snippets of road/path/trail plotted out as a route on Strava) and compare/keep track of past efforts on these segments. 

Access to a Training Dashboard/ Training Log: This feature allows you to track your fitness progression, and see what phase of training you're in. Below is a screenshot of what a training log on Strava looks like with the paid service. You'lll see it plots the longer workouts as bigger circles, and different coloured circles for different activity types (run, swim, hike, bike etc). The total distance is tracked off to the side, and you can see all the previous years of training since you've been on Strava. A great digital training diary and backlog!

To set personal goals: You can set time, distance and performance goals, and track your progress across each. See a screenshot below of what happens when I navigate under the "Dashboard" dropdown menu and hit "My Goals".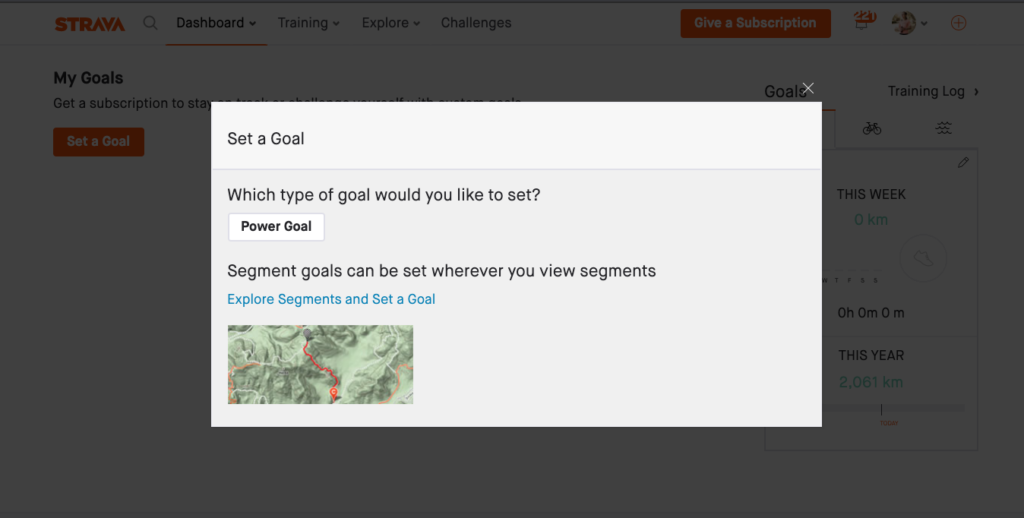 Analyze your training comprehensively: Through access to power data and HR data, Strava allows you to identify patterns in training and performance. Strava includes a Fitness & Freshness graph, under "Training" drop-down menu. For cyclists, there's a Best Effort's power curve graph which can be generated, under the same menu. Here's a screenshot of my "Fitness & Freshness" Graph. Strava states that they measure this through a combination of relative effort and power-based training load.
Plan and discover new routes: Strava can suggest routes for runs and rides (you can filter it to road/path/trail only on the map feature), based on GPS activity in that geographical area from other Strava athletes. To create a route, you hit the "Explore" drop-down menu and then hit 'Create a Route'. See a screenshot of the Strava Route Builder Screen below:
Safety Beacon: You can share your real-time location with friends and family via the app. This is a nifty extra feature to help you feel safe and supported on runs and rides. 
Access to a personal heat-map: This is an interactive visual map of all your runs and rides that you've completed around the world. I personally love this feature, all the highlighted coloured lines show where I've run, and the darker means I've run those areas more often. Take a look below for a screenshot as an example:
Access to Training Plans: Strava provides access to fitness apps (from acclaimed apps to start-ups) which provide training plans of all sorts – from ultra-running to road cycling. Click here to learn more, and gain access to a database of varied training plans. 
Strava has their own training plans for runners, available here, and for cyclists, here. Alternatively, you can access "Training Plans" via the drop-down menu on the Strava website. 
Strava released a statement in regards to this change and explaining the shift over of most of the popular free features to a subscription service:
"Dedicating Strava to the community is also a commitment to longevity. We are not yet a profitable company and need to become one in order to serve you better. And we have to go about it the right way—honest, transparent, and respectful to our athletes." 
How much does Strava Premium Cost?
Strava have decided to consolidate their package model previously into a single subscription package. Now Strava charges $5.00/month for an annual subscription, with the first 2 months free if users commit to an entire year. Click here to subscribe to Strava Premium if you're interested. Previously, Strava separated it's subscription services into packages (incl. Cost break down) such as:
Training – (1 yr, $23.99)

Safety – (1 yr, $23.99)

Analysis – (1 yr, $23.99)
You could do combinations of these packs, or subscribe to all three for a year, totaling $59.99. 
Is Strava Summit Worth it?
Well, since all of the features discussed above are, according to seasoned Strava users, the most beloved features, I definitely think it is worth sacrificing the cost of a cup of coffee a month for Strava Premium/Summit. If you enjoyed these features and engaged with them before they were placed behind a paywall, then it is little harm done to subscribe. Plus, there are some perks you could cash in on as a subscriber. See my screenshot below: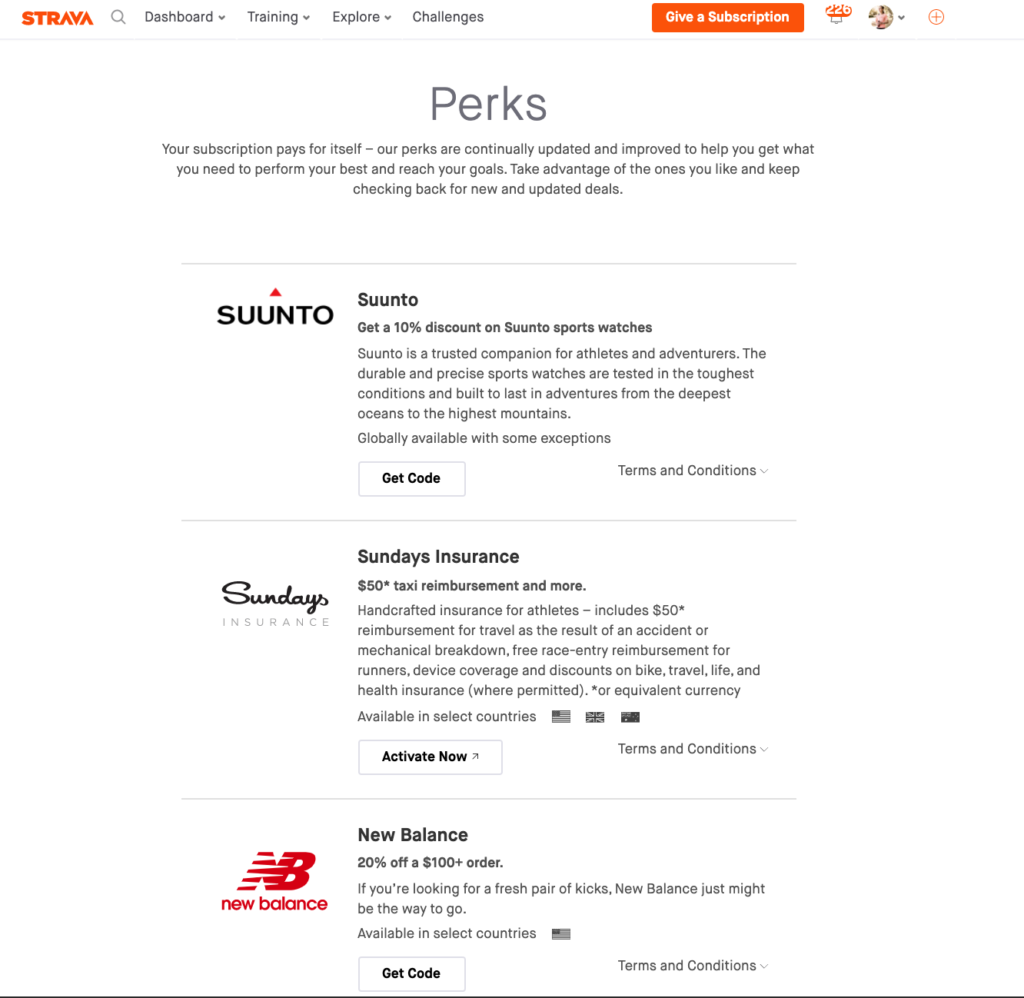 I reached the Strava Perks landing page (screen above) through hitting the "Explore" drop-down menu, and then 'Subscriber Perks'. If you scroll down, there are even more!