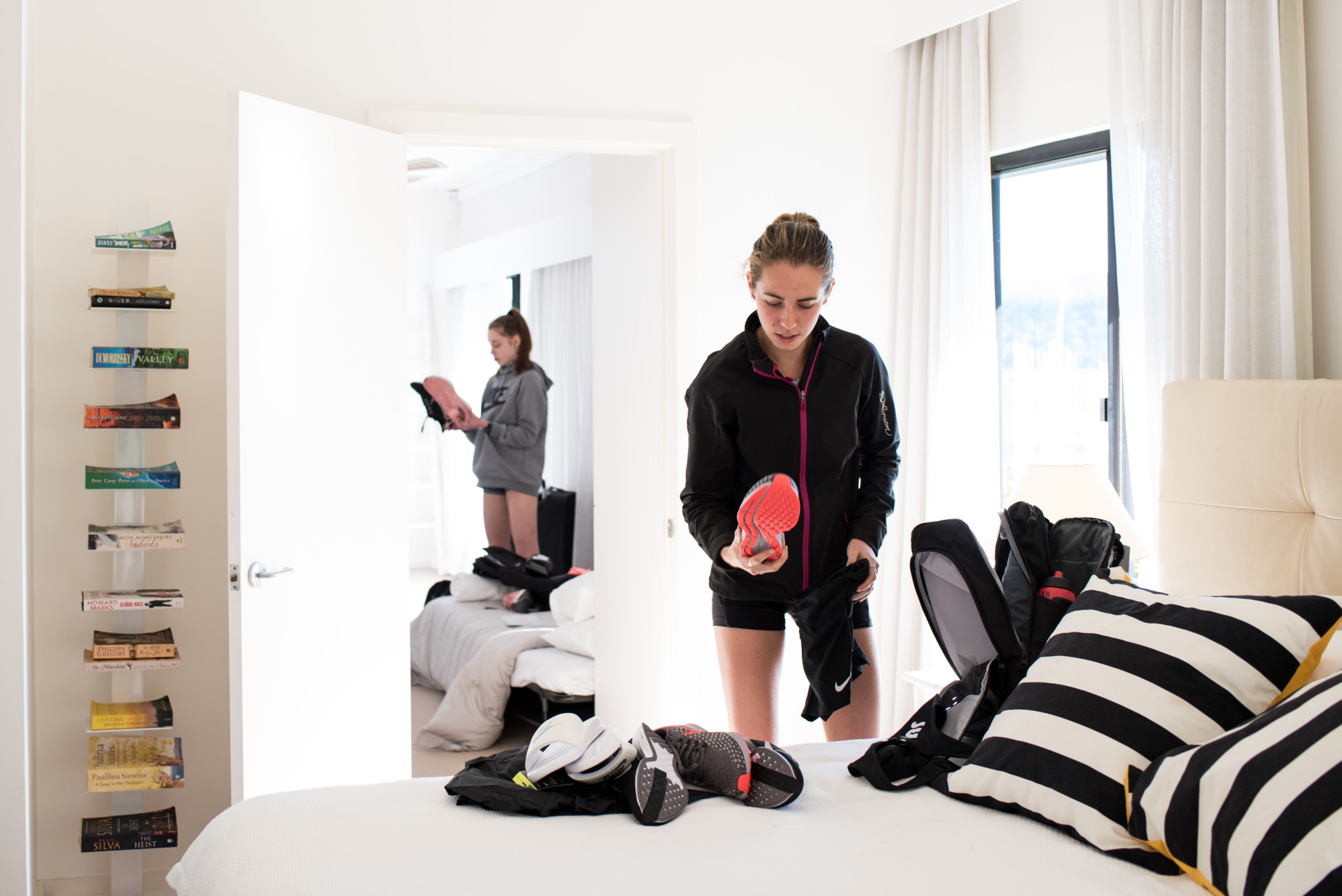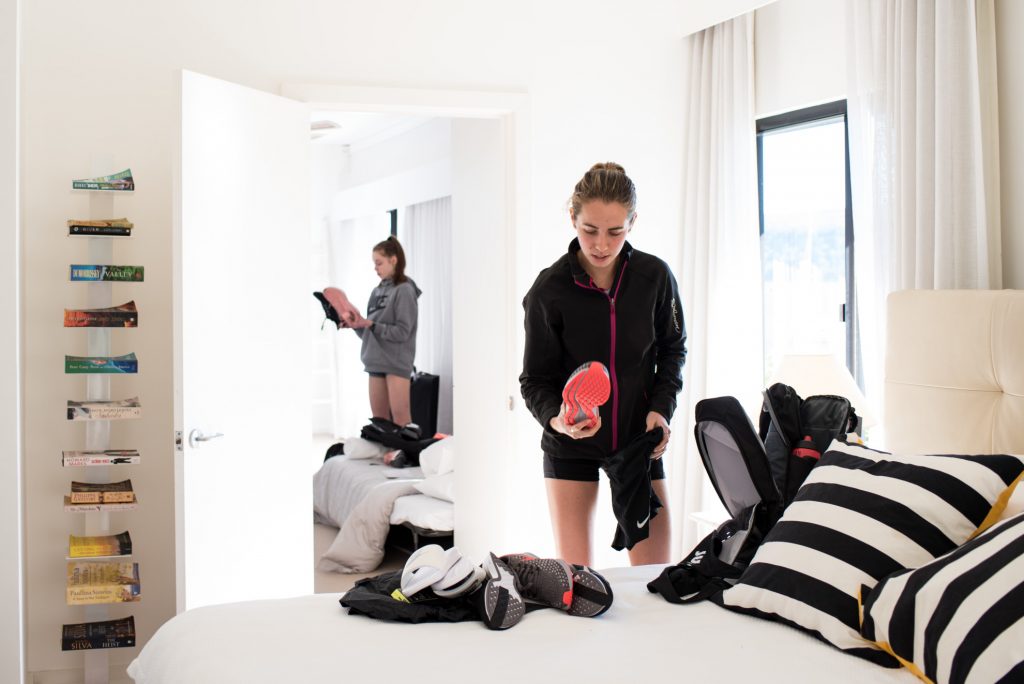 Credit: @thewolfferine – Tempo Journal
The Ultimate Guide to ASICS, Nike, Hoka One One, Brooks, and Saucony Road Running Shoes
Selecting the right pairs of road running shoes for your everyday jog or training run is super important, as it is likely to be the footwear you'll spend most of your time training in. Picking the best road running shoes doesn't have to be tricky. A bit of research can go a long way in making a purchasing decision. Even better if the shoe company will let you order a few sizes to try, and return the ones that don't fit. Sometimes the small business online running stores will allow you to do this if they are local to your area. 
In this first section of my best road running shoe guide, I explore some of the best road running shoes from two of the most well-known road running shoe brands: Nike road running shoes and Asics running shoes.
In the second section, I'll discuss Hoka running shoes, Brooks running shoes, and Saucony running shoes. 
Nike Running Shoes
Shoe 1: Nike Air Zoom Pegasus 37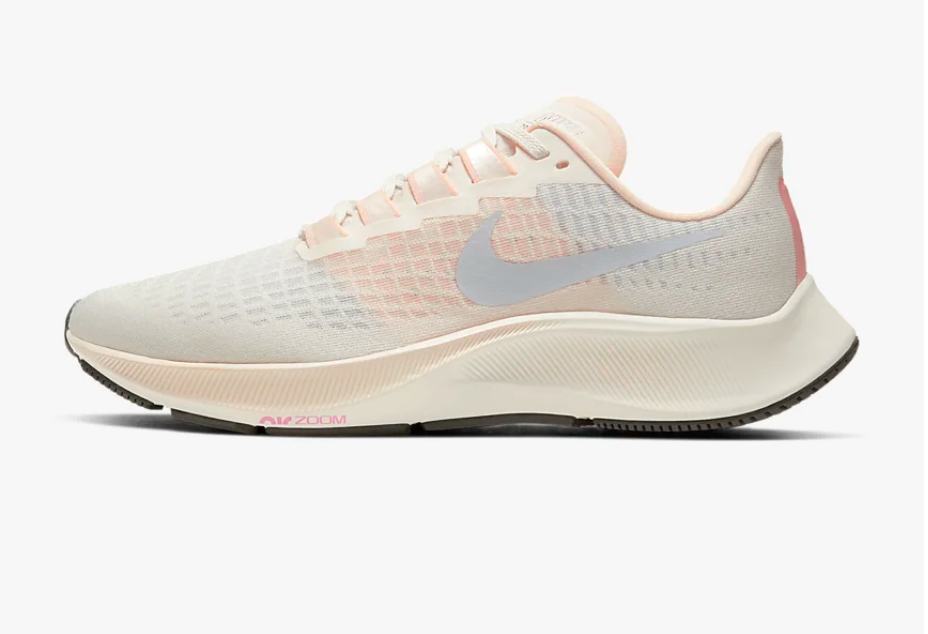 Side view
A well-known and widely used shoe, these guys are an all-around good training shoe. I particularly love using them on the roads and gravel paths. They also do work surprisingly well on trails. I put this down to the neutral structure of the shoe, cushioning in the foam, and flexibility in the upper. Too much rigidity makes the runner prone to an ankle sprain and not enough cushion is uncomfortable on rocky, spiky surfaces. Available in both a normal or wide fit, they cater well to different foot widths. I gathered from the website reviews of the Pegasus 37 that the shoe fits true to size. From running in these shoes personally, I can confirm this. I've never had issues that correlate with 'fit' when wearing the Pegs. 
In terms of shoe tech, Nike has utilized its 'Nike React Foam', which is intended to be cushioned and responsive. I agree, in my opinion, this is a very cushioned shoe, and it is noticeable whilst running. I like to use it for a few of my jogs and mid-length longer runs. I found that the shoe didn't need much time to be 'broken in', which is super nice with my consistent running and takes the stress out of thinking about that aspect of footwear.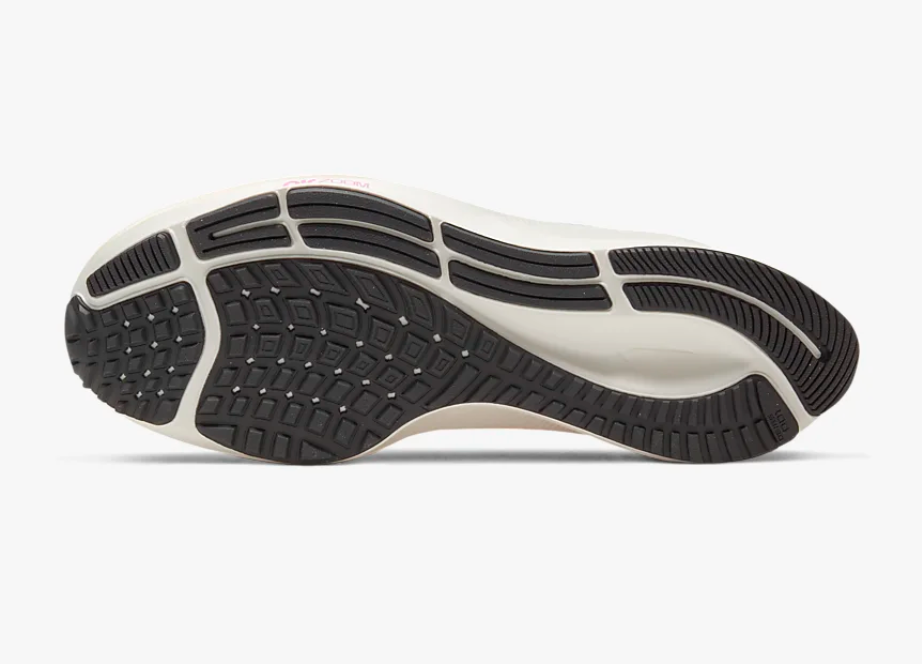 Sole View
I do however want to note that I find when you wear the shoe on a longer run, the foam tends to work better for the next run if you give it a day to 'recover'. I get around this by alternating the running shoes that I use. The shoe foam seems to have more spring if you don't use it on back to back days. Nike calls the shoe model's cushioning system  'Nike Zoom'. Nike states that it utilizes "pressurized air and tightly stretched fibers to absorb impact" and return energy to the runner, which in turn reduces the load stress on joints. 
The mesh upper (this is a shoe tech term, referring to the fabric part of the shoe) on the Nike Pegasus 37 is thinner than the Peg 36's, meaning it is more breathable however still retains the upper flexibility Peg users love. 
It has a 10mm heel drop. A pair of Nike Air Zoom Pegasus 37 is $120USD. Get yours here. 
Shoe 2: Nike Air Zoom Structure 22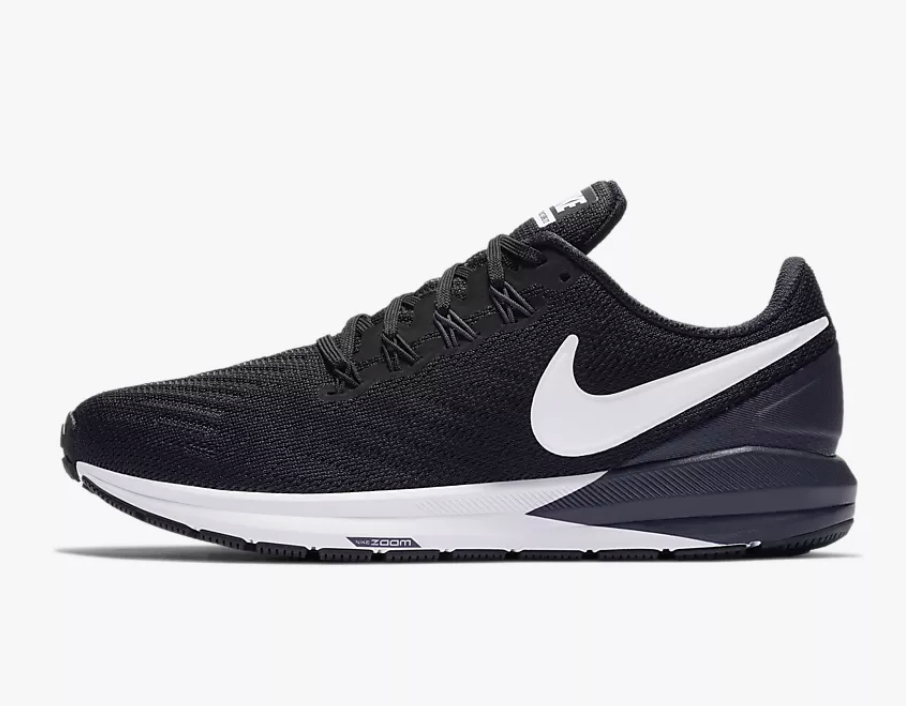 Side View
I also use the Nike Zoom Structure 22 shoe alongside the Nike Zoom Pegasus 37 as a part of my training shoe rotation. My foot structure is quite flat (I pronate, a lot!), meaning I'll often lean toward a shoe that has more structure for a general training shoe. This isn't as important in a race or speed work shoe purchase decision. The Nike Zoom Structure 22 offers more structural support and less cushion in the sole than the neutral Pegasus 37 shoe discussed above, so it makes for a good alternative shoe choice on every other day. I don't like to get extremely used to one shoe either, changing it up here and there allows for muscle adaption to a larger variety of scenarios, shoes, and surfaces. 
Nike promotes that the shoe is sleeker and more lightweight. I do agree that the Nike Structure 22 fits my narrow foot better than the model previous, mainly due to the thinner, tighter mesh upper. Nike has made their lacing system on this shoe better than I previously recognized before, as it hugs the top surface of my feet nicely. 
Sole View
Nike Structure 22 also has a 10mm heel drop. Interestingly, Nike has integrated what they call crash pad technology into the heel, to reduce the impact on joints, tendons, and ligaments upon foot contact with the ground. It also helps with the over-pronation correction process. I do notice the extra midfoot support in this shoe model, which is no surprise as it is called the 'structure' for a reason. 
Nike has integrated their 'Zoom Air unit' in the forefoot of this shoe, which provides a low-profile cushioning but retains the desired responsiveness, they explain. This shoe from experience is not as great on trails due to its supportive and structural features. It truly is a road running shoe for everyday use.
A pair of Nike Air Zoom Structure 22 comes in at $120USD. Get your pair here. 
Asics Running Shoes
Shoe 3: ASICS Gel Nimbus 22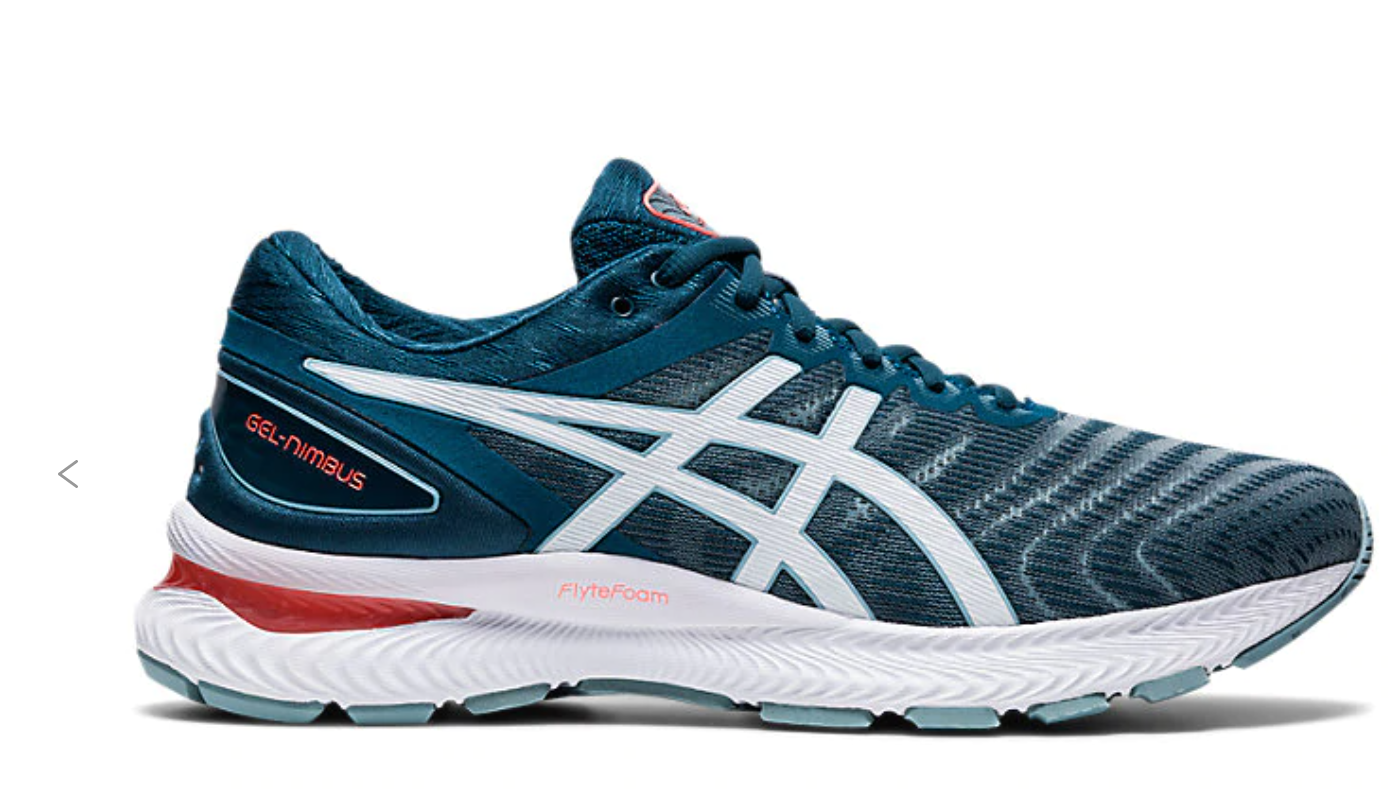 Side View
This is arguably Asics best neutral road running shoe for everyday use. I personally have tried the shoe and enjoy it for regular runs. Most Asics shoe users purchase Asics for the GEL, a defining tech feature of the brand's running shoes. The GEL unit in the heel of the shoe (shown in red in the above image) has the role of cushioning on the down-stride and providing a good level of responsiveness on the kick-back section of the runner's stride. For most runners, landing on the heel is the first point of contact with the ground in their stride, hence why the GEL is cleverly integrated into the heel of the shoe. Naturally, in human body functioning and biomechanics, the heel is designed to be able to absorb the most shock upon ground contact.
Asics have continued to utilize their trusty Flytefoam propel technology in the midsole of the shoe to enhance energy return. Asics note that their Flytefoam (a mixture of different foam materials) is 55% lighter than industry standards of foam in other running shoes. 
Sole View
Despite being a neutral shoe, Asics still ensures to include a stability piece (shown in black in the image above) underneath the arch of the food. I really enjoyed having this piece integrated, but not dominate the entire mid-section of the shoe as many other training/road running shoes have. It's modest and effective.
The mesh upper provides adequate breathability and is pretty supportive. More so than the Nike model road shoes. Nike traditionally tends to have less support in their mesh uppers, preferring a more flexible mesh technology fabric. 
The Asics GEL-Nimbus 22 comes in at $150USD. Get yours here. 
Shoe 4: ASICS GT-2000 8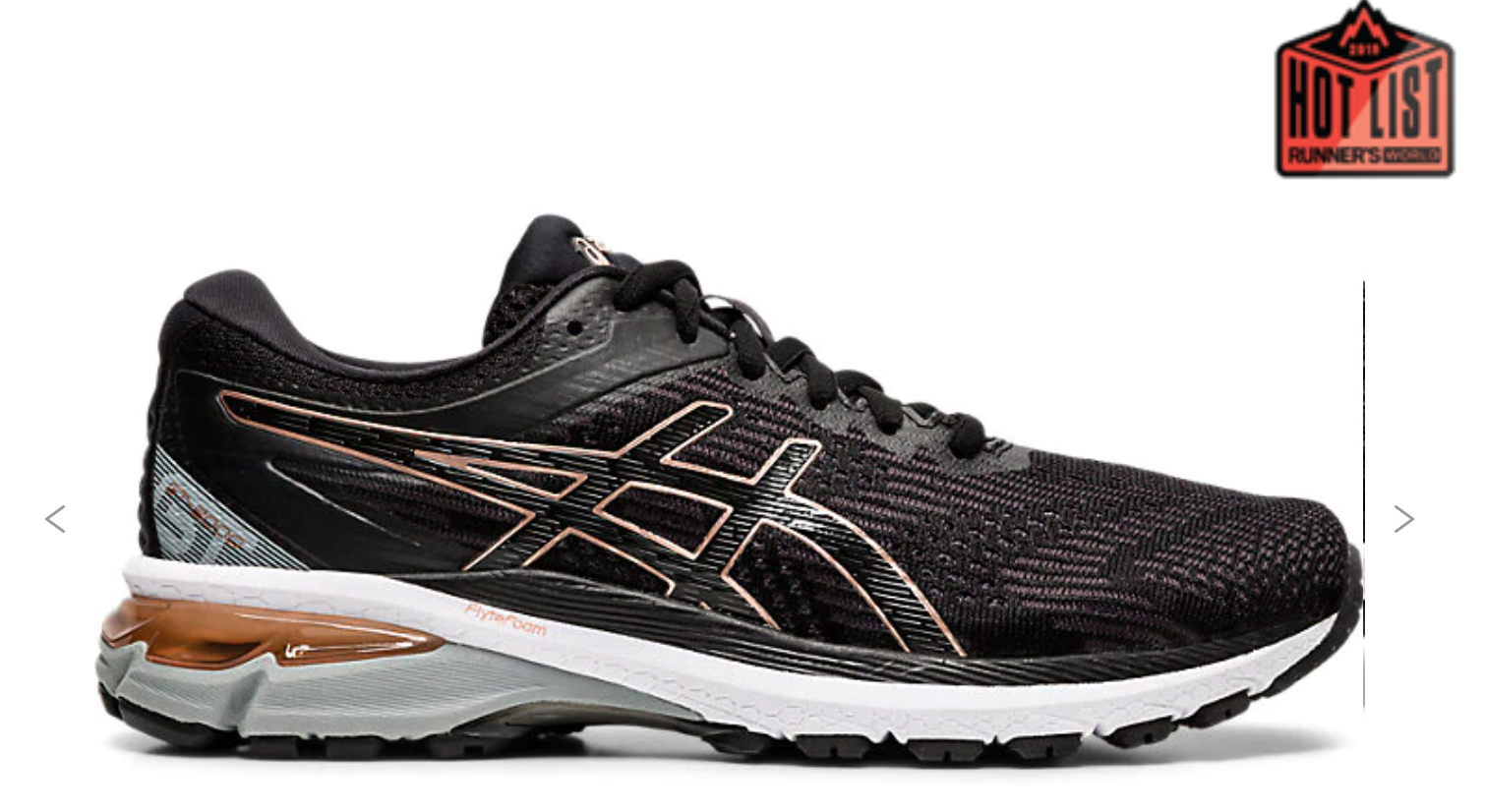 Side View
Before I started running in college where Nike is our gear sponsor, I swore by Asics GT-2000's as my training shoe. I still own a pair that I use as apart of my regular shoe rotation. Like its cousin, the Nimbus 22, the GT-2000 8 also re-introduces the famous GEL component in the heel, for cushion and shock absorption. I personally find, that unlike shoes such as the Saucony Kinvara or Hoka One One which have a lot of under heel cushioning, this has a firmer feel underfoot. This is something to keep in mind, based on your own preference. 
This shoe differs from the nimbus as it has extra supportive features, more suited to an over-pronation runner's foot type. This shoe includes a more aggressive supportive piece in the midfoot section, as you can see in the sole view image (light grey) below. This piece increases the stability and support provided by the shoe to the foot.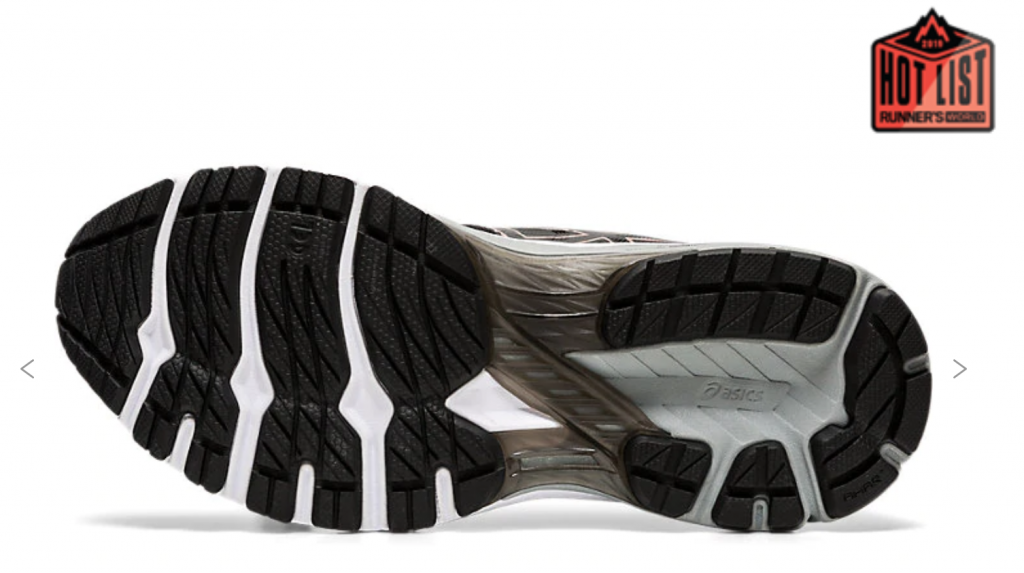 Sole View 
 The lightweight Flytefoam technology is also utilized in the Asics GT-2000 8, just as it is in the Nimbus 22. The mesh is also great from a water-proofing standpoint. It is lightweight, provides good cover to the foot but also is very breathable. 
This shoe is a training shoe for everyday use, best suited to the roads and gravel paths. From personal experience, it doesn't do well on trails and uneven surfaces. This is because the midfoot piece doesn't allow for much flexibility and reactivity when making contact with rocky surfaces. It also gets slashed up. This happened to me. I now buy trail-specific shoes. Like the other road running shoes I have discussed, this shoe has a 10mm heel drop.
 A pair of Asics GT-2000 8 comes in at $120. Get your pair here. 
Best Road Running Shoes Guide Part 2: Hoka One One, Brooks and Saucony
After looking at some of the best road running shoes Nike and Asics have to offer, I thought it was also important to look at some other well-known running shoe brands that offer other diverse styles and models. Selecting the right pairs of road running shoes is a very personal experience based on your own goals, foot type, surfaces most often run on, and race + training distances and mileage. There's a lot to consider. By writing these best road running shoe guides, featuring shoe tech descriptions, reviews, and my own personal experience, I hope to make the decision process a bit easier for you. 
In this second section of the best road running shoe guide, I explore some of the best road running shoes from three of the most well-known road running shoe brands: Hoka One One running shoes, Brooks running shoes, and Saucony running shoes. 
Hoka One One Running Shoes
Shoe 1: Hoka Clifton 6
Side/Front on View
Hoka One One is best known for its well-cushioned running shoes. The Hoka Clifton 6 is a great road running shoe, as the cushioned sole provides a softer ride and reduces the stress impact of concrete/tar roads on the joints. Did you know that the body must absorb 6x your body weight in shock when your foot makes contact with the ground when running? Crazy huh, so it's always good to have a bit of cushion on your everyday road running-specific shoes. It could potentially minimize stress injury risk. 
The shoe is neutral in terms of stability – if you look at the sole view image below you'll see that there are no dominating stability pieces integrated into the shoe sole or midfoot as such. This doesn't necessarily mean the shoe isn't a good fit for an over-pronator/more flat-footed runner. I personally have a foot that is labeled 'over-pronator', however, I prefer to run in neutral running shoes and place a custom orthotic/form-orthotic in the shoe for biomechanical adjustment purposes.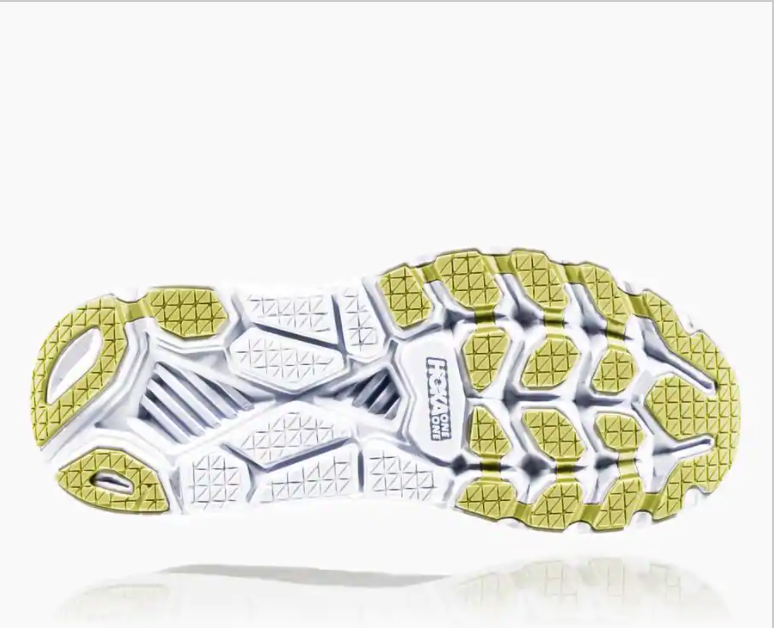 Sole View 
Interestingly, the heel-to-toe drop on this road running shoe is 5mm, compared to the usual 10mm in the Nike and ASICS road running shoes I reviewed in the first post of this series. 
I wanted to point out the change in the upper Hoka One One has integrated into their new Clifton 6 model. Hoka has addressed complaints of the fit in the upper by improving the lacing and lockdown system. From my experience working in running specific stores in Australia, I found that Hoka shoes tend to fit wider feet better. The Hoka One One Speedgoat was the best fitting Hoka shoe for my narrow feet. This is something to consider.  
A pair of Hoka One One Clifton 6 comes in at $130USD. Get your pair here.
Shoe 2: Hoka Carbon X-SPE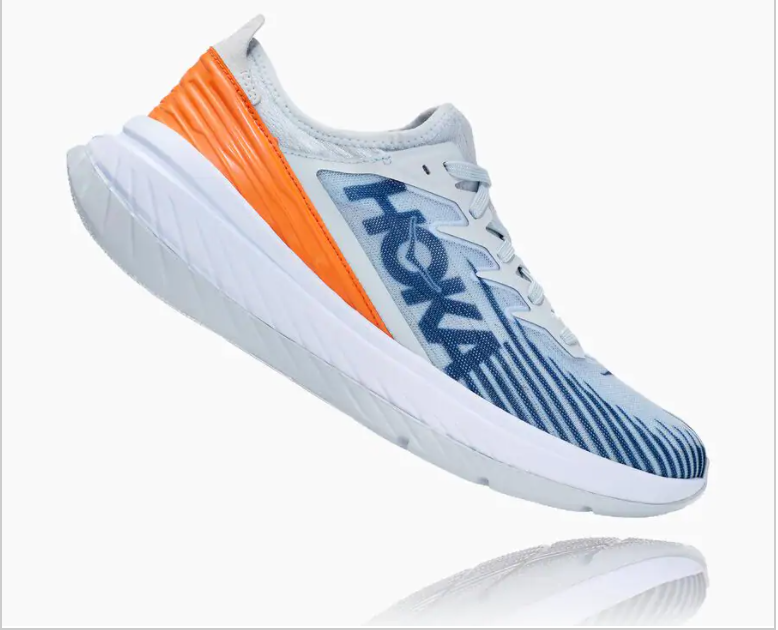 Side View
This shoe is one of Hoka One One's latest releases and boasts features such as reactive, energy-returning cushioning, and a carbon plate (hence the name Carbon X-SPE). I personally tried a pair of these a couple of days ago. I immediately noticed that they are extremely cushioned, the upper does not provide much support, and they feel very light under-foot.
This shoe was released in response to major brands such as Nike, releasing the various Vaporfly models. It's a new kind of racing flat, very non-traditional in a sense. What we are seeing today is highly cushioned long-distance road racing shoes that have a 'sweet spot' on the sole of the shoe to gain maximum propulsion when the foot makes contact with the road. 
Hoka One One explains that this shoe is extremely lightweight (8.7oz for a Size 9 shoe), with the usual Hoka signature rocker design, optimal for a smooth gait and road running purpose. The foam was designed to integrate comfort with speed. Comfort is a really important factor in Hoka – it is what the customer looking for a Hoka is seeking when they try on a pair. The top layer of foam has comfort in mind, whilst the bottom layer and the lightweight carbon plate are engineered to optimize propulsion/energy return for the runner. 

Sole View
The upper is quite different from other Hoka shoes on the market, as they have decided to model off other brands and integrate a mesh bootie. The upper is also tongue-free, which prevents possible discomfort from rubbing or bunching ( I personally love this feature, I've had issues with the tongue of running shoes before.) 
The one review which I found on the website explains that these shoes are well suited to long-distance road running, and road races specifically from 10k to the marathon. The 5mm heel to tow drop is more modest than other road running shoes I have explored in these blog posts, which supports its purpose as a road racing shoe. 
The Hoka One One All Gender Cabron X-SPE shoe retails for $200. Get yours here.
Brooks Running Shoes 
Shoe 3: Brooks Glycerin 18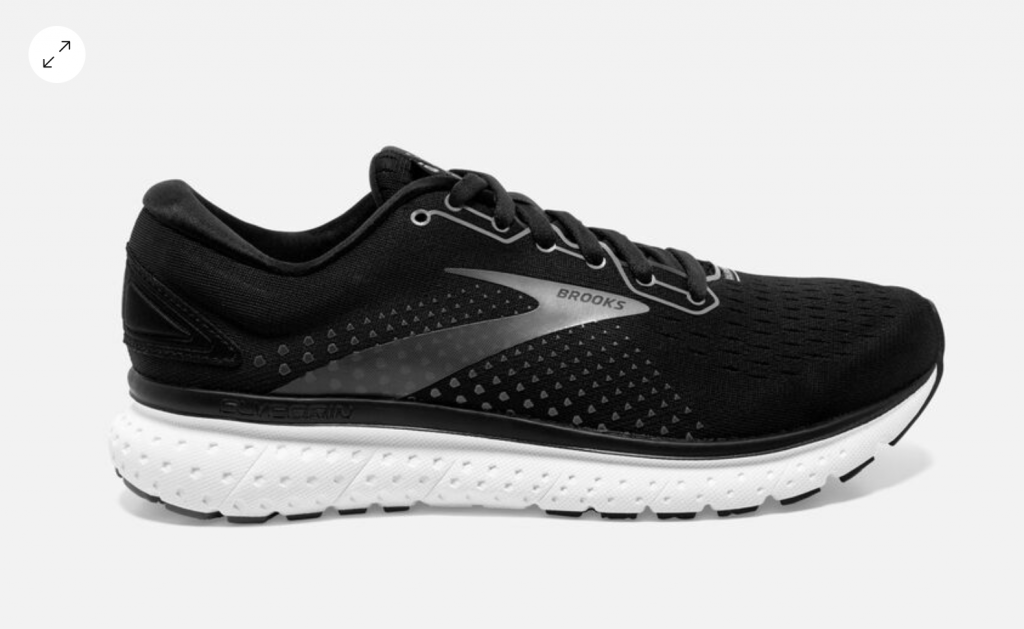 Side View
The new model of the Brooks Glycerin 18 features better cushioning (a trend found in most new road running shoes being released on the market at present) and more room to move in the upper part of the shoe. The integration of increased stretch in the upper will allow more varied foot types to fit this Brooks model, which increases the potential suitable market for the shoe. This shoe is a neutral shoe, best suited to a neutral foot type, or an over-pronator who may use an orthotic or corrective piece. I do know that this shoe has a fairly high arch, which is something to take into consideration if you prefer a shoe that feels 'flatter'. This may be a good shoe for foot types that do require some extra arch support. 
Like most road running shoes I've looked at, the Brooks Glycerin 18 has a heel to toe drop of 10mm. Interestingly, it is fairly lightweight for an everyday road trainer, at only 9oz for a mid-range size of the shoe.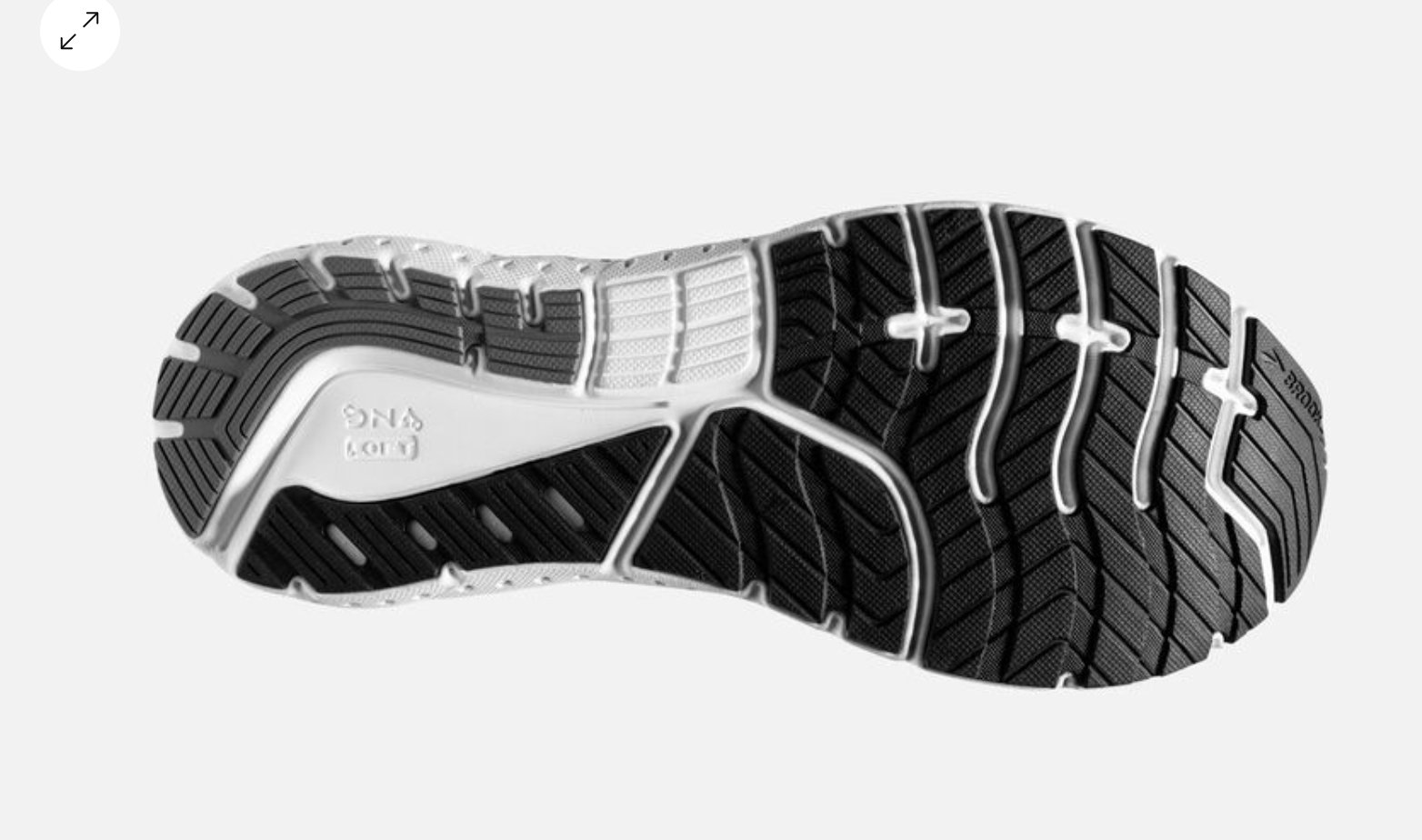 Sole View
From a technical side, the midsole (foam part of the shoe) has utilized more of Brooks' DNA LOFT midsole foam technology to increase cushioning. Brooks also desired a shoe with more traction this time around as you can see on the Sole View of the shoe I've included above. 
What is DNA LOFT midsole technology? Brooks explains that it is a mix of EVA foam, rubber, and air. Their latest shoes are meant to be their softest and most forgiving yet. If you enjoy a cushioned, soft underfoot feelings, with a bit of arch support – check these shoes out. 
The Brooks Glycerin 18 is available for $150USD, get your pair here.
Shoe 4: Brooks Adrenaline GTS 20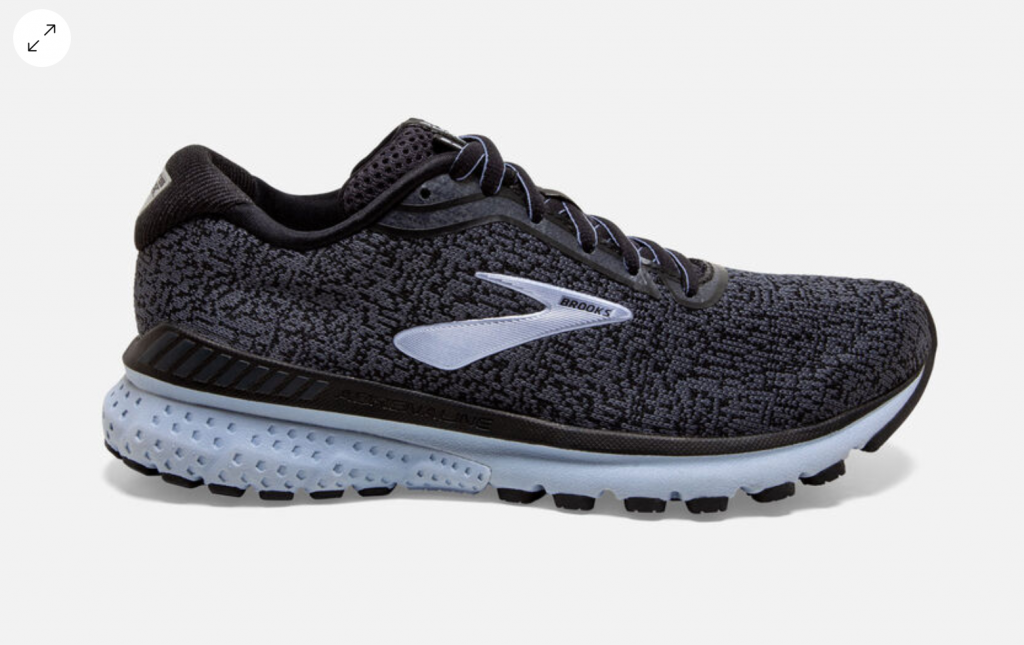 Side View 
Brooks has been releasing Adrenaline GTS model shoes for 20 years now, so they've had quite a while to re-think the design of the shoe but keep the same features Adrenaline users love, apparent. What's new in this shoe is Brooks 'GuideRails' support technology.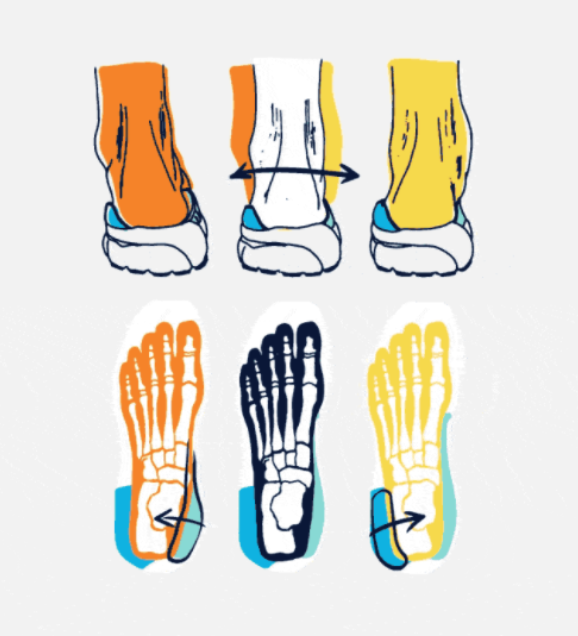 GuideRails are described by Brooks to have a supportive function, "minimizing deviation of excess knee movement (which) can help stabilize your run". Guiderails hug either side of the heel in the upper part of the midsole structure. See the image above from the Brooks website. When the foot makes contact with the ground, the Guiderails prevent an inwards collapse of the knee, which compromises stability, form, and therefore the whole kinetic chain.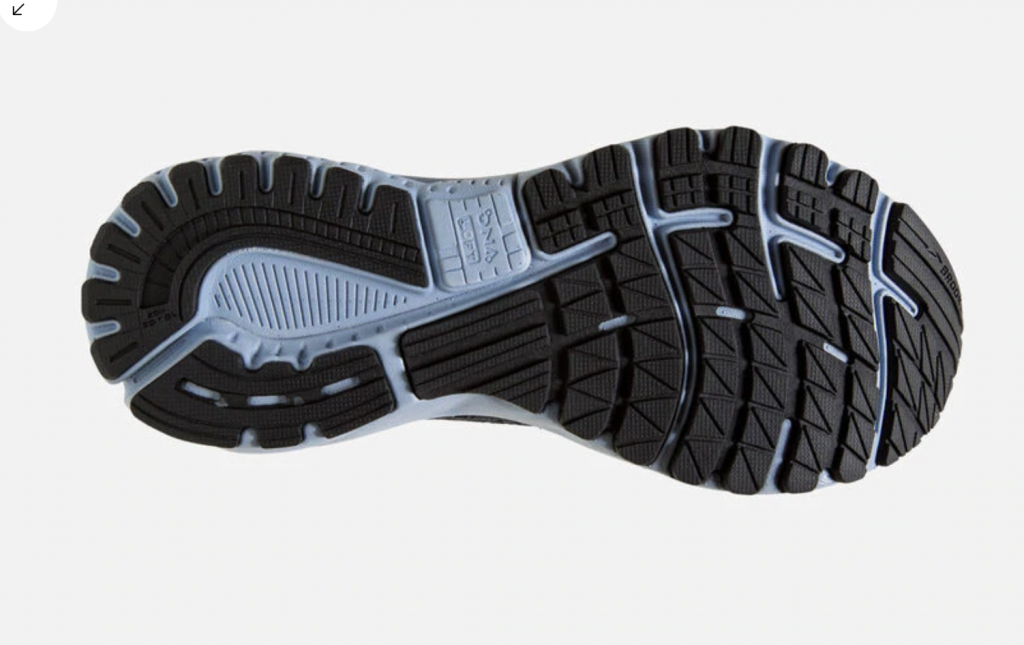 Sole View 
Everyone I've met who has used a Brooks Adrenaline seems to really enjoy the shoe. Unlike the Neutral Glycerin, this shoe is more supportive in design and has a higher heel to toe drop of 12mm. Similarly, it also features DNA LOFT technology in the bottom part of the midsole and boasts cushioning as all the new lines of Brooks' shoes seem to do. 
Brooks has improved the mesh upper to be more lightweight, by structuring it to streamline and hug the foot better. 
One review I read explained how they loved the cushioning in the heel and the comfort features of the shoe. Another user said that their feet are highly arched and structured, and the shoe gave them feet aches. This is likely due to the shoe being too structured for this particular runner's foot type. Another runner described the new mesh design as more snug, and the lacing system didn't require super tight lacing to hold the foot nice and secure.
A pair of Brooks Adrenaline GTS 20 comes in at $130USD – they're available online here.
Saucony Running Shoes 
Shoe 5: Saucony Triumph 17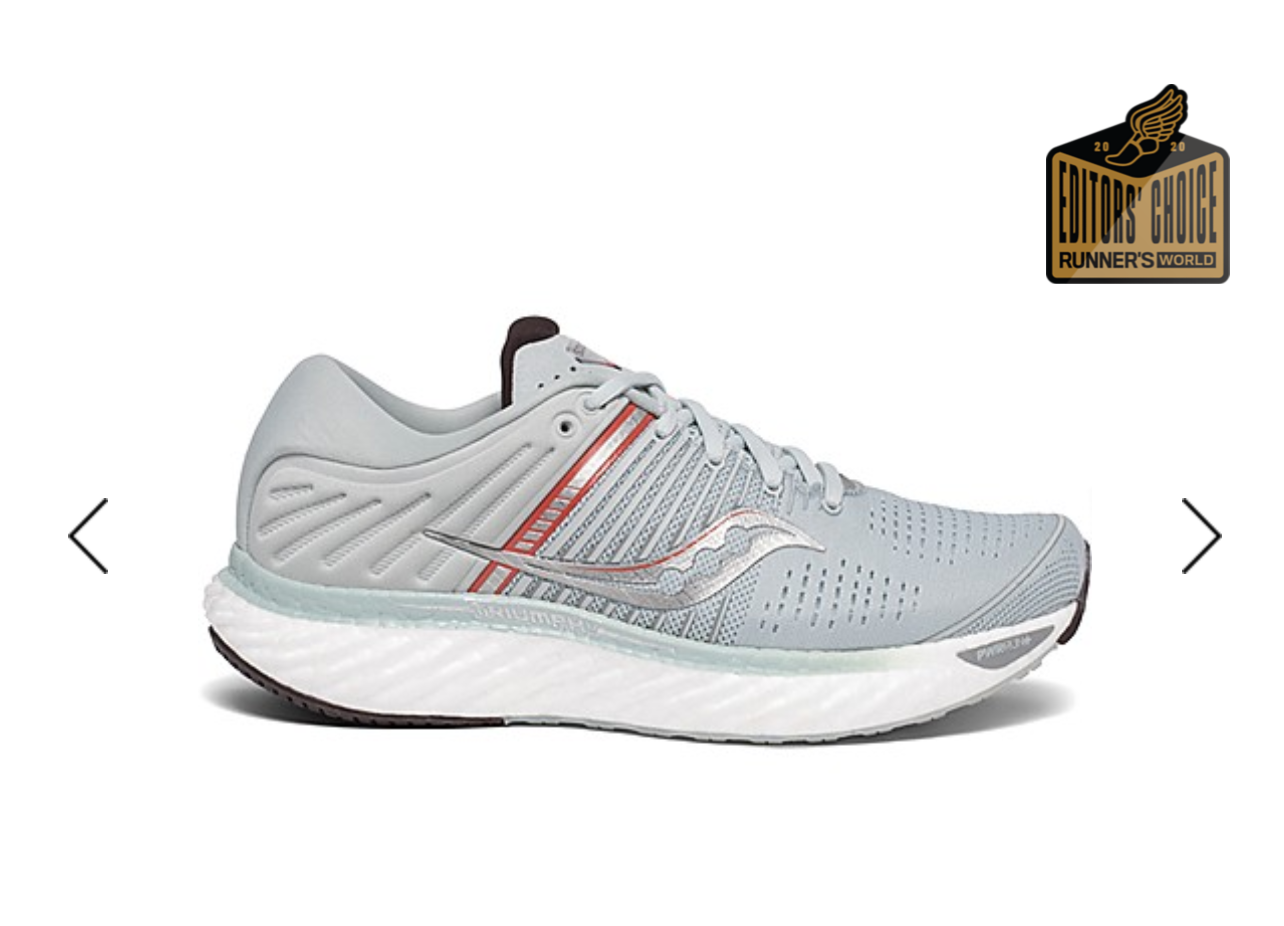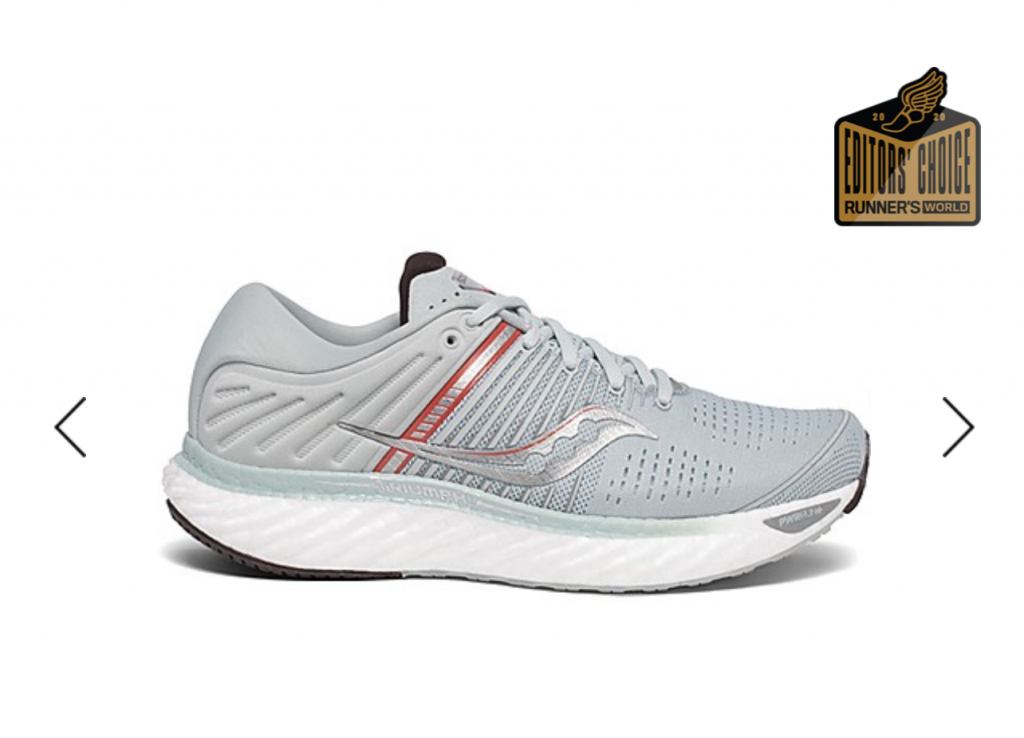 Side View
The Saucony Triumph 17 is Saucony's most cushioned shoe, designed for long runs. The protective cushioning is intended to return energy for economical running and reduce load impact on the runner's joints – potentially assisting in injury prevention and delayed onset muscle soreness (DOMs). The shoe has an 8mm heel to toe drop and is designed for a neutral foot type. This shoe isn't a shoe for a foot that needs a ton of support but could work well if you're looking for beginner's long-distance road racing shoes due to the comfort and cushioning factors.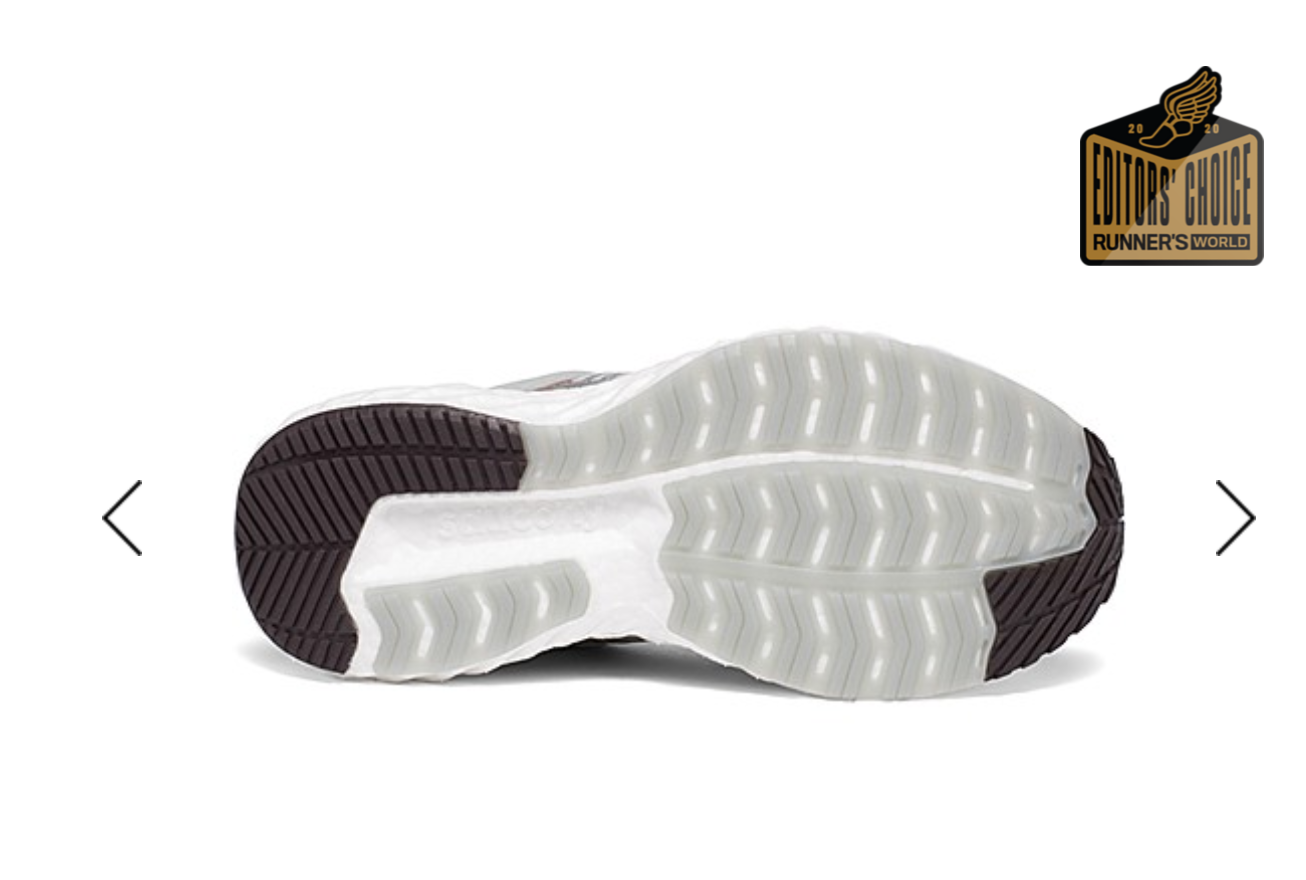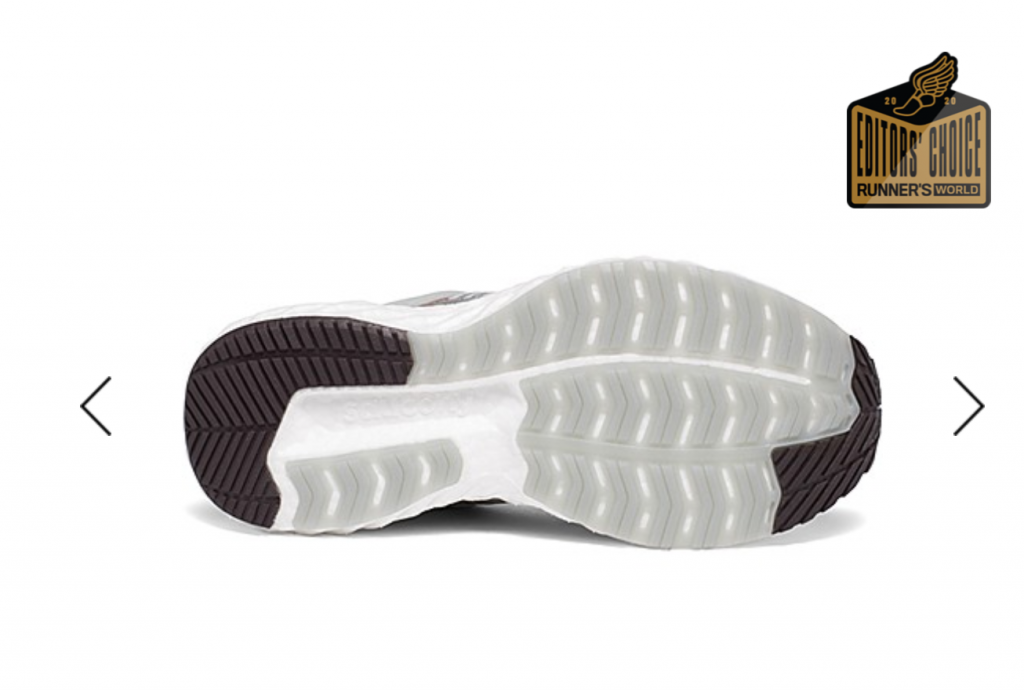 Sole View
Saucony notes that the cushioning in this shoe is 28% lighter than their previous best-cushioned shoe. This is a feature of Saucony's new shoe technology from the end of 2019  – PWRRUN+. They note that this foam is extra springy, absorbing 5% more impact than their previous foams, enhancing the energy return of the shoe. They also note the increased flexibility, allowing "for powerful take-offs" and "softer landings". Durability is also a key factor – they stress that this foam lasts longer, which potentially could increase the mileage life of the shoe. 
Interestingly this foam isn't EVA based like most road running shoes. They explain that PWRRUN+ features are more adaptable, flexible, and responsive to the runners foot and gait. 
The Saucony Triumph is available online for $150. Get your pair here.
Shoe 6: Saucony Guide 13
Side View 
The Saucony Guide 13 is one of the company's more structured road running shoes, great for logging training miles. Saucony explains that this shoe provides a great balance of cushioning and stability/supportive features – the best of both worlds. The great thing about this shoe is that it is very versatile. I've tried it on gravel roads, single-track trail (not the super rocky kind), roads, and grass. It works well on each. The shoe suits a foot type that requires more support, due to the integrated stability features. I myself have flat feet (over-pronate), but enjoy a bit of cushion. Therefore, a shoe balanced with cushion and support, like the Saucony Guide, suits my needs.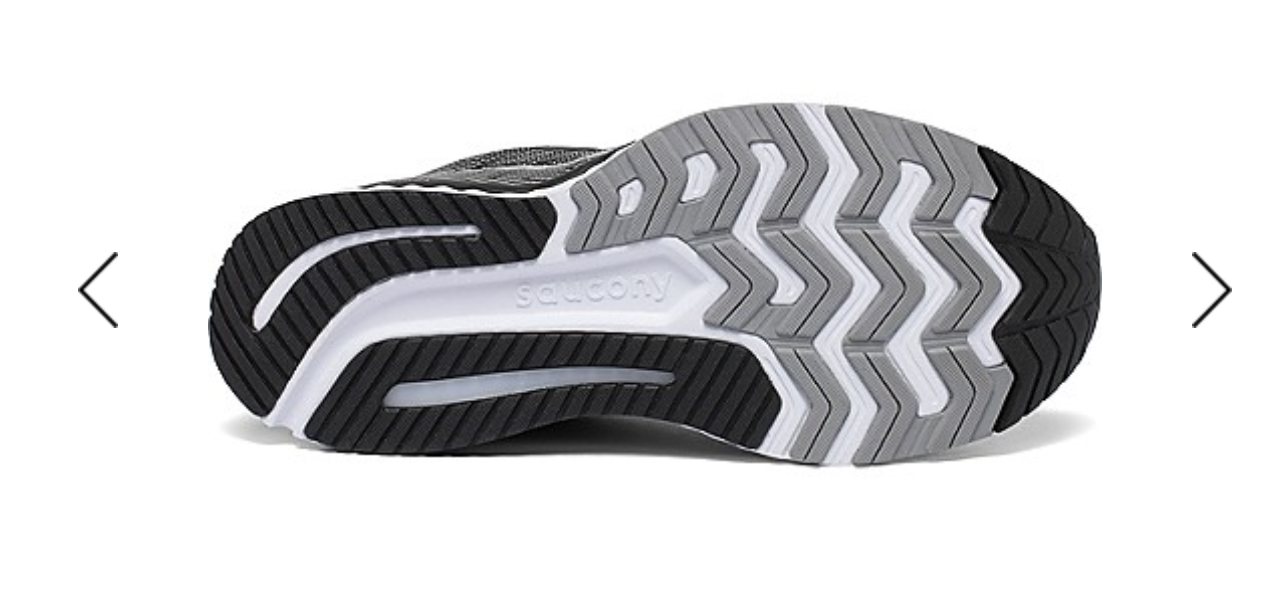 Sole view
From a shoe tech standpoint, like the Triumph, it also has an 8mm offset and PWRRUN cushioning technology which I discussed earlier. What is different between the Triumph and the Guide is the medial TPU guidance frame. TPU stands for thermoplastic polyurethane – which is lightweight, longer-lasting, and extremely durable compared to most other outsoles (the bottom part of a shoe). Saucony explains that this assists the natural gait cycle of the runner.
The upper is designed with FORMFIT technology – this is in place to allow the shoe to fit a wide variety of foot types (wide, narrow, toebox and heel discrepancies etc). 
Right now the Saucony Guide 13 is on Sale for $89.95 USD down from $120. Get your pair here.