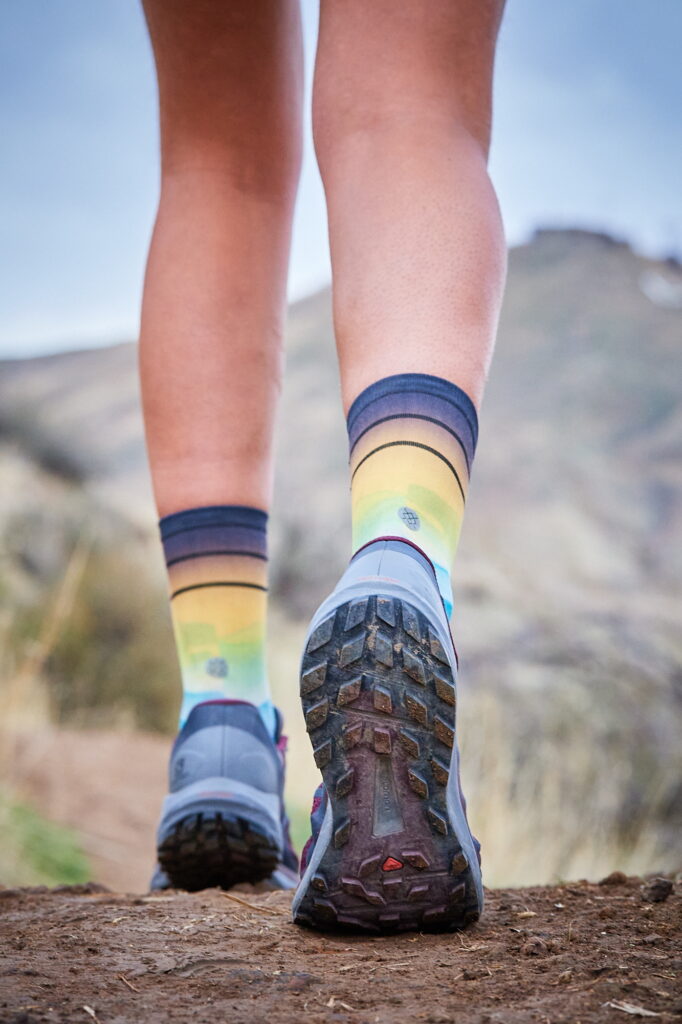 Pro-Image Event Photography, Boise, Idaho. – Pictured / Salomon Sense Ride 4/ Stance Run Socks
I love talking about all things shoe tech. I worked for a few years in various running and outdoor specific stores in Australia. It helped me grow my knowledge on the gear side of the sport, not just from dealing with the gear on a day-to-day basis but also from chatting with customers about their experiences. 
I did a similar post last year with road running shoes. So this year, I thought I'd get into the trial side of things for fun. This is a general guide exploring some of the features of the best shoes on the market heading into 2022. It's by no means an exhaustive list, and I'm by no means an absolute shoe expert, I've tried many shoes – but picking a shoe is very personal. Only you can truly know what will work best, and sometimes it will take a bit of trial and error. All a part of the fun of the sport. 
Some general rules of thumb include:
For Ultra Races, you'll want to prioritize shoes with extra protection and decent cushioning. You're out there for a long time, in variable weather and mixed terrain. Comfort is a must

Durable and breathable upper, and a waterproof upper for alpine and wetter climate racing

A decent lacing system. You don't want this to get in the way of your race

Room in the toe box for natural swelling in long-distance races. 

No heel slip. Make sure that you fit properly in the shoe, don't try and add things like 'extra socks' or 'inserts' just to fit a shoe, because you like the look of it or it's 'trendy'.

Salomon 

The Salomon Ultraglide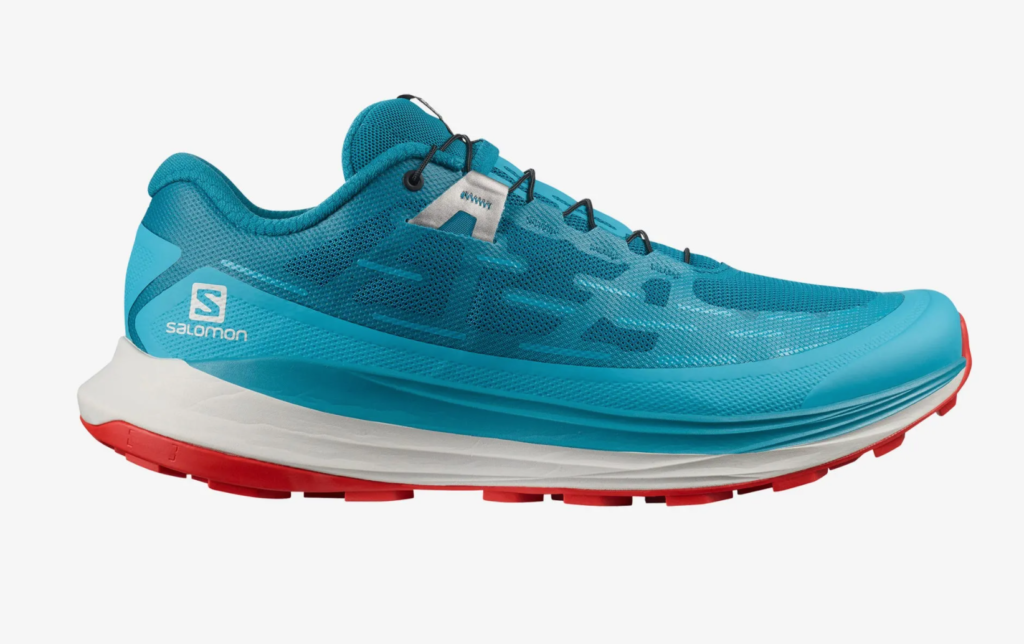 Photo sourced from Salomon. Shoe link is available here.
One of Salomon's newest shoes, the Ultra Glide is a lightweight performance trail shoe that doesn't compromise on cushioning and comfort for long distances on mixed terrain. 
As with most trail shoes, the shoe is a neutral fit, allowing for best foot navigation (no one likes a rolled ankle). You'll notice that this shoe has a rocker shape (the curve in the sole of the shoe). This is designed to support optimal gait efficiency and the responsiveness of the shoe. 
I own a pair of Ultra Glides myself and really enjoy wearing them for faster trail-based efforts like fartleks and tempo runs. 
The only thing to consider with this shoe is the upper is fabric-based, with no significant toe cap, so if you're looking for a lot of foot protection, you may want to explore another option. 
Specs. Drop, 6mm. Weight, 260g. Lacing system, Quicklace. Waterproof, minimal. 
Salomon has a great article on how to choose your best trail running shoe – they discuss all the important factors, such as tread, foot support, stability, cushioning, terrain, mileage etc. click here to read more. 
North Face
The North Face Women's VECTIV Enduris



Photo sourced from The North Face. Shoe link is available here.
The North Face describes this shoe as lightweight, yet not compromising on stability. This is easy to spot given the considerable cushioning and rocker sole. It seems like this feature is going to become increasingly popular as we head into 2022. 
I have personally tried this shoe and found it very responsive, which surprised me given the amount of cushioning particularly at the heel. It made for an even, "rolling" feel. It kind of pushed you forward, which is nice. 
The only thing to consider with this shoe is that if you're prone to rolling an ankle, and the terrain is very technical, you may want to consider a shoe with less heel-to-toe drop. 
Specs. Drop, 6mm. Weight, 278g. Lacing system, Quicklace. Waterproof, minimal. 

Altra Running

The Altra Olympus 4



Photo sourced from Altra Running. Shoe landing page is available here. 
This is a well-cushioned trail running shoe that does well over longer distances, including both wet and dry conditions. The upper mesh is designed for optimal comfort and breathability to support its intended uses over longer distances. 
Altra shoes are known for their incorporation of Vibram soles. On this model, they have utilized Vibram® MegaGrip™
I haven't personally tried this shoe, however, I hear rave reviews from friends. They especially note the great traction as a result of the optimized outsole features. 

Specs. Stack, 33mm. Weight, 272g. Lacing system, normal. Waterproof, minimal.
Hoka One One 
Speedgoat 4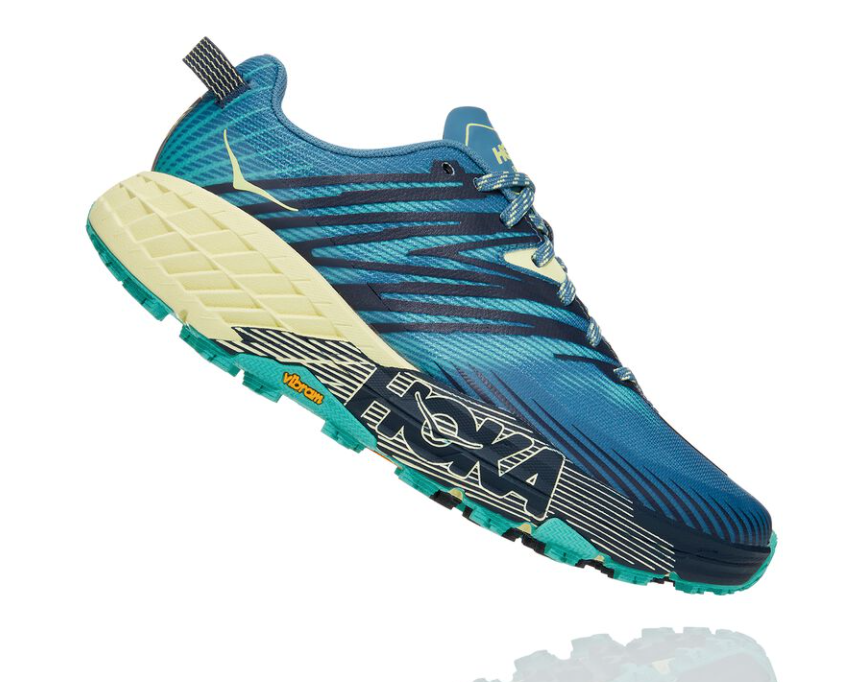 Photo sourced from Hoka. Shoe landing page is available here. 
The Speedgoat 4 sees an upgrade in the upper, with a newer mesh. It was designed to increase the security and support of the overall fit. This is a great improvement to enhance the responsiveness of the shoe over more technical terrain. 
This shoe isn't overly cushioned, ranked mid-way on Hoka's scale, as 'balanced'. It is also a neutral shoe – stock standard for trail specific footwear. 
I have tried the Speedgoat and found them to be a great responsive, lightweight trail racing shoe. I often find I have issues with the toe box of shoes as I have very narrow feet and long toes. These shoes, along with the Torrent model have somehow designed a toe box that accommodates for a variety of metatarsal structure types. 
Specs. Drop, 4mm. Weight,260g. Lacing system, normal. Waterproof, minimal. 

La Sportiva 
Akyra Men + Women 
Photo sourced from La Sportiva. The shoe landing page is available here. 
La Sportiva has designed a very durable and stable shoe for long days out in the mountains, including ultramarathon events. The upper, midsole and outsole are all designed for optimal comfort and stability. Unlike some of the earlier shoes I've looked at in this post, this shoe is definitely on the side of stability over extreme lightweight features. 
La Sportiva uses Trail Rocker technology to ensure there is outer heel and inner toe support, to optimize your natural running gait. Interestingly, this shoe was inspired by 'origami', due to its, "3 sides of a perfect geometry: Shock absorption, protection and comfort." 
I thought I'd include this shoe out of La Sportiva's collection so there's a bit of diversity in this article. 
Specs. Drop, 9mm. Weight, 310g. The lacing system, snug-fit integration. Waterproof, moderate. 
Dynafit 
Ultra 100
Photo sourced from Dynafit. Shoe landing page is available here.
It's in the name. This shoe was designed for ultrarunning races. The shoe has been designed to account for significant amounts of time on feet. That means taking into account swelling of the feet, cushioning, durability, sturdy traction, and the invisible lacing system. 
The cushioning is on the higher end for this shoe, as expected for a long-distance model. 
Dynafit explains that they have used 'Heel Preloader Technology' to provide better support and fit at the heel – another feature that is helpful for ultra-distance races. 

Specs. Drop, 6mm. Weight,270g. Lacing system, invisible lacing. Waterproof, moderate.
Arc'teryx
Norvan LD 2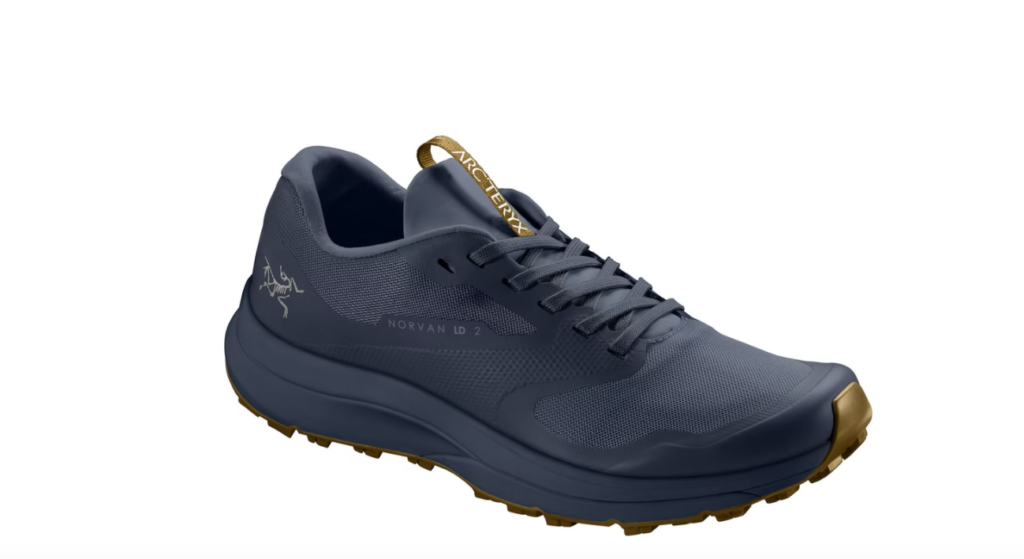 Photo sourced from Arc'teryx. Shoe landing page is available here.
This is Arc'teryx's go-to shoe for long-distance trail races. The update to the initial Norvan shoe release sees a lighter and more durable version. Like Altra, Arc'teryx also uses Vibram® Megagrip outsole technology for sturdy and durable traction.
There is also a decent amount of room in the toe box to account for potential swelling over longer distances. Another key standout, as quoted from the Norvan LD 2 landing page is the integration of, "Long-wearing EVA/Polyolefin midsole." This helps account for the increased impact when running for substantial distances.
I personally haven't tried this shoe. It's definitely on my radar though!
Specs. Drop, 9mm. Weight,260g. Lacing system, invisible lacing. Waterproof, moderate.
I hope this gives you some good insight into the options on the market at present. There's something for everyone, but it truly is about knowing your feet, biomechanics, considering your race distance, climate, training load, and terrain. If you can get in-store, that's always best. Happy Trails ✌️