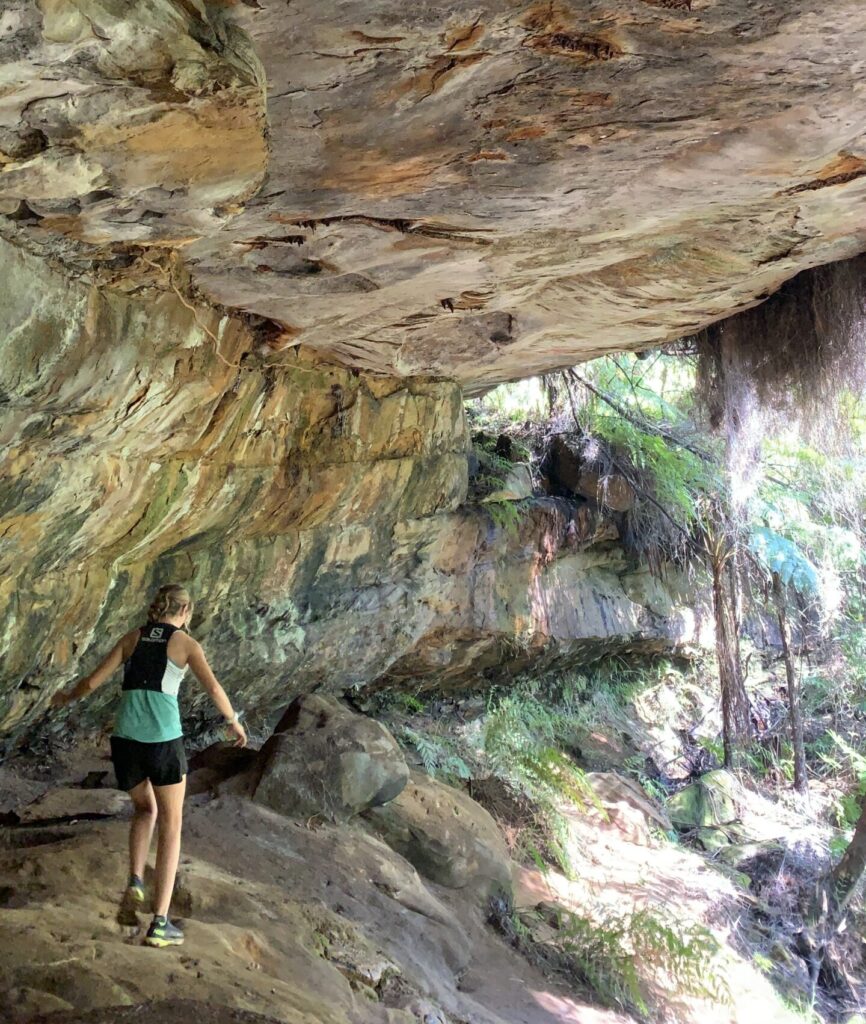 Strava Clubs are an excellent place to establish a community (a particularly active community) for your brand. I'm a big fan of Strava Clubs for many reasons. Strava Clubs are a great way to connect athletes with similar interests and/or goals in one place. Many businesses and sports clubs want to create a club on Strava for purposes such as connecting their team members, conducting virtual challenges, sharing meaningful content, and keeping each other inspired and accountable with their training goals. 
Strava Clubs are interesting from a marketing perspective as they allow an outdoors and athlete-focused brand to establish themselves in a place where they are reaching their key target market. You don't have to cast your net far and wide to interact with people who may interact with your brand and the community you foster around it.
We can compare it to Instagram to put it in perspective. Our Instagram feed shows us content within our areas of interest. It is designed this way, and we build our profiles in this way – to see exactly what we want, in a quick fix, at our fingertips. For example, my feed is full of posts revolving around outdoor trail running, climate change advocacy and projects, other mountain sports, and of course, content from my friends and family. It's what I'm interested in and it's the quickest way for me to fulfill that interest via social media.
What can I do with a Strava Club?
I'm going to talk through each of these below. First, here's a brief summary – once you've set up a Strava Club, you can: 
Get your Brand Kit uploaded! –

You'll need a logo and banner within certain pixels for best aesthetics. 

Logo – 248x 248 (PNG or JPG)

Banner or Club Header –

a minimum of 1200x 580 px, I found

1584 x 396 px w

as good
Profile Picture – 124 x 124 px (JPG and PNG)
Invite Athletes to join

your cl

ub and engage with your community 

You can invite them via Strava, send them an email link, or even post on your personal profile a link to your club and a CTA to join! 
Share your latest content as a discussion

 – anything from blog articles, race information, strava challenge promotion (for your own club challenge or an official Strava sponsored challenge) –

read more about that by clicking here. 



Organize meet-ups and strava club events

– you can schedule a day, time and place, and invite your Strava Club members to join. If you're digital marketing savvy, you can promote this across your social platforms. Or,

speak to me about this here. 



Engage with your club leaderboard –

that stats of your club members' activities will be featured as a leaderboard. 



Promote your Strava Club Challenge –

I'm not referring to a Strava Sponsored Challenge here. I can show you how to create or leverage a Strava challenge for your club, promote your challenge and determine your winners.
Need my help building a club, learning how to create and promote Strava challenges for your club, or growing your brand presence on Strava in general? Get in touch.
Book a quick 15 minute chat with me here:  https://meetings.hubspot.com/lara-hamilton
or fill out my contact form, and I'll get back to you.
[wpforms id="709″]
How do I create a Strava Club?
Creating a club on Strava needs to be done via the Strava Website, rather than the Strava Mobile App. 
Go to Explore, and hit Clubs in the dropdown menu.
Click 'Create A Club' – the black icon in the right hand corner, above the brand club logo cluster.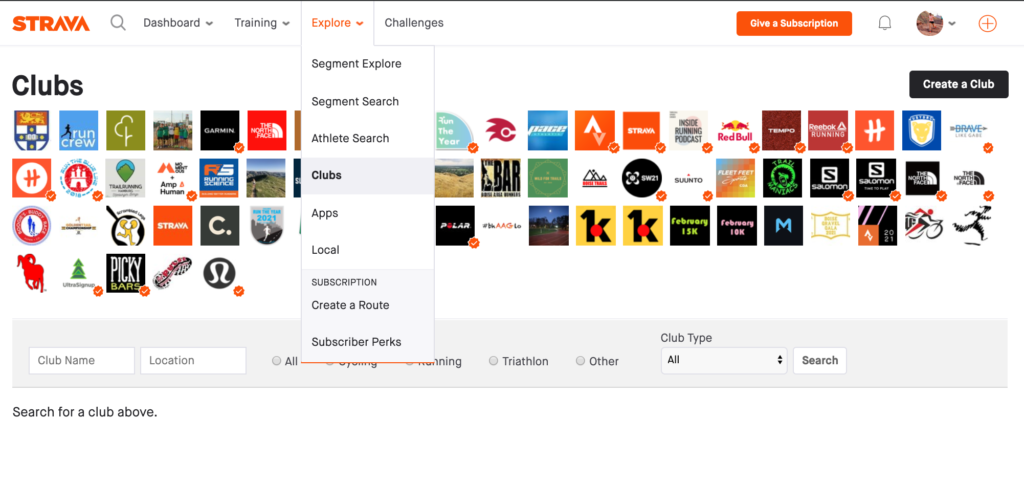 Fill in the required details for your club. Make sure your club URL/Slug is SEO Optimized for your brand.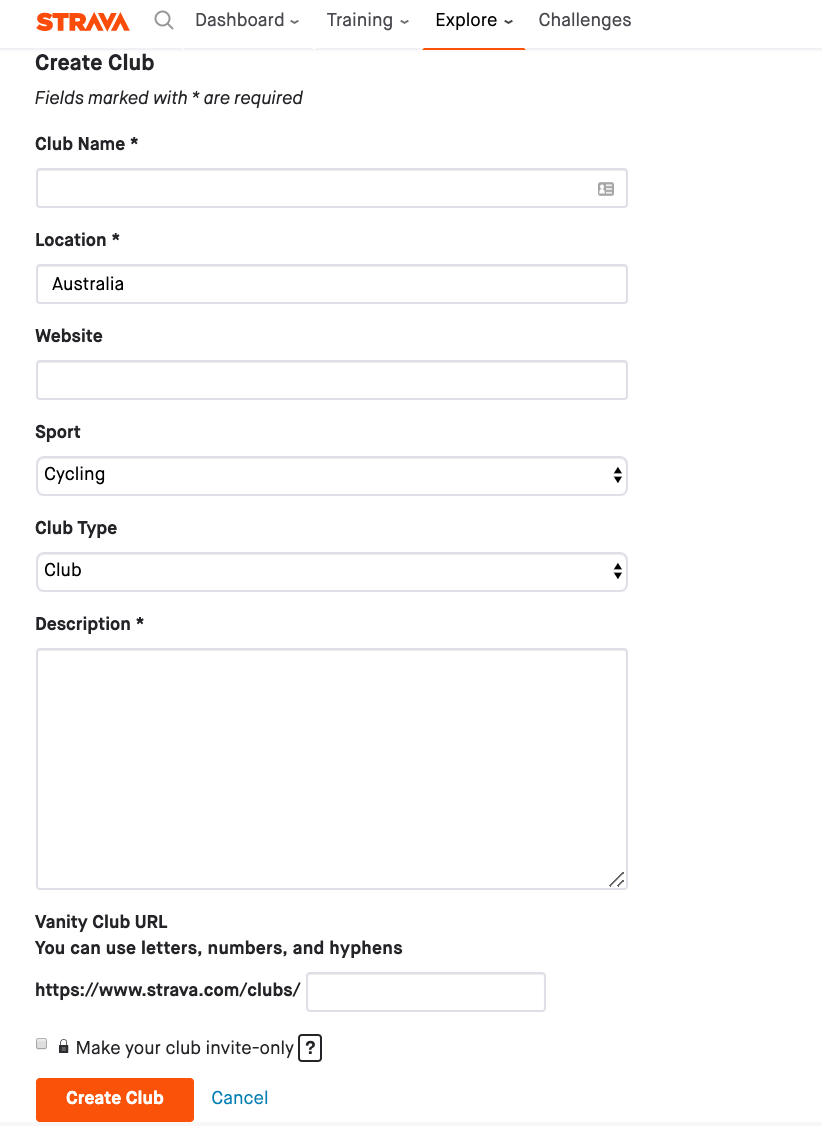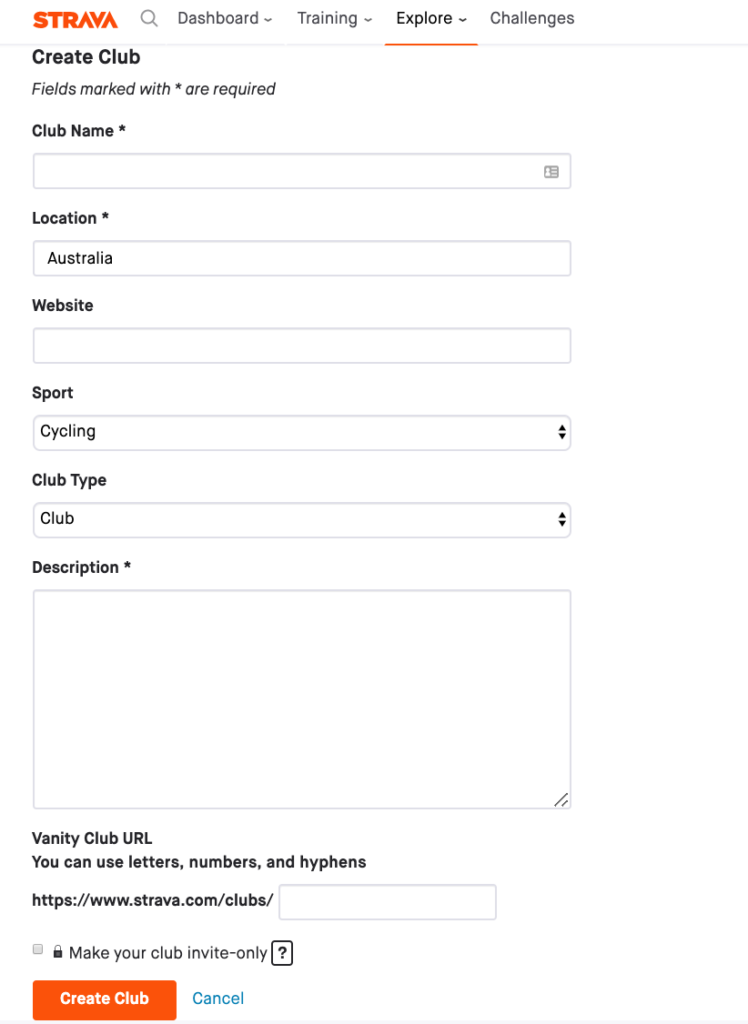 You'll next be prompted to upload your club/brand logo and club header. I specified the required image pixels above. Here it is again for good measure. 
Logo – 248x 248 (PNG or JPG)

Banner or Club Header –

a minimum of 1200x 580 px, I found

1584 x 396 px w

as good
Profile Picture – 124 x 124 px (JPG and PNG)
I created this club early last year at the height of COVID as a way of connecting runners around Idaho and anywhere else! See my screenshot below.
If I was actively using this club at the moment, I would change the logo so the letters are more visible, and reduce the pixelated look of my cover image. Just a few pointers to mention.
You'll notice I have put my website in the club name, and also below the club location. This is a must for brand-affiliated clubs. The club URL slug is also important to match up with your brand name
How do Strava Club Members record their activities?
Strava Club members have 2 choices here. They can record their activities either using the Strava Mobile Application itself or by syncing their sports watch with the Strava Application. 
To record using the mobile application, open the app, and hit the RECORD button at the bottom horizontal menu options.
How do I Create A Strava Club Event?
On your Strava Club Homepage, hit the bright orange icon, 'Add Club Event'.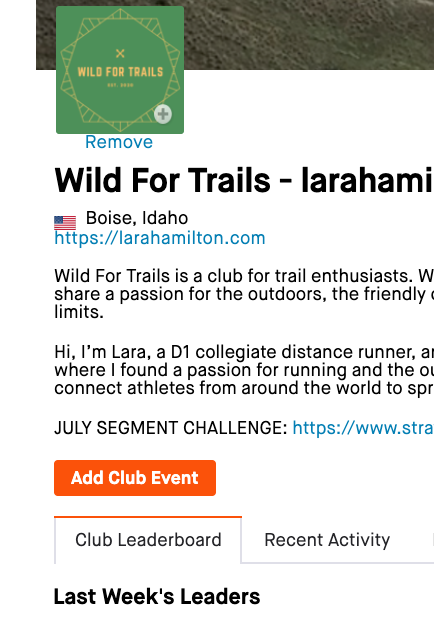 A pop-up will appear on the screen. See my screenshot below. 
You'll see an option to Select a Route. This brings me to my next step. How to create a Route for your Strava Club Event.
How do I create a Route for my Strava Club Event?
Click the blue hyperlinked 'Create one now' under the Route drop-down menu.
You'll be redirected to a new page – the Strava Routes Creation Page. 
Type in the location you'd like to begin your run from, in the search bar above the map.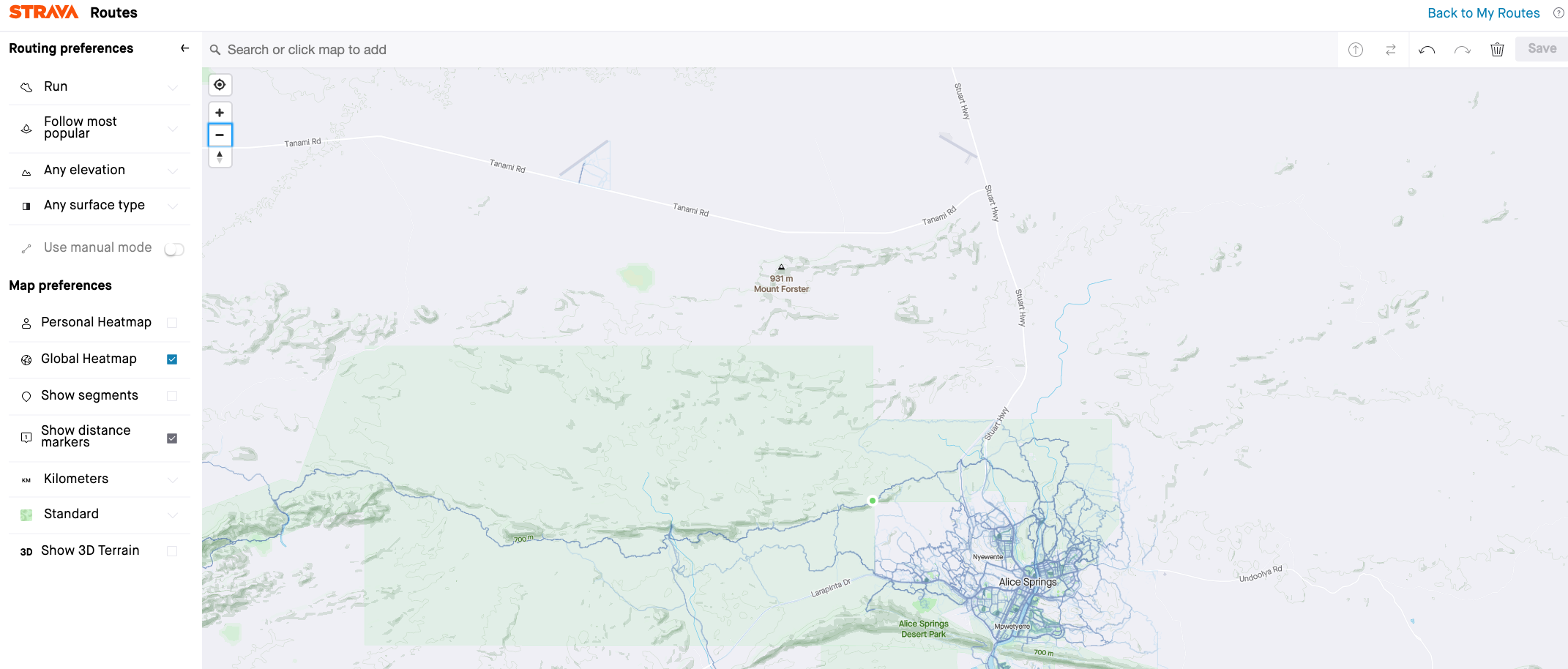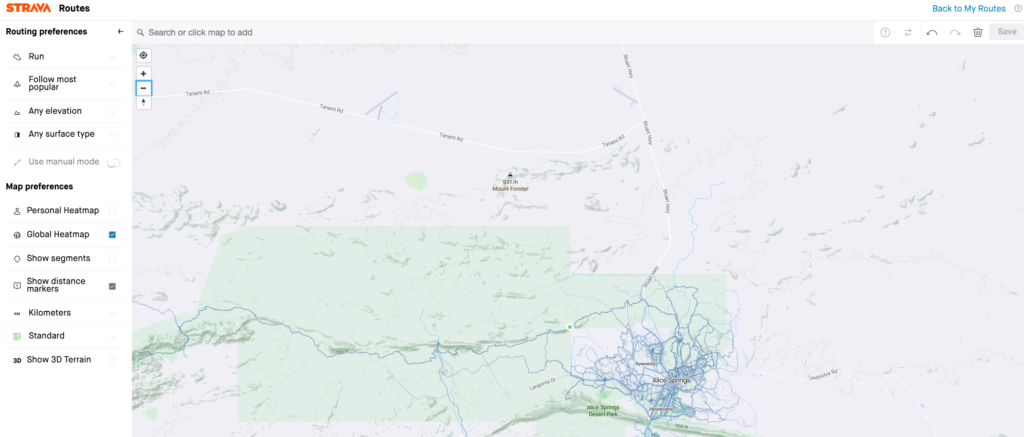 Drag your cursor and click to draw your route, clicking to drop a point at your finishing destination. See my screenshot below for an example. I also clicked 'show 3D terrain' under map preferences. A new Strava Routes feature.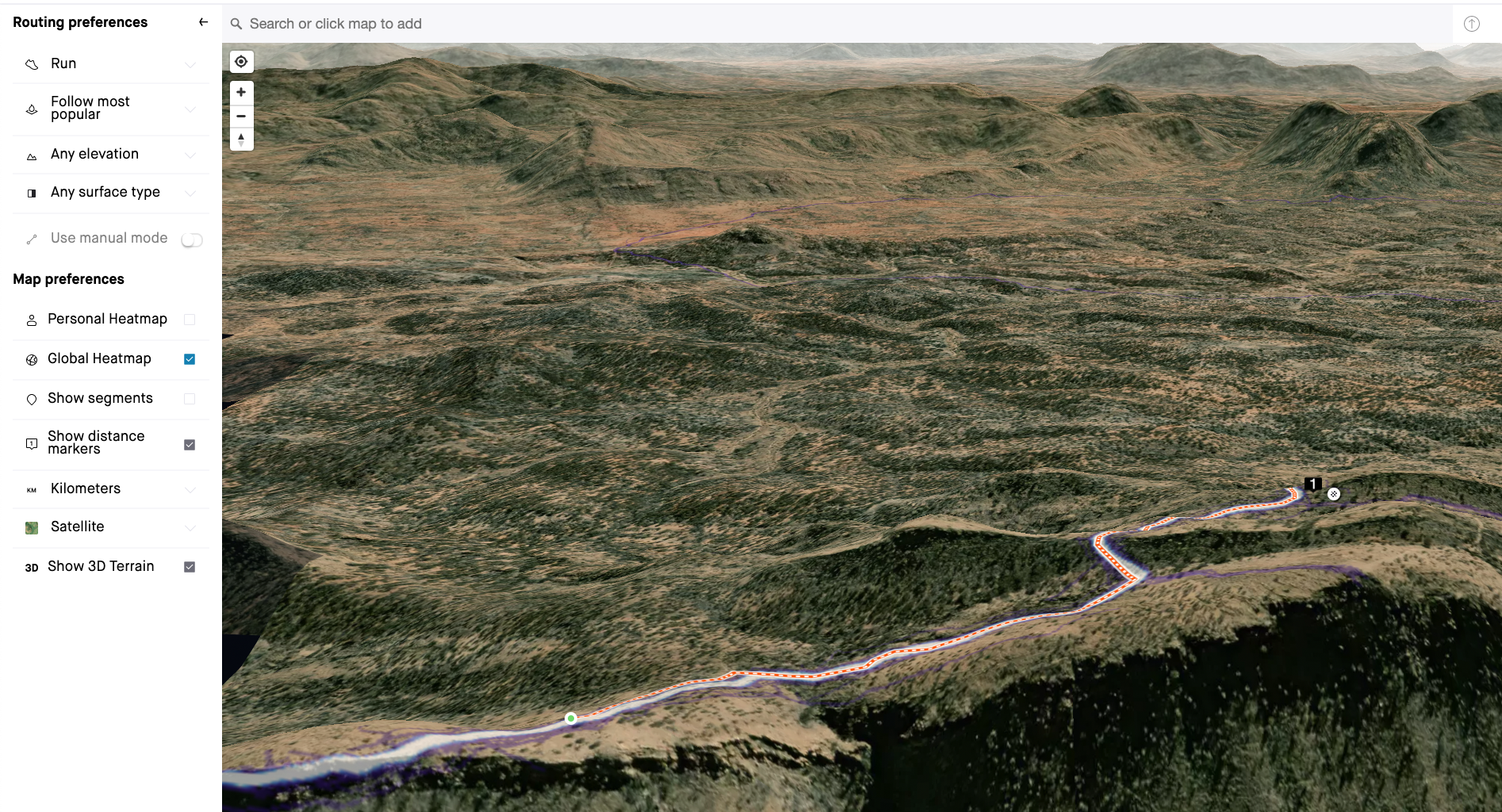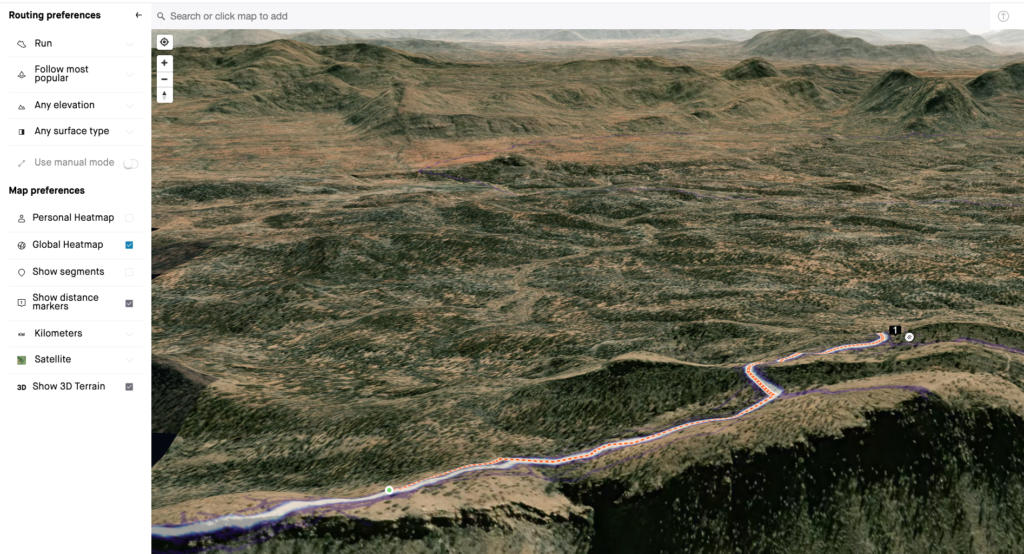 In the top right-hand corner, hit the bright orange 'Save' icon. A pop-up will appear, fill out the details and save them to your routes. See my screenshot.
It'll then be available as an option for your Strava Club in-person/live event.
Is it free to create a club on Strava?
Creating a club on Strava is entirely free!
The only component of Strava that involves a cost is Strava Business Sponsored Challenges. I wrote a whole article discussing this, including an assessment of the criteria Strava has established (click here to read their FAQ around Strava Sponsored Challenges) around Strava Sponsored Challenges. 
You can read my article here.
Can you create your own challenge on Strava?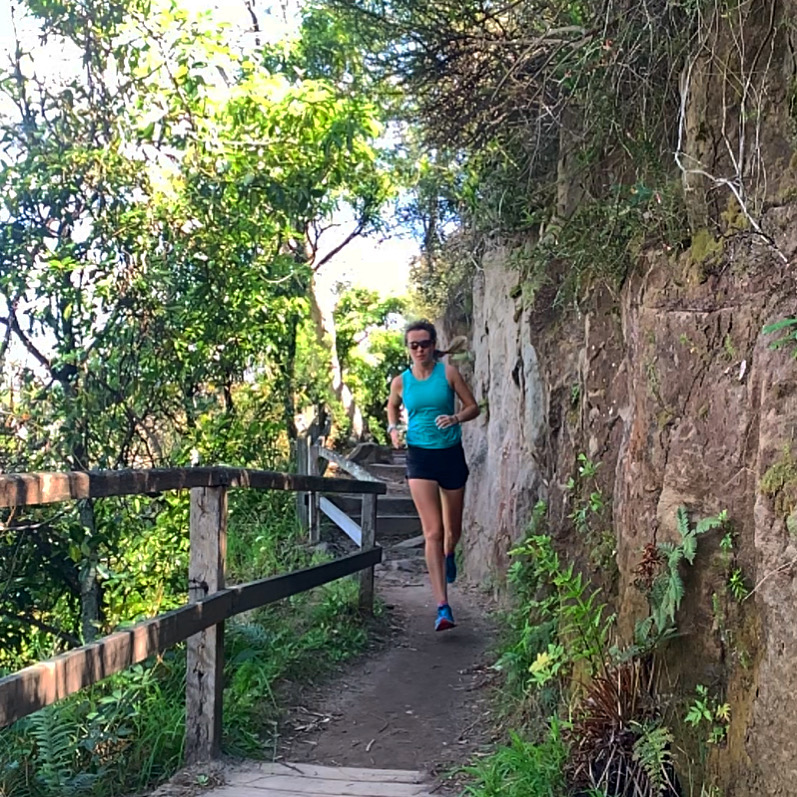 There are multiple ways to create a Strava Challenge for your own personal profile, or for your Strava Club. This can be achieved by:
Strava Route or Segment Challenges

, designed with a location-specific Club Challenge in Mind
Leveraging a Strava Challenge

and utilizing it for your club, promoting it in your club and across your social media. 
The Strava Group Challenge feature

, where you can invite up to 24 athletes to participate. This is not the best option for a club as your options are more limited. 
Or a Strava Custom Challenge, also known as a Strava Sponsored Challenge or a Strava Business Sponsored Challenge. 
Strava Sponsored Challenges are a more expensive route. You can read more about them here on the Strava Website.
To give you a brief outline, Strava has a minimum investment of 20,000USD for Sponsored custom challenges. You must also fulfill the following criteria: 
"Strava focuses on brands who are endemic to the fitness space, given the types of users on our platform. Here are the criteria we look at:
The sponsor's product is endemic to the fitness space (i.e. New Balance running shoes, Trek bikes, Clif bar nutrition, etc.)
The sponsor has an existing relationship with a popular event (i.e. The Virgin Money London Marathon, TCS New York City Marathon, etc.)
The sponsor already supports athletic initiatives (i.e. Michelob Ultra's focus on fitness/wellness etc.)"
Sourced from Strava Sponsored Challenges FAQ 
I wrote a whole article on Strava Challenges – click here to read it. I will walk you through how you can do each of the options above.
I have worked in Digital Growth Marketing for the past 5 years and am an elite distance runner and outdoor athlete. Let me know if I can help you establish a presence on Strava, or start optimizing your club for brand reach and engagement. 
You can book a quick 15-minute chat with me here: https://meetings.hubspot.com/lara-hamilton
Or contact me here:
[wpforms id="709″]