Photography: Pro Image Events Sports Photography 
Strava Challenges: How To Create Strava Challenges For Your Strava Club or a group
In this article I'll discuss how to create:
Strava

Group Challenges

(The June 2021 Strava Mobile-App Update)

Strava

Sponsored Challenges

Strava

Club Challenges
The Strava Update in June 2021 means that users can now use the Strava mobile app to create Strava Group Challenges or Strava Challenges for free. I was recently asked to expand on the process of creating a Strava Club Challenge by a few running companies, individuals, and groups, who have a goal of providing their members with virtual races during the shift to an increasingly virtual world amidst the global pandemic. It inspired me to write a walk-through post dedicated to creating Strava Club Challenges and now, Strava Group Challenges after the Strava Challenge Update. 
What is to note, however, is this isn't specifically an update to be able to create Strava club challenges, this is for creating Strava group challenges, which means you don't have to have a club to create a Strava Challenge.
Strava Marketing Consulting
Want one on one help? Hire me as your Strava Consultant – I work with individuals, clubs, businesses, and start-ups. Get in touch with the form below: 
Strava Group Challenges: How to Create Strava Group Challenge
Create a Strava Group Challenge. I will walk you through how to create a Strava group challenge, entirely free on the mobile app (only, hopefully, they update this to the main website also shortly). Please note, this is different from a Strava Club Challenge, which are Challenges for Strava Clubs. However, I will walk through how we can use the Strava Group Challenge method to create a club challenge further on!
For this article, I created a Strava Group Challenge, called test challenge 1.
On your Strava app, click the 'Groups' icon on the bottom right of the app, which will take you to the page in the screenshot below.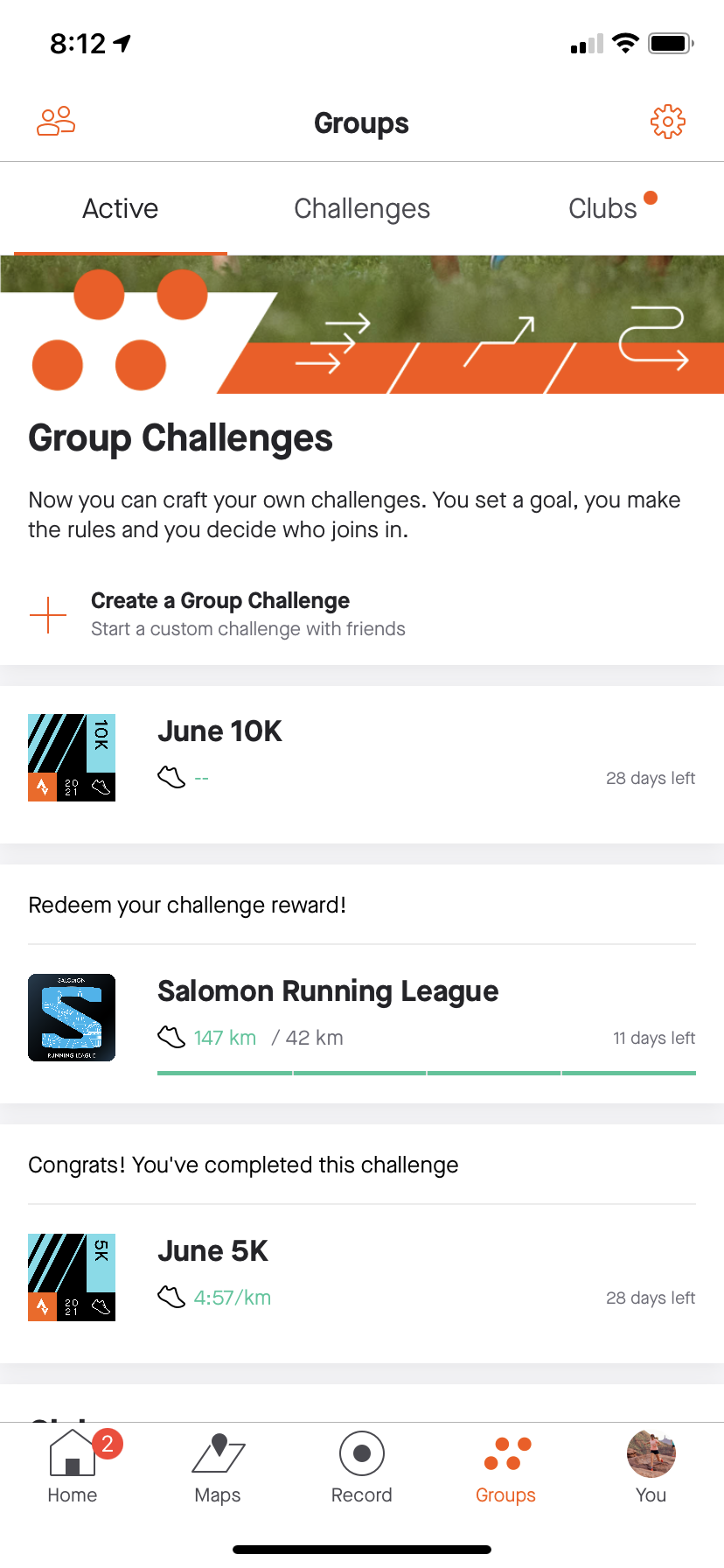 Next, hit the + create a group challenge, which will take you to a screen where you can choose whether to base your challenge off who can complete the most activity, who can complete an activity in the fastest time possible, or who can go the distance – see screenshot below.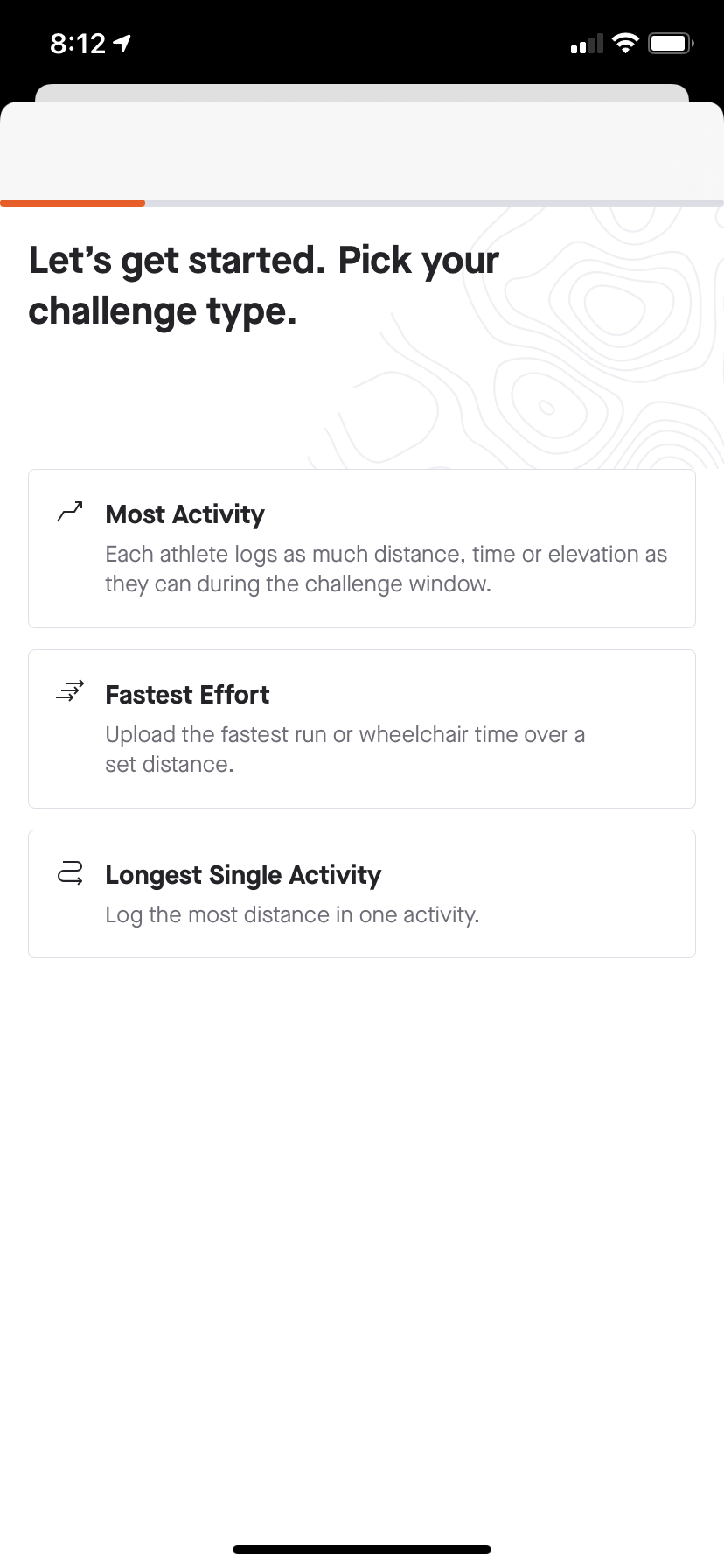 You'll then be taken on a step-by-step process to decide on the specifics of your challenge. You'll be asked about time frame specifics, which is a great new addition, and you can then choose which athletes to invite.
I decided to click 'Challenge settings' (the 3 orange dots in the far right top hand corner) to see what else Strava Club Challenges offer users.
It turns out users can allow other invitees (or people you invited to the challenge), to invite others to the challenge if you click the toggle to on, which I have done. See the screenshot below.
Great! Now you've created a Strava Group Challenge. You could try this with your local run or cycling club, your workplace, friend groups – you name it.
Just remember to have your activity set to Everyone, not Followers Only, so it counts towards the Strava Group Challenge you've created.
Still need help? I'd be happy to walk you through personally – Contact me here. 
What are Strava Sponsored Challenges, How do I create a Strava Sponsored Challenge?
Strava Sponsored Challenges are a tier of Strava Business. The reality is, Strava Sponsored Challenges are expensive and therefore not within the budget of many Small Businesses operating a Strava Club, let alone virtual running clubs that use Strava as their base/platform to operate. The Strava Business platform explains that the Sponsored Challenges start at USD 15,000, with the maximum investment being -200k. These challenges "scale based on duration, targeting, and promotion." This means that you have the benefit of choosing whether your sponsored challenge is:
Distance-based (Eg. Run your fastest 10k)

Time-based (Eg. Complete 10 hours of running this fortnight)

Duration based (Eg. Run 100km this month, or 30 minutes 5x a week)

Elevation-based (Eg. How far can you climb in a month!)
Users would also receive a custom brand-designed badge for their Strava Badge cabinet. These small components help boost the impressions of your brand on Strava, likely generating new followers, club members, and fans of your brand on Strava.
If you see an official Strava virtual race advertised, this is an official Strava Sponsored Challenge. If you're interested in investing in a Strava Sponsored Challenge, you can get in touch with Strava through the FAQ page.
To enquire about a sponsored challenge, follow this link and hit the 'Get In Touch' orange bar at the top right corner of the page. See the screenshot below for an example.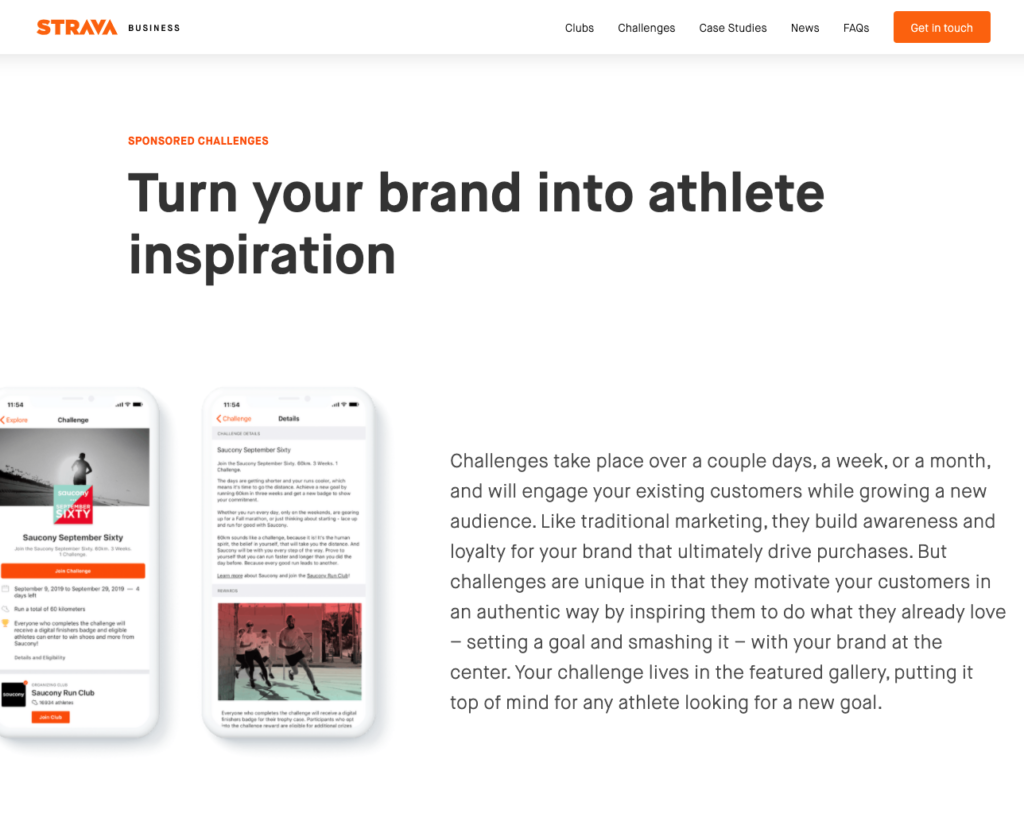 For now, let's walk through how we set up Strava Group Challenges and Strava Club Challenges, now completely free. 
How to create Strava Club Challenges for free?
Credit: @thewolfferine – Tempo Journal
Previously we had only 2 options when it comes to setting up a Strava Challenge for your club, free of cost. 
A Strava Segment Challenge

Utilizing the Strava Monthly Run Challenges created by Strava, and filtering the leaderboard to view your 'Club' member attempts only. 

The new 3rd option, creating a Strava Group Challenge.
I'll walk you through each option below…
1. Strava Segment Challenges: How to utilize Strava Segments to Create a Club Challenge. 
Strava Segments are lots of fun, there are those athletes who are familiar with the term 'segment hunting' (I myself don't participate in this), providing consistent mini 'race like' efforts to users who seek to achieve the best effort (time) on a particular GPS plotted map course (segment). If you're a Strava Premium user, you can draw your own segments and publish them for your own personal use, or, as we are about to discuss, as your course for a Strava Club Challenge. 
Strava Segments work via GPS Sports watch connection to the Strava app, the GPS route will then be recognized by Strava as a 'route' with particular segments that have been run. It will then upload the athlete's effort for that particular route to Strava. 
See my screenshot below of a past Virtual Run I completed hosted by the Strava Club – 'Pace Athletic'. Pace Athletic used the Spit to Manly Strava Segment as their Strava Segment Challenge course.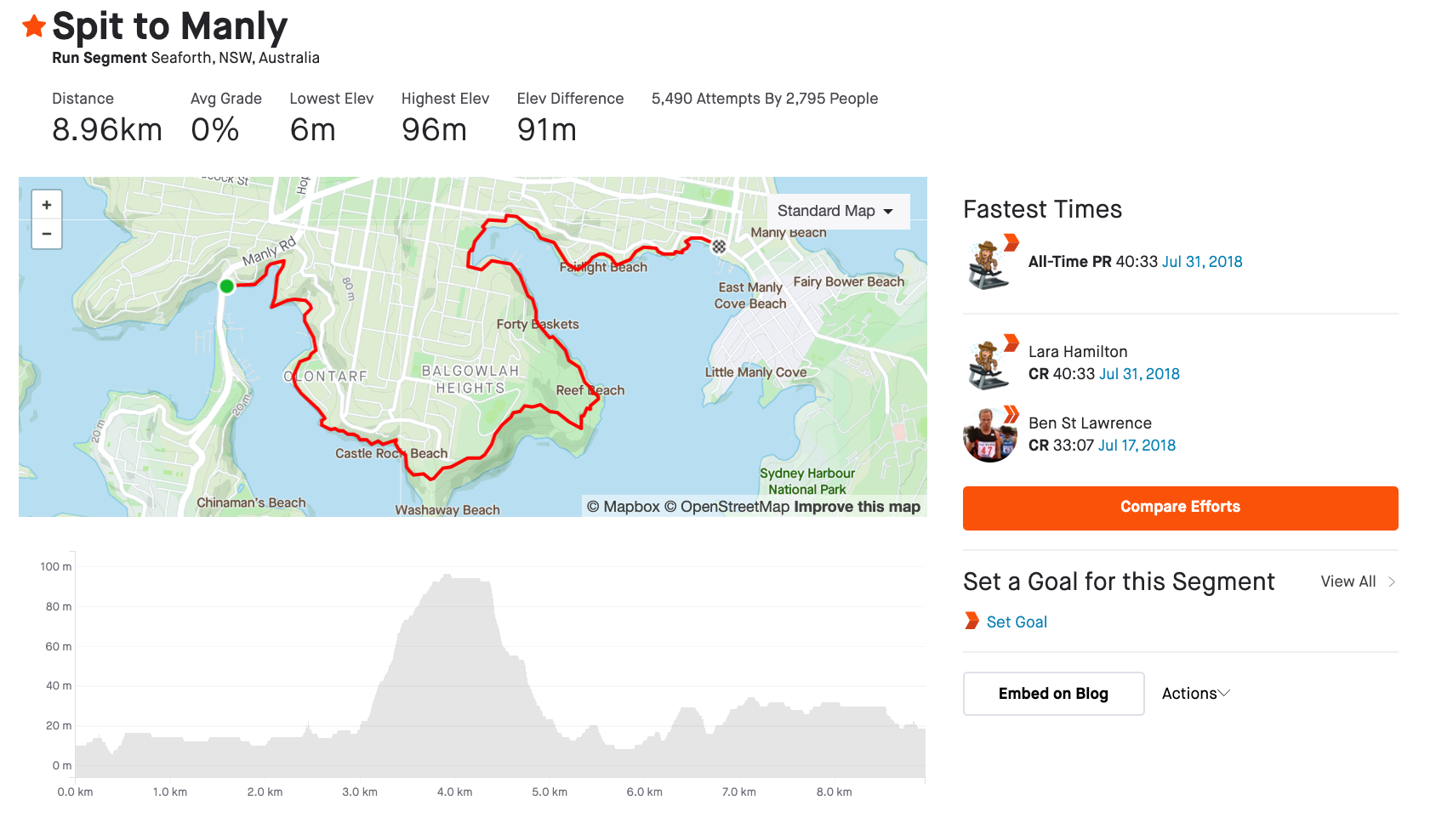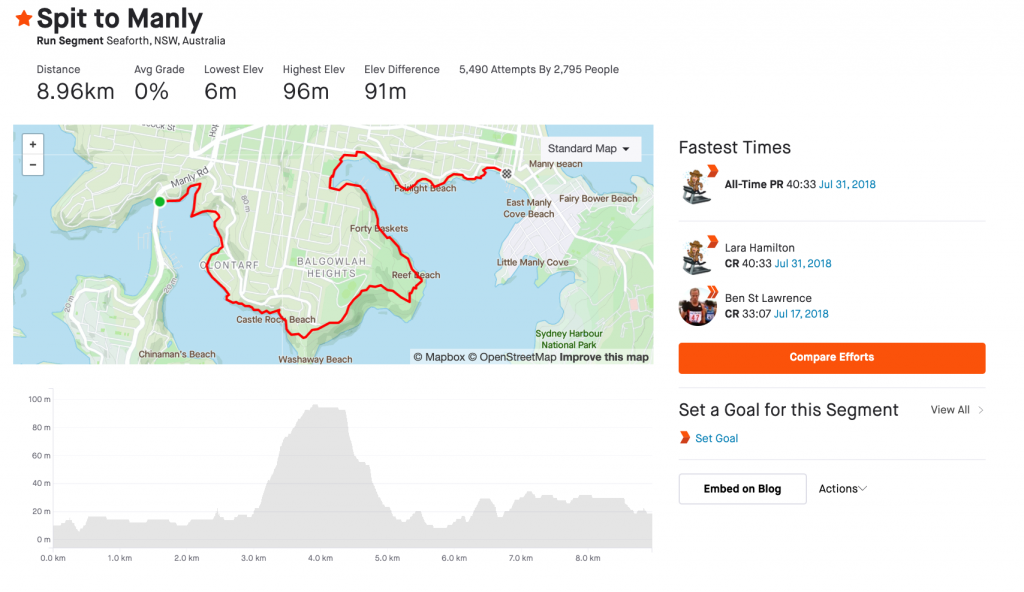 When the athlete has finished their effort on the Strava segment, Strava will place the effort onto the segment leaderboard. This is accessible via the segment homepage. In this case, the 'Spit to Manly' segment. In the screenshot displayed below, there is a grey box down on the bottom right of the screen. See 'View Overall Leaderboard'? Click on that!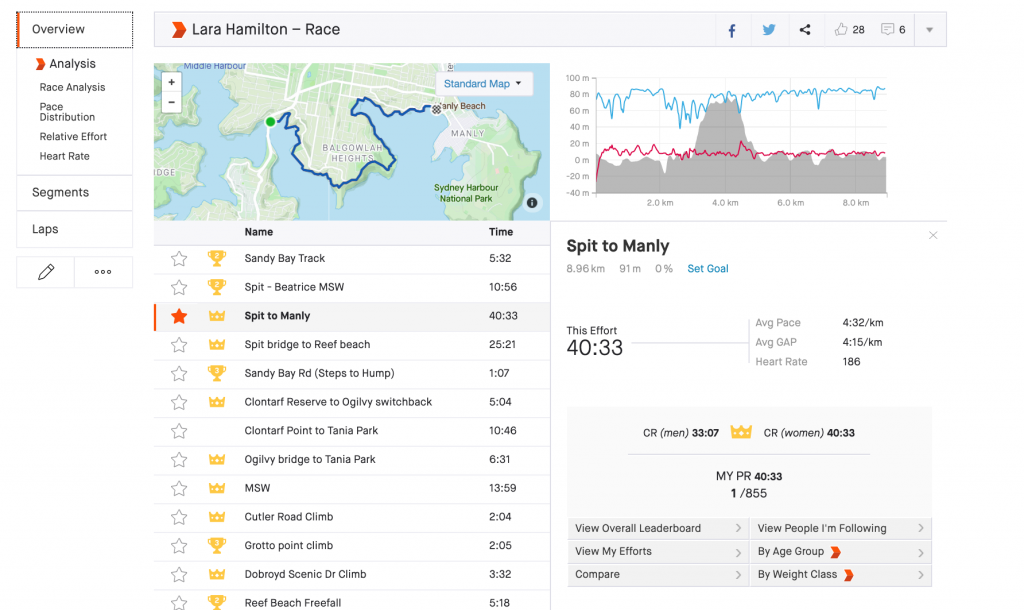 The Pace Athletic Strava Run Club will determine their segment challenge winner by filtering out the leaderboard to just 'Club' member efforts. You can select your club on the dashboard to the far left by hitting the name of your club, under 'My Clubs'. See the screenshot below for an example.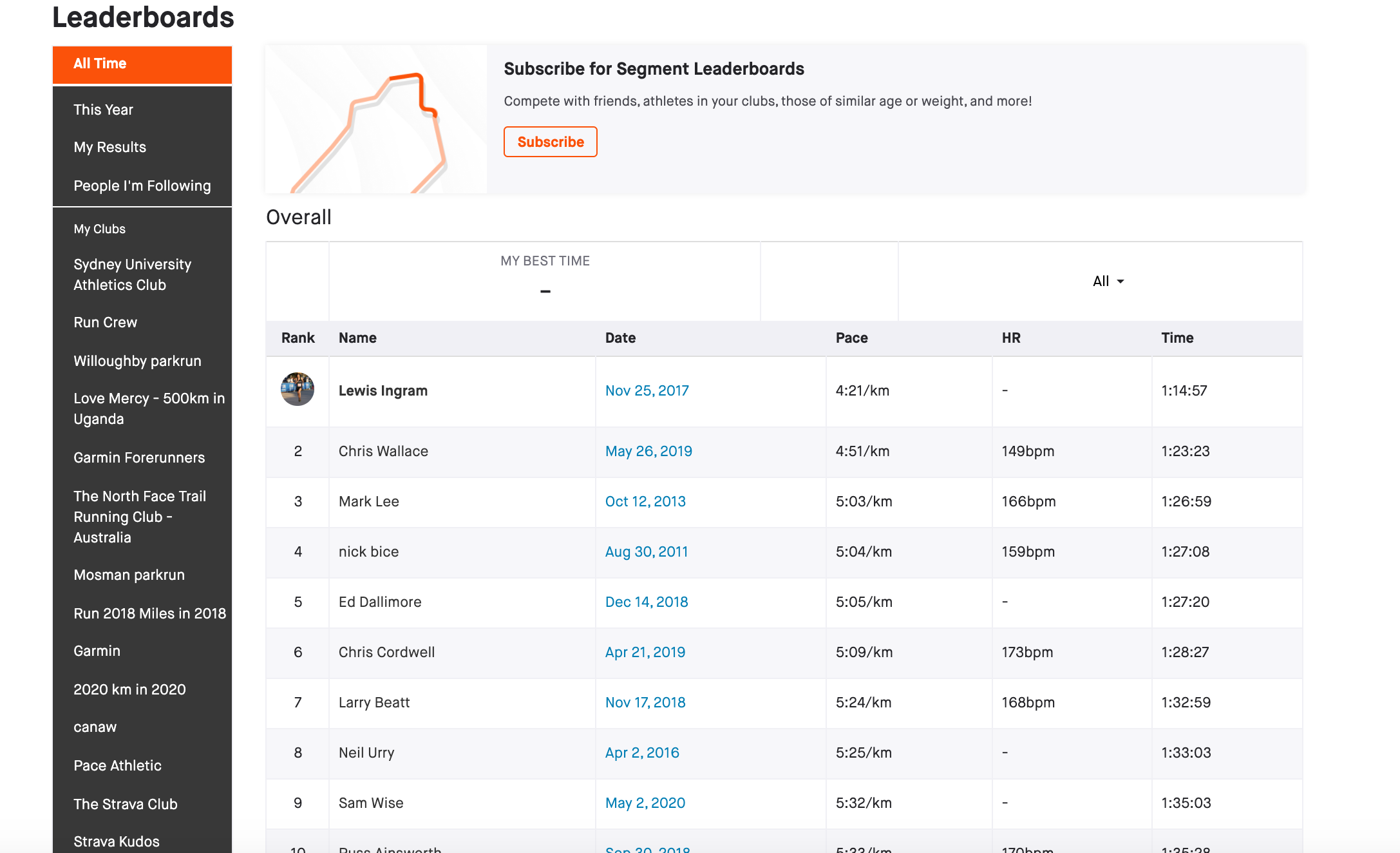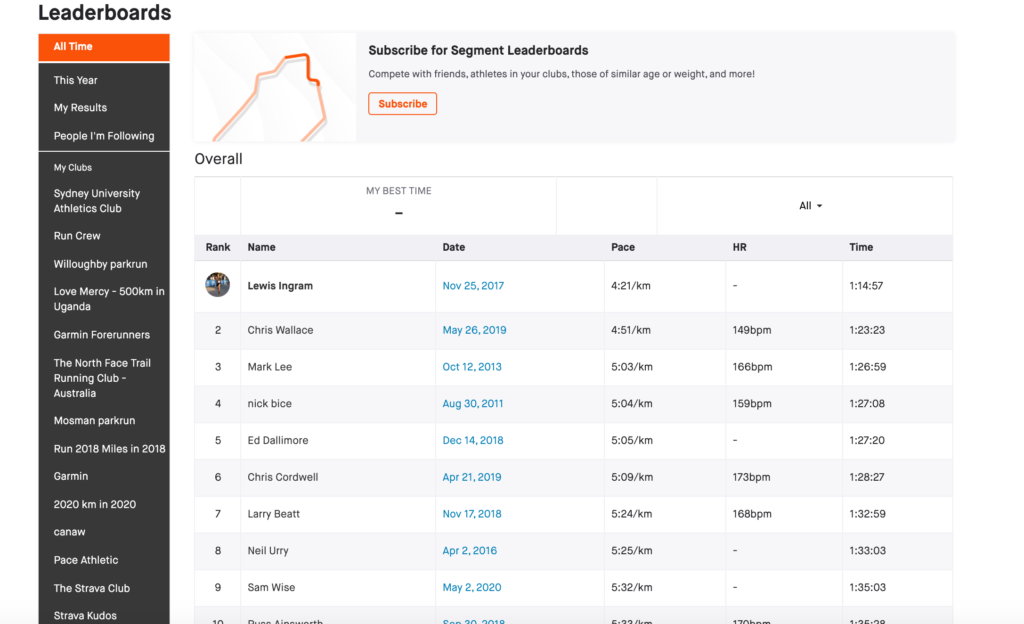 This is a great example of a local running business establishing a Strava Club, and then using a popular Strava Segment to set up a club challenge. It will promote their brand, services, and spread camaraderie associated with the brand. I personally completed this challenge and won't forget it for a while – it is great real-time marketing, connecting dedicated and motivated athletes directly with the business or brand. 
The great thing about a segment challenge and filtering out a leaderboard for club-specific results is, it is entirely free! 
Need more help? Contact me here.
2. Strava Run Challenges: How to utilize the Strava Monthly Run Challenges as a Club Challenge.  
Option number 2.
First, click on the Challenge tab at the top of the Strava Page Dashboard. It's underlined in orange at the top of the page in the screenshot below. Here's a link to Strava to get you going.
You'll notice all the Strava Challenges appear on the page. See the screenshot below – As an example, let's click into the 'October 5k' on the bottom row, one to the right. Here's a quick link to the page: Strava October 5k Run Challenge
Next, you'll be directed through to the October Strava 5K homepage, as shown in the screenshot below:
Displayed in the screenshot above, see the tabs running horizontally above the bolded word 'Leaderboard'? Two tabs across hit ' My Clubs'. This will filter out the results just to include the members of your club who have joined the Strava Run Challenge and completed 5k in that particular month, so in this case, October. Here's a link to the challenge page if you're interested: Strava October 5k
This is how we determine our 'winners' if it is a prize incentive-based challenge. At the end of the month, be sure to check the leaderboard and take note of your winners. 
Still, need help? Contact me here.
3. Strava Group Challenges: How to utilize the Strava Update Feature to create a Club Challenge
Option number 3. The June 2021 Strava mobile app update, Strava Group Challenges.
I walked through earlier in this article how to create a Strava Group Challenge. It requires two things:
The Strava Mobile App
Being a Strava Premium Subscriber.
This option is really only best for small sized clubs right now, because you have to individually invite each member, and you personally have to be following them on your individual athlete account. I hope Strava will update this in the future to be a club feature also. We will see!
The method is pretty basic for this one.
Create the Group Challenge on the mobile app with the few easy steps we walked through early in this article, and then invite your club members individually.
 Create a post on your club, and maybe update the club description to remind your club members to complete the challenge. See my screenshot below for what I mean when I say 'update your club description'. It's the textbox below your club name. See how I have the link to a segment challenge (Option 1 from this article), that I created for this club?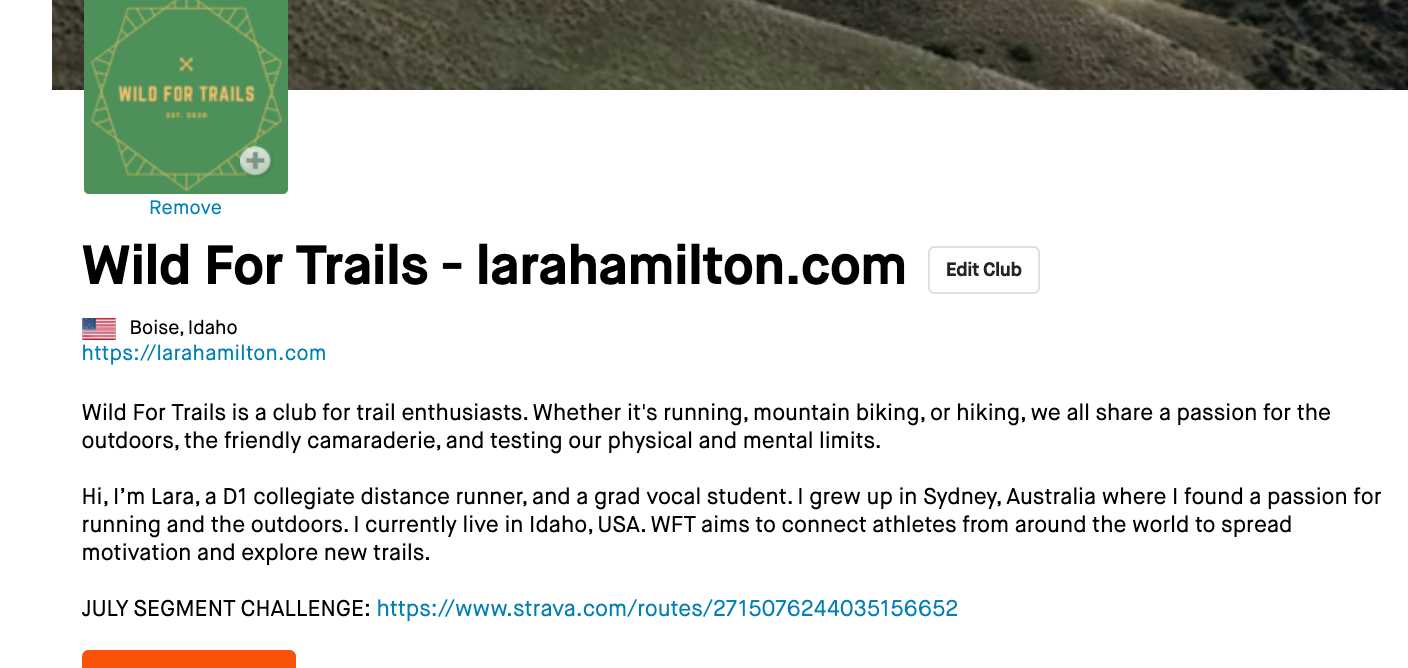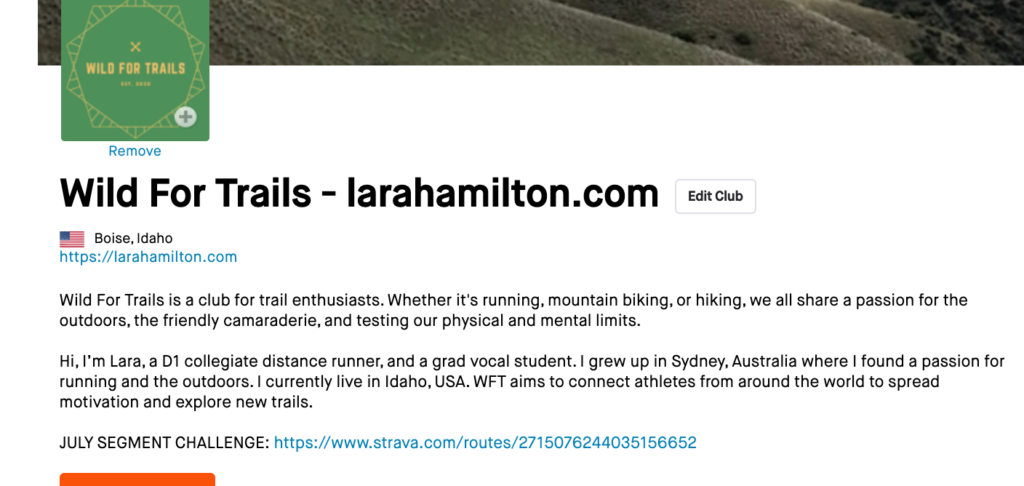 Unfortunately you can't generate a link to your Strava Group Challenge on the mobile app, but maybe in the future it will be possible. I will keep you posted!
Promoting Your Strava Challenge
You have a few options here.
On-Strava promotion
The best ways to promote your challenge on Strava is:
On your Club Page as a post – don't rely on 1 single post, post about it consistently, create a space for discussion
On your personal Strava athlete profile connected to the Club as a 'post'
On your Club Homepage under the heading, within your 'Club Descriptor' text.
Off-Strava Promotion
Run Facebook Video Ads targeted at individuals with an interest in Strava (Via Facebook Business Ad Manager – do not do a boosted post off your personal Facebook page. Contact me if you need to know why…)
Instagram 'My Story' promotion and actual posts, every day or at least every second day, for the duration of your challenge. Facilitate and create engagement with your athlete community.
Post it on your Facebook Business Page each day
Post it as a physical event on Facebook, link directly to the Strava event info on Strava.com, and invite all your Facebook users to the Facebook Event.
Strava Hidden Challenges
Photography: Pro Image Events Sports Photography
After researching Strava Challenges for a few months now, I often would come across the term, 'Strava Hidden Challenges'. I was interested and found that Strava users were experiencing difficulty finding challenges to suit their abilities and sport each month, hence the term 'Strava Hidden Challenges' –  Challenges that Strava doesn't advertise on a large scale. 
Enter Komm Club. According to their website, this is a platform that lists all the upcoming, currently active, and past Strava Challenges for Strava users to reference. The platform even allows you to link up Komm club with Strava so you don't miss out on challenges and would like to be notified as such. 
Here's the link to find out more: https://www.kom.club/#challenges
Still need help creating a Strava Club, or a Challenge for your Strava Club? Contact me here.