Pro Image Event Photography – Boise
ON Running Shoes 
You may have heard of these innovative, Swiss-designed running shoes before. I had the chance to try a few models in 2018-2019 and was recently reintroduced to them whilst surfing the internet reading about the latest running tech for some content inspiration (as a running shoe nerd does). I decided to explore a few popular models of On Running shoes below, discuss the shoe technology and include a brief account of my own experience in a couple of pairs. 
For a quick bit of context, On is relatively new to the running shoe market, appearing in 2010 and founded by three athletic and innovative running tech pioneers – Olivier Bernhard, David Allemann, and Caspar Coppetti. 
Here's the interesting thing I came across when reading about On Running –  The Swiss Federal Institute of Technology (ETH) released a study conducted with a pool of test runners, finding that On runners promote "lower pulse rates and lower blood lactate levels". 
Source: Click through to On Culture 
ON Running Shoe Technology
Here's a lovely photo of Roger Feder and the On Running founders + shoe tech experts, repping On Running. Not my own photography or content, sourced directly from ON,  here. 
According to the Wall Street Journal, On Running shoes set out to design a shoe that helped find a "middle ground" between the barefoot, minimalist running vs the cushioned running shoe debate. 
On Running labels their sole technology 'Cloudtec®'. Their website explains that the technology provides a soft, cushioned feel upon the downstride/landing, and then propulsion moving into the next stride. The aim when designing the technology was to create a shoe that doesn't compromise cushioning for minimalism and minimalism for cushioning. Essentially, On Running promotes their footwear as an amalgamation of both, boasting a lightweight design. 
The materials of the shoe are antibacterial (that's pretty neat, huh), as per the On Running Website – this is super cool. No one likes nasty toes after miles and miles. The shoe upper also uses tape instead of stitching, which is better from a waterproof standpoint and aesthetically.
ON Running Shoes Review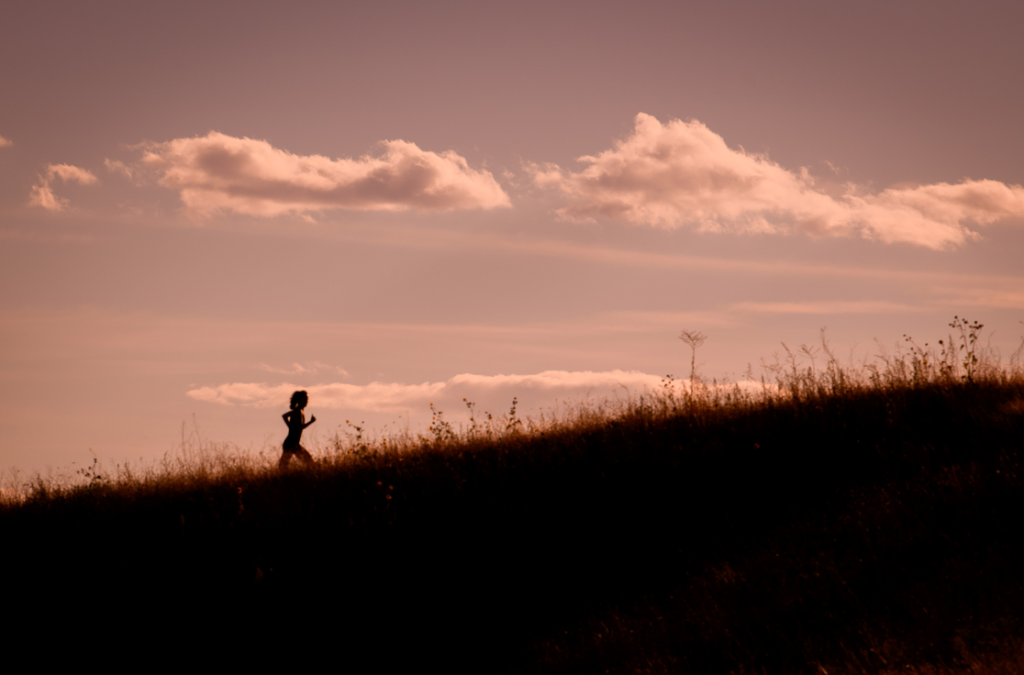 Pro Image Event Photography – Boise
I personally tried the On Cloud X and On Cloud Flow. They definitely have a different feeling to other running shoes. I instantly noticed a kind of 'massaging' feeling on the soles of my feet, and found them quite comfy to work a 6-hour standing job shift I had at the time. Running my Sunday long run the day after, my legs didn't feel fatigued from standing most of the day before – whether this was the shoe or not, I can't be certain, but I don't have too many suspicions. 
The shoes are extremely lightweight, I felt very 'free' in them. Very different from a more traditional Nike Structure, Brooks Adrenalin, or Asics GT 2000. Not necessarily 'better' (this will vary based on individual needs, likes, and purpose), just very different. They are unique! 
I can definitely vouch for the fact that the shoe has a very minimalistic design aesthetically, which is very Swiss in nature. They definitely stand out on the shelf amongst other shoes, mainly due to the 'clouds' on the sole (the cushioned sole segments, to describe them in the text). The design between the On Running Women's Shoes and Men's shoes didn't vary too much, they're pretty neutral. This is important as often I found particular colors of running shoe models didn't sell if they were too exotic or 'out-there' for most customer tastes. 
I loved the heel in the shoe, a lot of times I find with my extremely narrow feet, I tend to slip out of many shoe models at the heel. The On Runners I tried provided a secure fit at the heel. 
ON Cloudflyer
Launched in late 2015, this shoe is a great all-rounder, meaning it is an excellent training shoe. It will work well on roads, even trail, track, and turf. The cushioning is on the softer side, making it a more 'forgiving' shoe in this sense.
As expected with a training shoe, the On Cloudflyer provides more support (not a neutral shoe) and fits a bit wider. The shoe weighs 280g/9.88 oz and has a 7mm heel to toe drop. The general model is $159.99.
The model also comes in a Waterproof engineered design, coming in at $179.99 – On recommends purchasing a size up for all their waterproof models. 
ON Cloudflow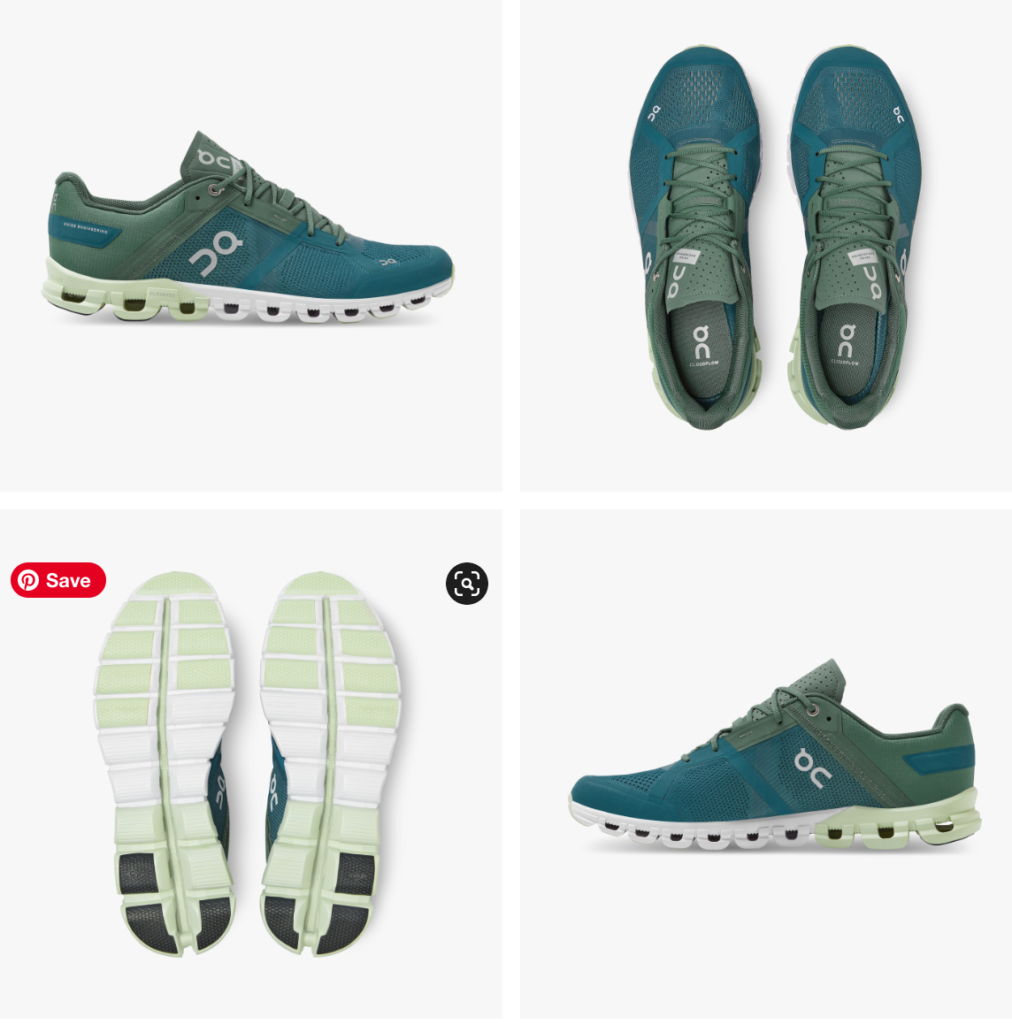 Launched in late 2016, the On Running website explains that the On Cloudflow was the first shoe of their collection to launch with a total of 18 Clouds (the sole, as I discussed earlier). The Cloudflow is best for both training and racing, particularly road racing. 
Why? Because the cushioning on this model is more midway on the scale – not soft, but not completely firm. Therefore it can provide forgiveness on the downstride but doesn't dissipate too many forces to impact the power through to the next stride. As expected with a training/racing model, it is a neutral fit. 
The shoe weighs 8.29oz / 235g, with a 6mm heel-toe drop. The On Running website explains that the Cloudflow is great for faster training, 10km, half marathon, tempo runs, and longer intervals. The shoe is $139.99.
ON Cloudflash and On Cloudrush
On Running discuss how 2017 was a year where the company chose to focus on designing performance shoes engineered for speed specific training and racing. The two models released were the On Cloudflash and On Cloudrush.
Definitely a racing shoe, these guys both have a 5mm heel-to-toe drop and are categorized as neutral stability. 
The differences between the Cloudflash and Cloudrush is that one is more suited to Road Racing (The Cloudflash). Whilst both have more minimal cushioning compared to other On Running models, the Cloudflash has slightly more than the Cloudrush, to reduce the impact from cement/road/gravel etc. 
The Cloudflash, therefore, could make a great interval/tempo/speed practice shoe AND racing shoe. 
Cloudflash: 7.41oz/210g – $179.99
Cloudrush: 7.76 oz/220g – $89.99
ON Cloudsurfer Running Shoes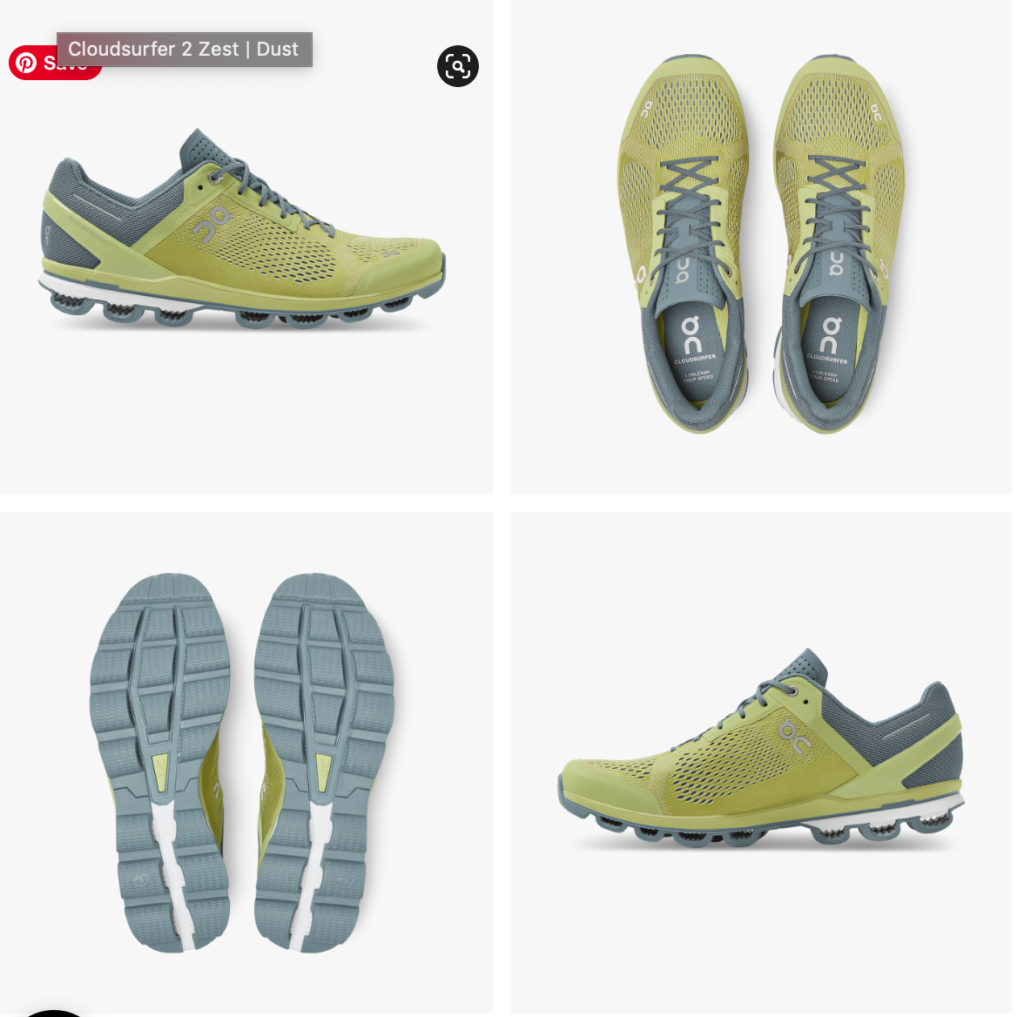 First launched in 2015, the Cloudflyer is categorized as a more supportive stability shoe that still retains the 'lightness' On runners are known for. Also primarily a training shoe designed for the road and other mixed terrains, it is great for mid-distance training and road training. 
The Cloudsurfers weigh 11.64 oz/330g and have a 6mm heel-to-toe drop. They're a bit heavier than other On Cloud models. 
Cloudventure 
The On Cloudventure launched mid-way into 2016, designed specifically for trail running and the conditions mother nature can throw at us.  The Swiss-style of engineering remains prominent, retaining the same lightweight properties as other On Running models. The cushioning is moderate on this model, which is necessary for a trail shoe requiring more stability in the sole for the harder off-road terrains. 
They're waterproof, have neutral stability, and as expected with a trail shoe, a more minimal 6mm heel-to-toe drop to prevent facilitating ankle sprains on uneven surfaces. 
The shoe weighs in at 10.41 oz/ 295g, a little heavier than other On Cloud models. 
Pro Image Event Photography – Boise
Learning more about why you run in particular shoes, and what you're putting on to your feet as a runner is important, but it is also fun.
If you want to watch a cool video that explores the history of On Running briefly, click here.
To learn more about The Zero-Gravity foam and On Swiss CloudTec®, watch this video here.