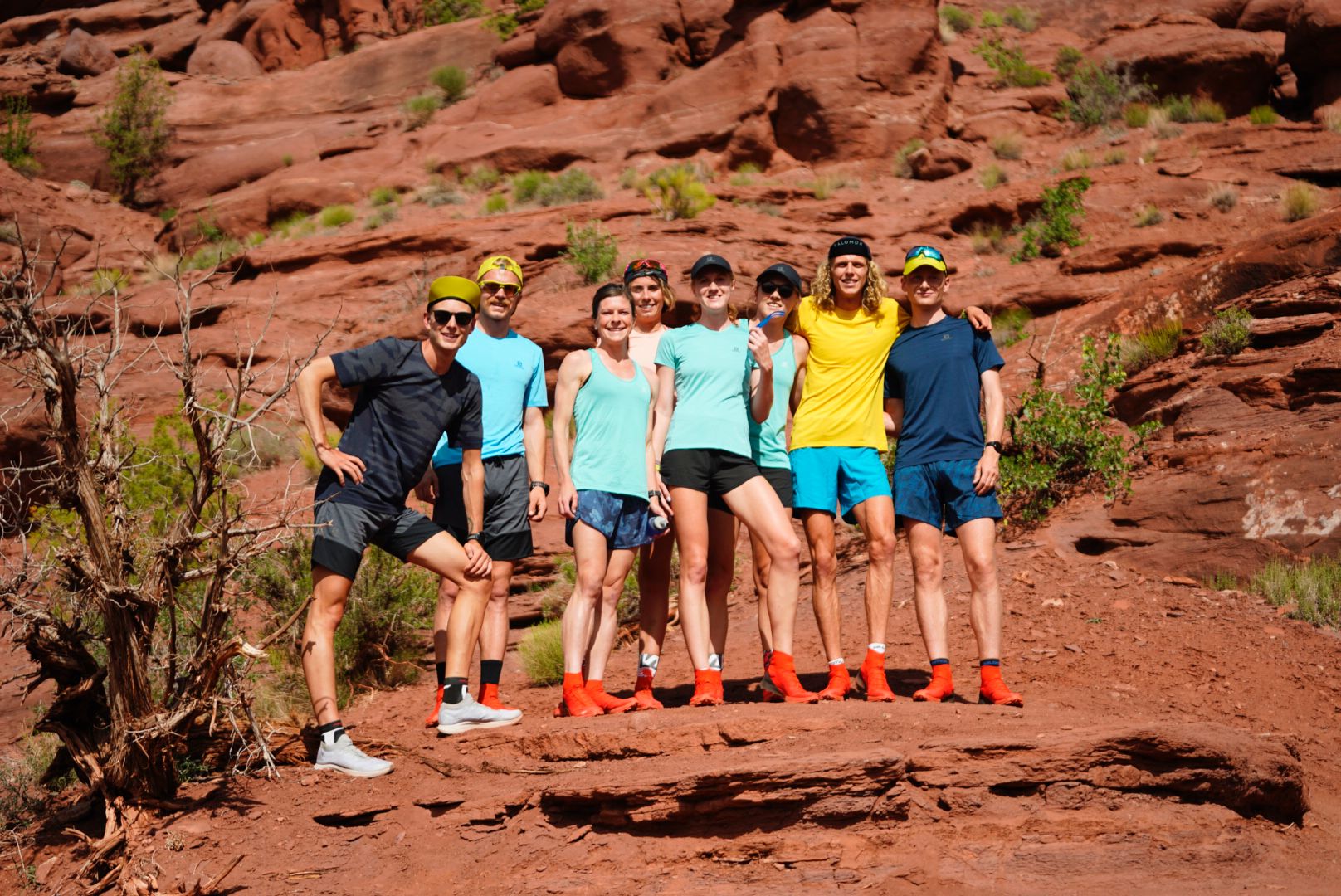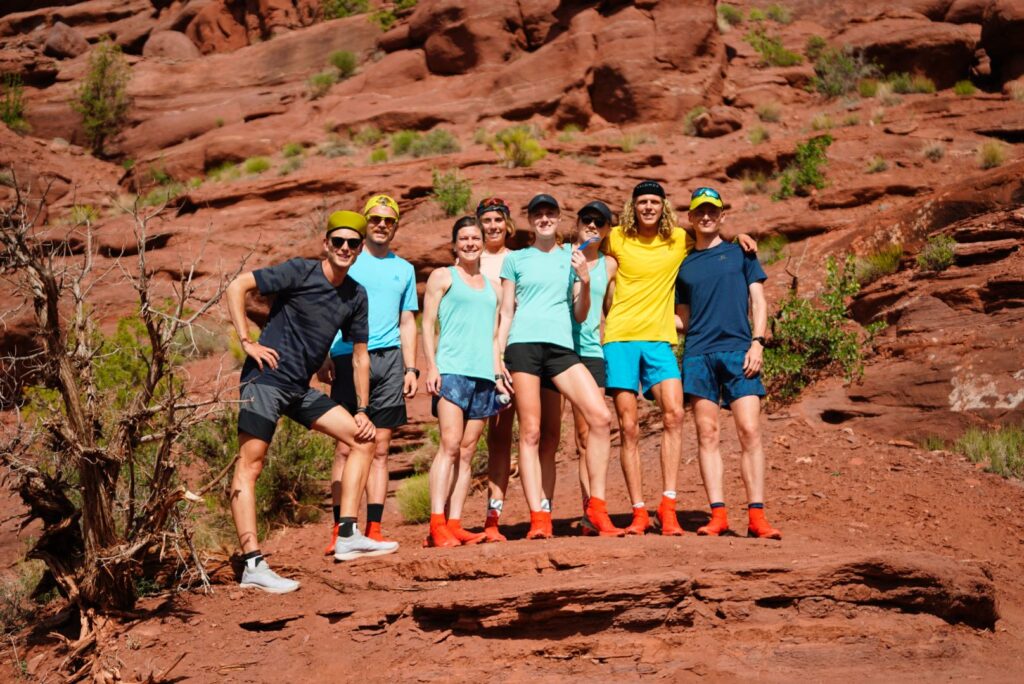 Group Shot! – Photography by Jamil Coury
Salomon Running: Adventures in Moab at the Salomon Running Academy
My experience at the Salomon Running Academy is hard to capture in words. The people, the running, and the atmosphere were so welcoming and enthusiastic that it was very hard not to smile the entire time. We would be in constant anticipation of the next adventure around the corner. The phrase 'once in a lifetime experience' is tossed around a lot in this day and age, but it truly was for me. This experience at Salomon Ultra Running Academy was an extremely happy time in what has been a hard and testing past 8 months. It has taken me a while to write this post, but here it finally is!
Salomon as a brand has always embodied the mentality of having fun in sporting endeavors and treating the outdoors as one big playground (whilst having respect and as much of a symbiotic relationship with the natural world as possible, see Salomon Sustainability Pledge), hence their hashtag and catch-line #timetoplay. I have loved the brand since I started competitively nordic skiing in primary school, and then in my transition to running, and more specifically distance trail running. So, when I received the email that I had been selected as one of 16 very lucky ducks for Salomon Running Academy USA in Moab, Utah, I was over the moon. I was so excited I had a solo personal dance party. My downstairs neighbors obviously heard my celebratory outcry and ruckus I was making upstairs and texted to ask if I was ok out of concern. Important details to include, to explain just how excited I was. As fate had it, I received the email straight after I finished my final graduate university exam. Moab had been on my adventure list for a while. 
The 4 days at Salomon Ultra Running Academy went by extremely quickly – time flies when you're having fun, as they say. I'm going to do my absolute best to capture the experience. 
Day 1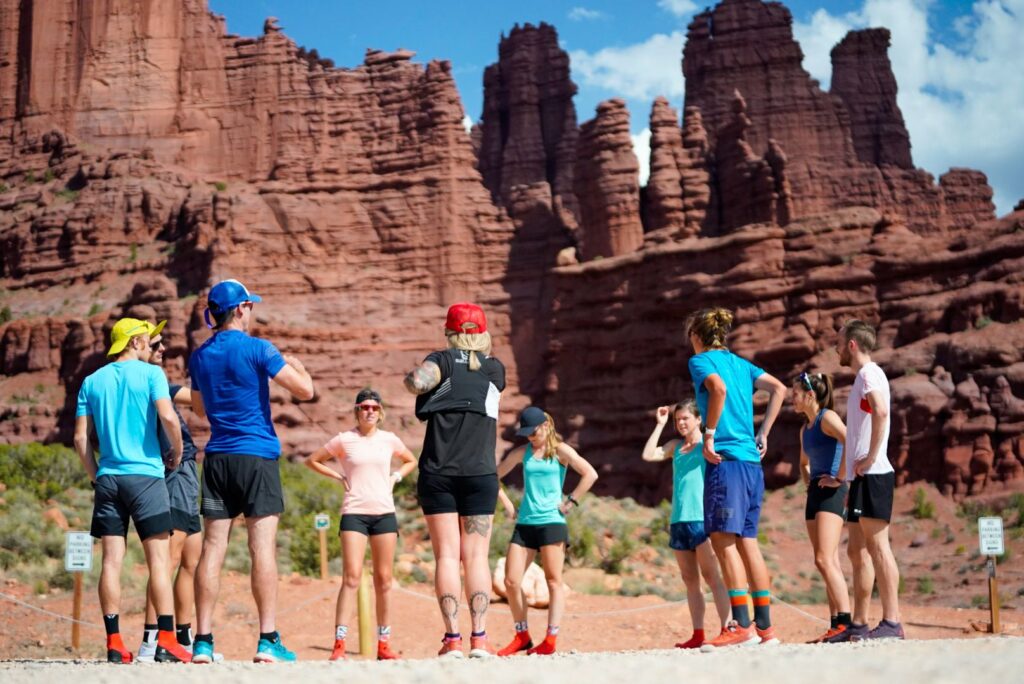 The Salomon Running Academy team traveled from all around America (Utah, Colorado, Oregon, North Carolina, New Hampshire, California…) to meet at the stunning Red Cliffs Resort in the middle of Moab. The resort was down in the valley, hugged by the Colorado River and tucked in below the red rock cliffs. One thing I've always loved about America is the diversity of the geography and climate. I'd traveled from the highland desert of Idaho to the highland desert of Utah, yet both were extremely unique and different.
Once we arrived, we were introduced to our new friends, team, and coaches for the next few days. We were extremely lucky to be coached by Salomon Athletes Max King, Courtney Dauwalter, Jamil Coury, Jeffrey Stern, Olivia Amber, and Preston Johnson. I've watched every Salomon TV running and backcountry skiing film ever and gained so much stoke from them –  so it was amazing to meet these amazing athletes in person. The wonderful runners from around America that I met each had their own interesting backstories and trail tales and laughter to share over the miles we ran. We were so lucky to receive Salomon gear for the camp (like one big Salomon Christmas!), including the Salomon S/Lab Sense 8 Soft and Hard Ground shoes. The Soft Ground shoes came in handy would you believe it, because it rained (!) in Moab on Day 3.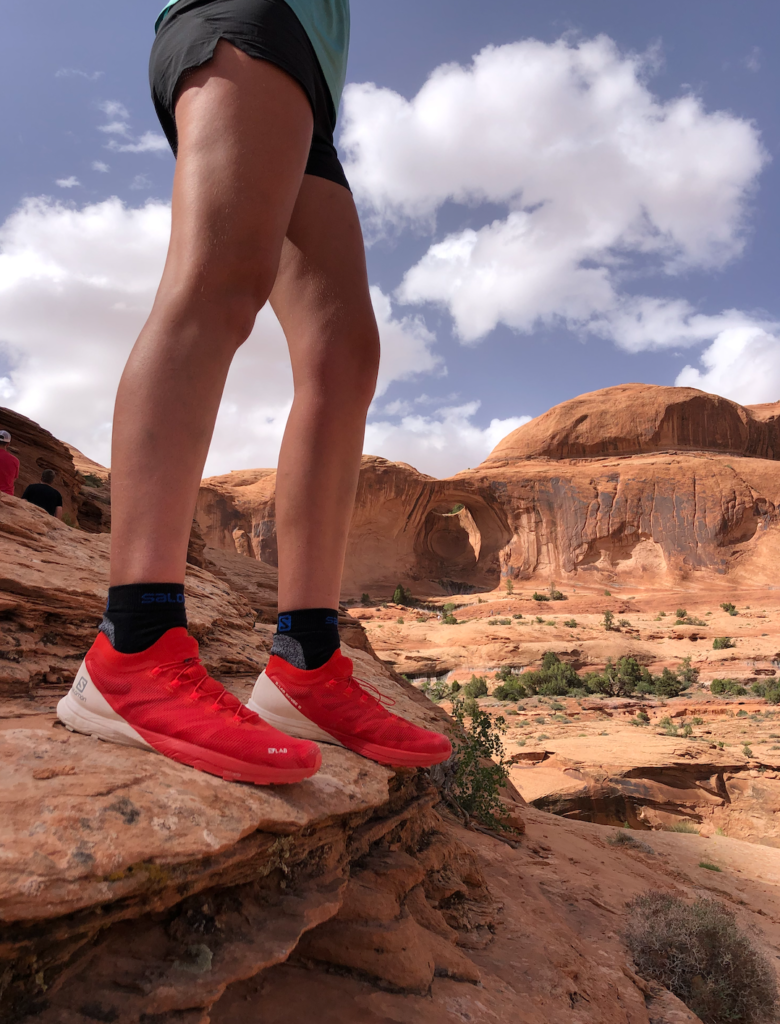 We left the lodge in the afternoon for a much-needed run at Fisher Towers. The trail out and back is around 6.8km (just over 4 miles), 358 (1175ft) of elevation, and breathtaking views. Our colorful Salomon kits added a burst of color to the trademark red of the rocks and towers surrounding us. This run took us a long time because we had so much fun stopping to admire the views, take photos and film content zooming around the trails, and jumping over rocks. I wouldn't recommend trying to boulder on most of the rocks, I learnt the hard way that the rock is very loose! It is moments like these that you cherish, where you're completely in the moment and everything feels at peace. I respect these moments because they don't happen all the time – luckily, this trip was full of them, and LOTS of laughter.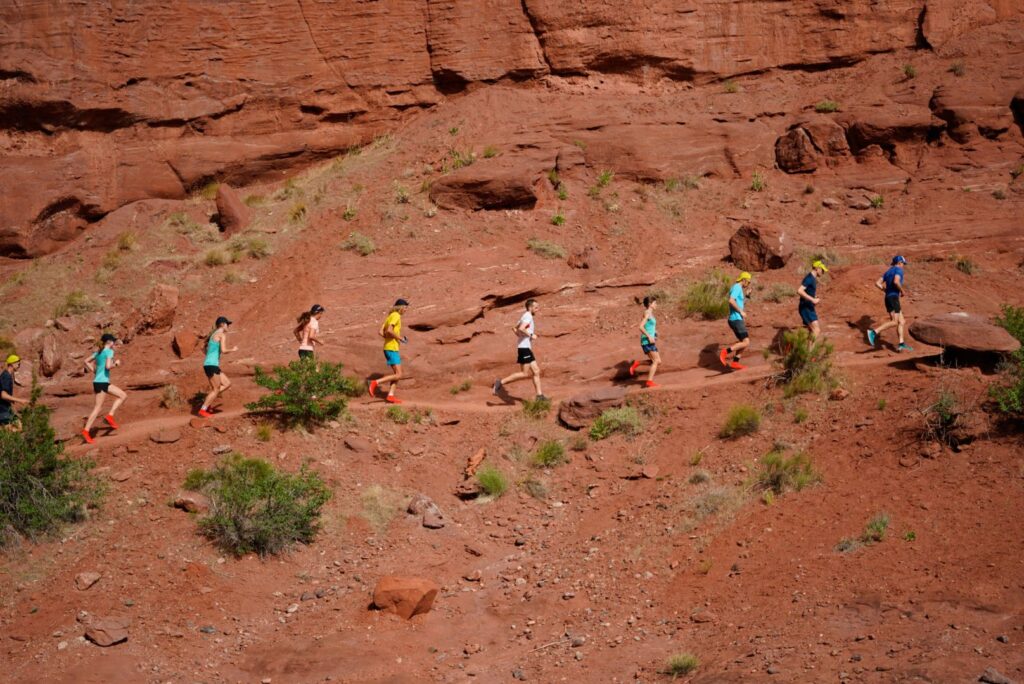 By the time we'd finished our adventure run, the storm which we saw across the valley earlier in the run began to settle in. It was a much-needed relief from the heat and reminded me of the summer evening storms in Australia that I grew up with. 
Of course, being a runner, it's only natural that I mention how good the dinners (and the dinner time view) were at Red Cliffs! Definitely hit the spot after running in the desert all day throughout the camp.
Day 2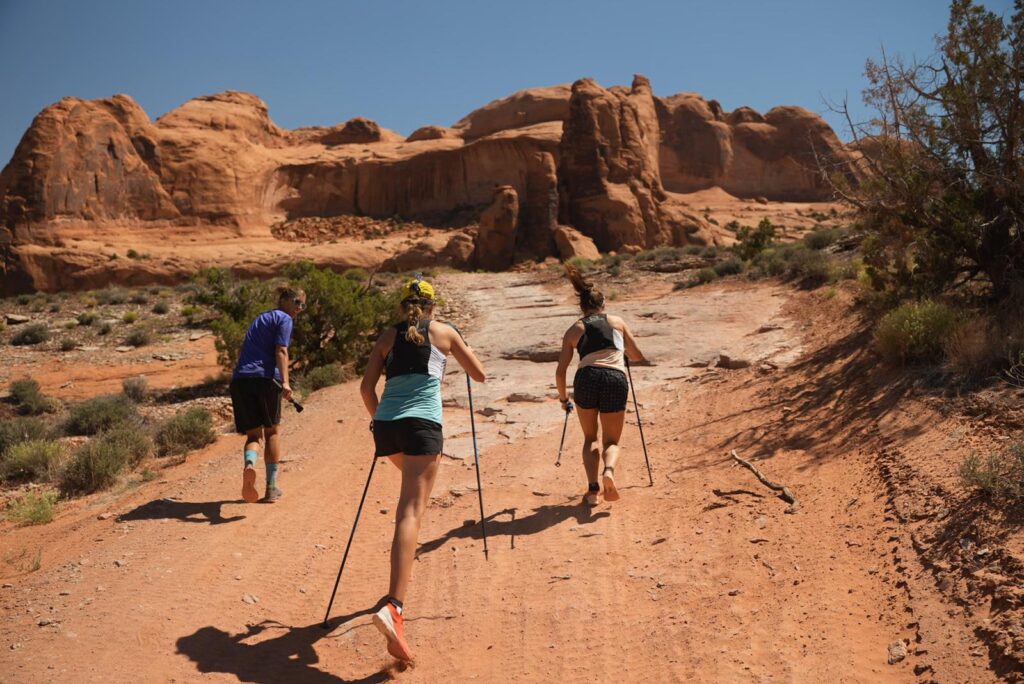 Today's focus was uphill running, with a focus on running with poles. We drove through the town of Moab to the Hidden Valley Trail. The run begins with a short but steep uphill, perfect for the clinic. Here we refined our mall-walk, used for mildly-steep incline and the trekker technique, for steeper inclines. Often in long distance races it is important to consider where you'll hike to conserve energy for the more runnable parts of the course. Sometimes it is not feasible to run the entire race. This is part of the fun of long-distance trail running, you have to make strategic decisions to ensure you can cover the ground as fast as you possibly can, without bonking. We were lucky to be greeted with expansive views of the snow-capped mountains in the far distance, despite it being quite hot in the Moab valley.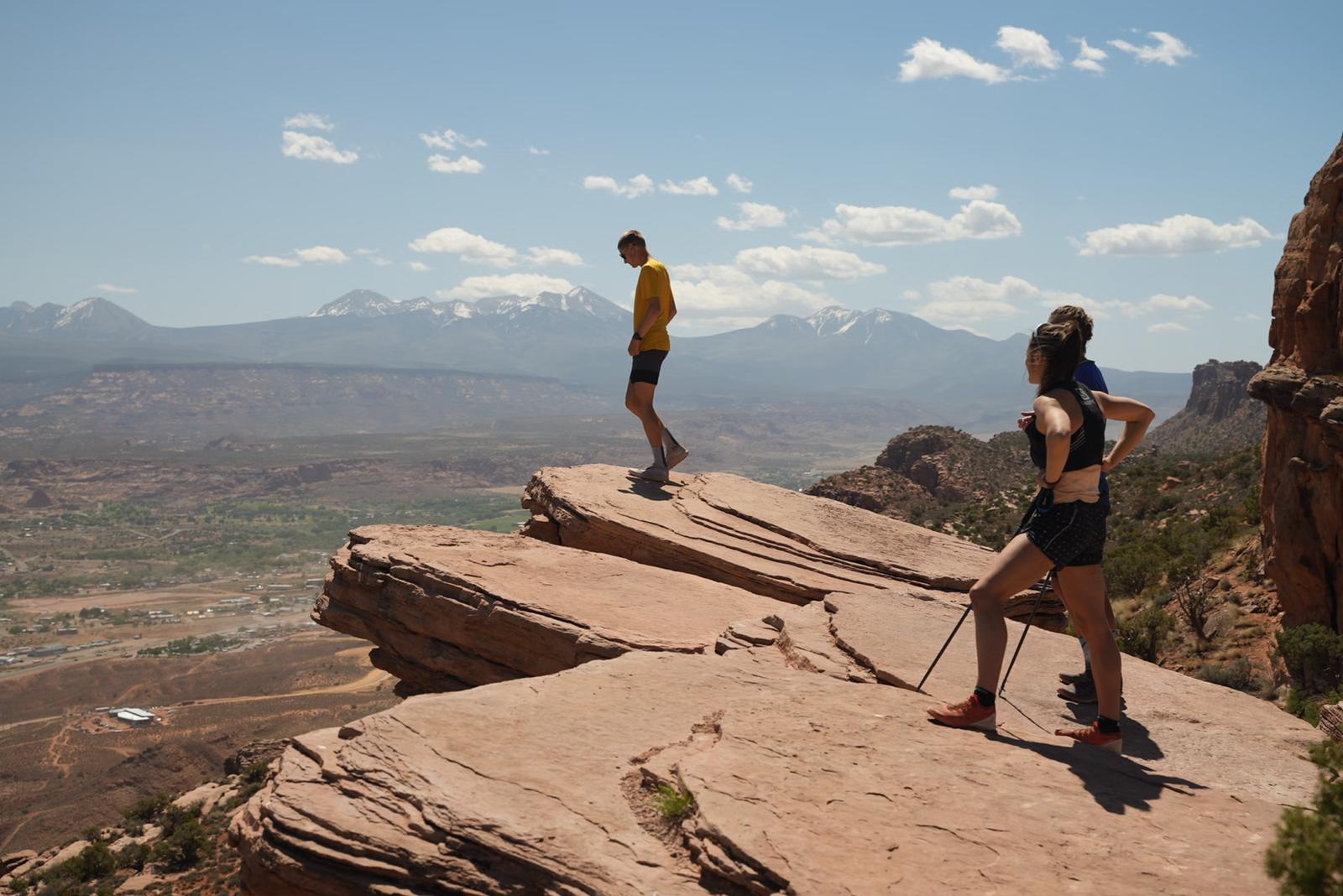 Being a keen Nordic skier, I was very excited to use poles in my running practice. The uphill pole running came quite naturally, but I definitely need to work on using them to assist me on the steep and technical downhills. A pair of foldable poles are a must if your race has steep technical sections over a long distance. We continued climbing until the trail opened up to a higher valley, where we were lucky enough to come across ancient petroglyphs, some sandy downhills we could absolutely 'send it' down, and uphills to put our pole technique to practice and also just goof around!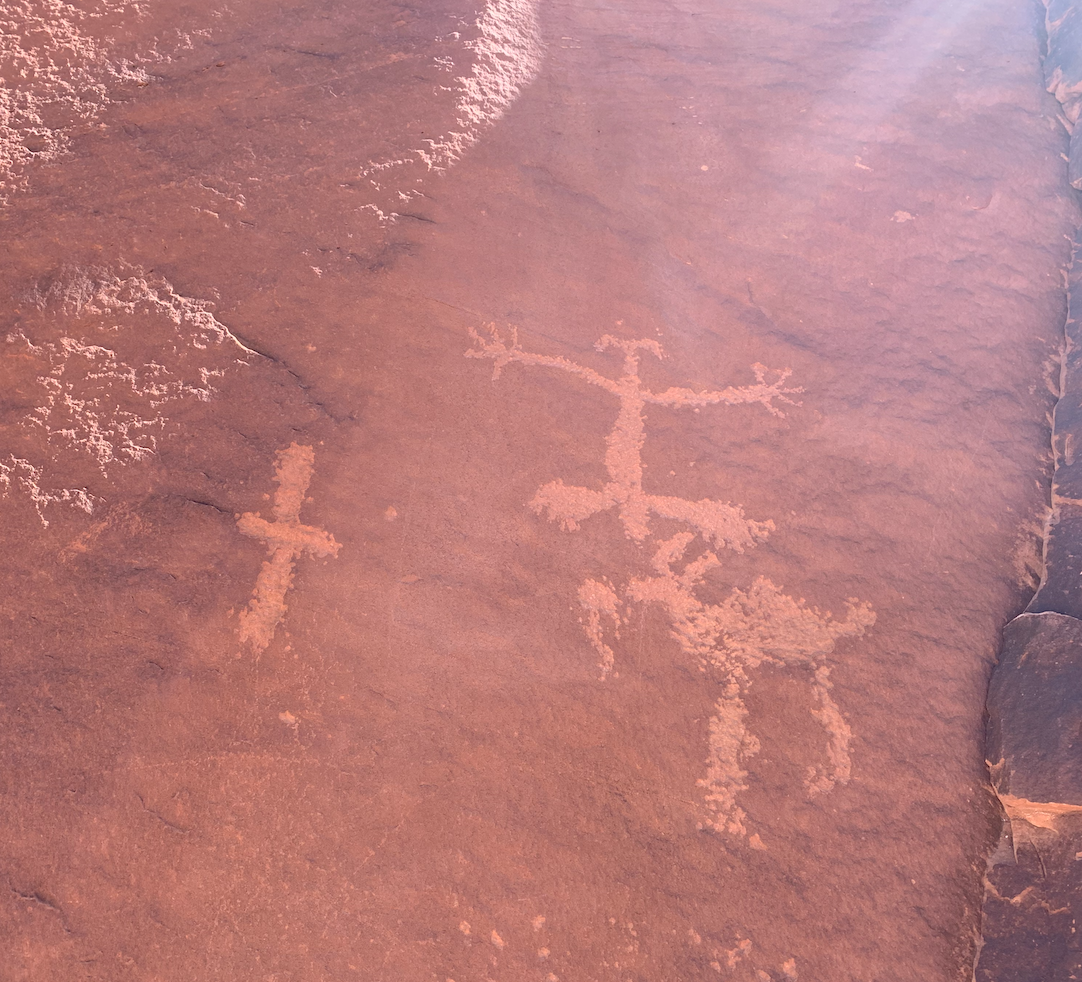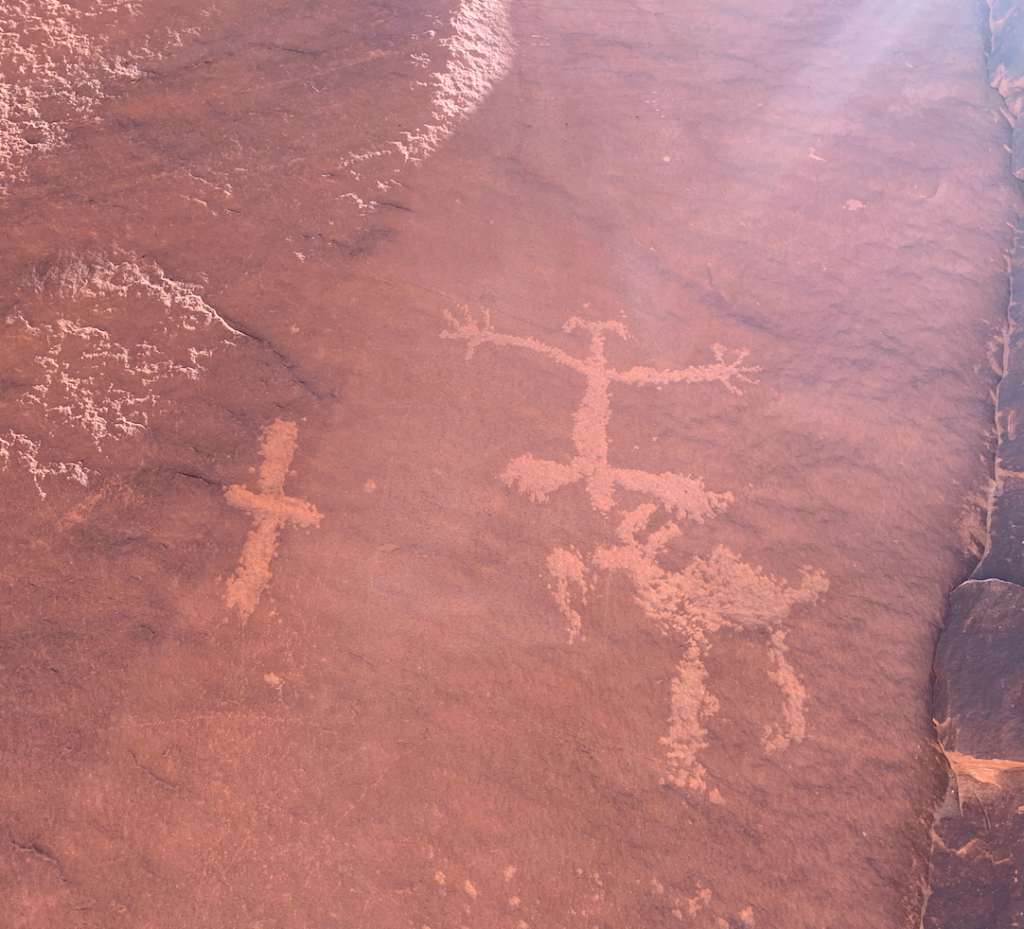 The Salomon Running crew surprised us for an adventure to Mill Canyon Creek and natural pools for a lunch picnic and much-needed cooldown. A few of us were feeling adventurous and decided to climb above the pools to jump down from the top of the waterfall. After I saw a few other people do it, I had to try it for myself. It was one of those days where each moment you entirely present in, and any stress induced by the past or future temporarily disappears. I really savor days and moments like this. There was a lot of laughter, smiles, and curiosity from the whole group, adventuring and enjoying the environment around Moab.
The evening got even funnier when Max King stitched me up, ordering 'Rocky Mountain Oysters' and tricking me into thinking they were freshwater oysters from right out of the Colorado River. Oh how I was wrong, and I found out the hard way by taking a bite, thinking they were 'fried' somehow, American style. Rocky Mountain Oysters are a 'delicacy of the west', and in fact, are not at all a type of seafood!! If you're not sure what I'm harping on about, give it a google. Soon the classic Aussie term, 'stitch up', had caught on around the camp- I loved it! 
Day 3
Day 3 a few of us got up extra bright and early for a morning run at Porcupine Trail, however I decided to use the time to capture some reel content in a great location, on uncrowded trails, and fit in a bit of rock scrambling too! Digital Marketing and Content Creation in the adventure sports world has always been a bit of a side hobby – if I'm not doing the sport or working in the field, I love to get out there and make content. 
The weather today was a lot cooler, with short bursts of rain which is very unique for Moab. However, this was very much needed for the abnormally dry season many parts of the US are experiencing. The small group returned and sang praises for The Porcupine loop, which I hope to run the entirety of next time I get the chance to visit Moab. 
Checking Pole Form Technique –Photography by Jamil Coury
Today's run was focused on downhill technique and slick rock running. We ran through some lower wetland areas up the trail which climbed slightly higher above the Colorado River. The trail hugged the river for almost its entirety, and we were guided to a fun technical downhill to practice bombing down. We all took a few turns running down the trail section as fast as we could, cheering and egging each other on to push it that little bit faster. The rain and wind made it a little bit more fun, to be honest. We were able to run this trail a little faster today, as the terrain was more forgiving and the slick rock allowed for a more sturdy and reliable foot landing. The S/Slab Sense 8 shoes performed extremely well on this terrain, even on the now muddier downhill sections, which were much sturdier on the way out!
A little cold but extremely stoked, we all jumped in the vans and headed back to Red Cliffs to dry off and have some lunch before the afternoon's activities. We were lucky to meet the selected group of 8 ultra-long distance runners who were attending the camp for the next four days, and spend some time getting to know each other and of course, talking about running and adventures.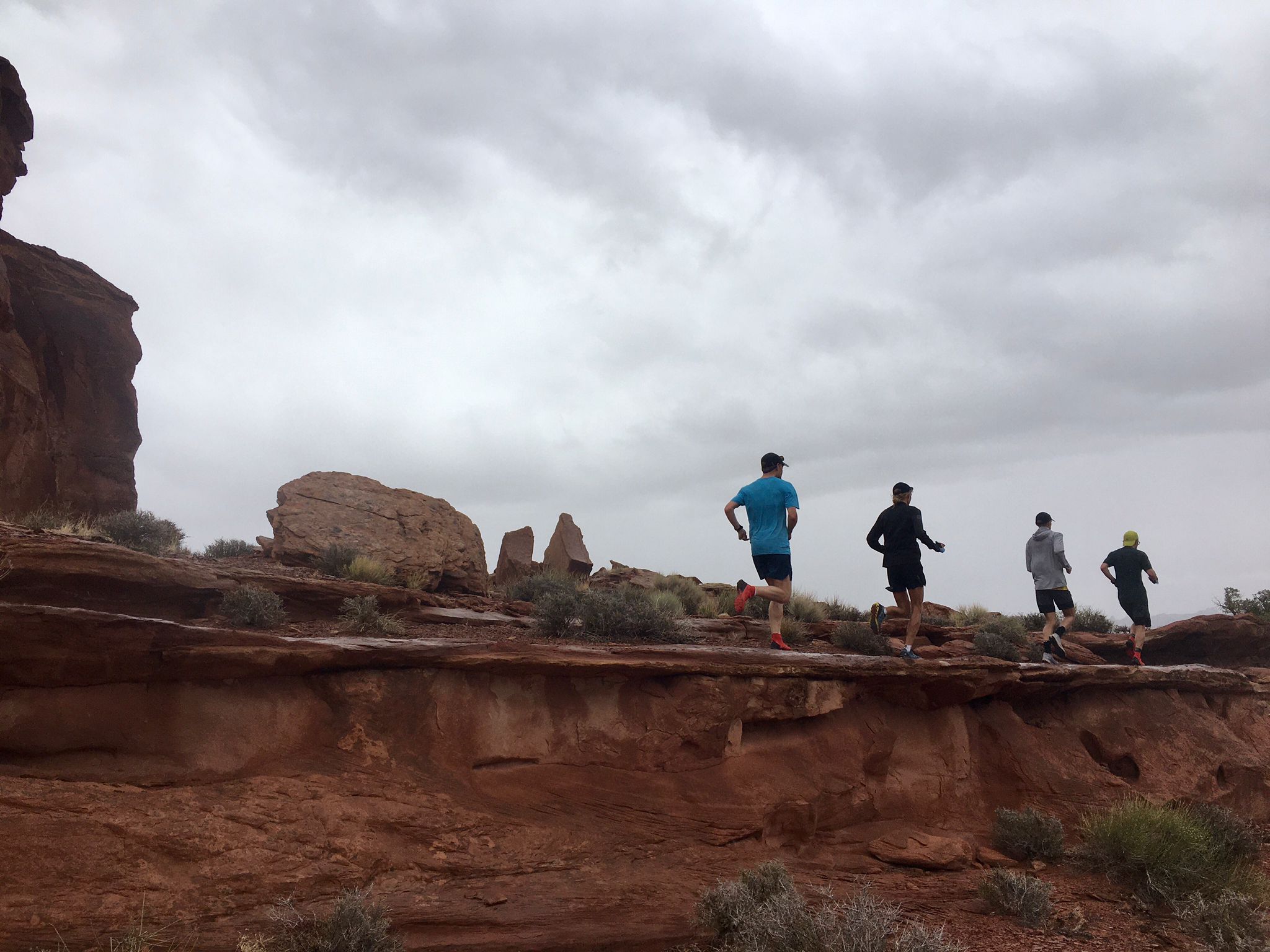 Photo by Jeffrey Stern
We paired up and headed out to Arches National Park to create some content. Jamil provided each team with a Gimbal, which has a Gyroscope to stabilize the phone camera whilst you're on the move. I met the lovely Allison, and we had a blast exploring the rims, cliffs, and rock formations whilst filming the content. That evening we had a movie night and watched everyone's final product. It was really interesting to see what everyone creates when they are handed a device to aid and express their creativity when given no strict guidelines. We were allowed to let loose in nature and come up with whatever we liked. Definitely a fantastic idea and activity, and a great way to get to know some new faces.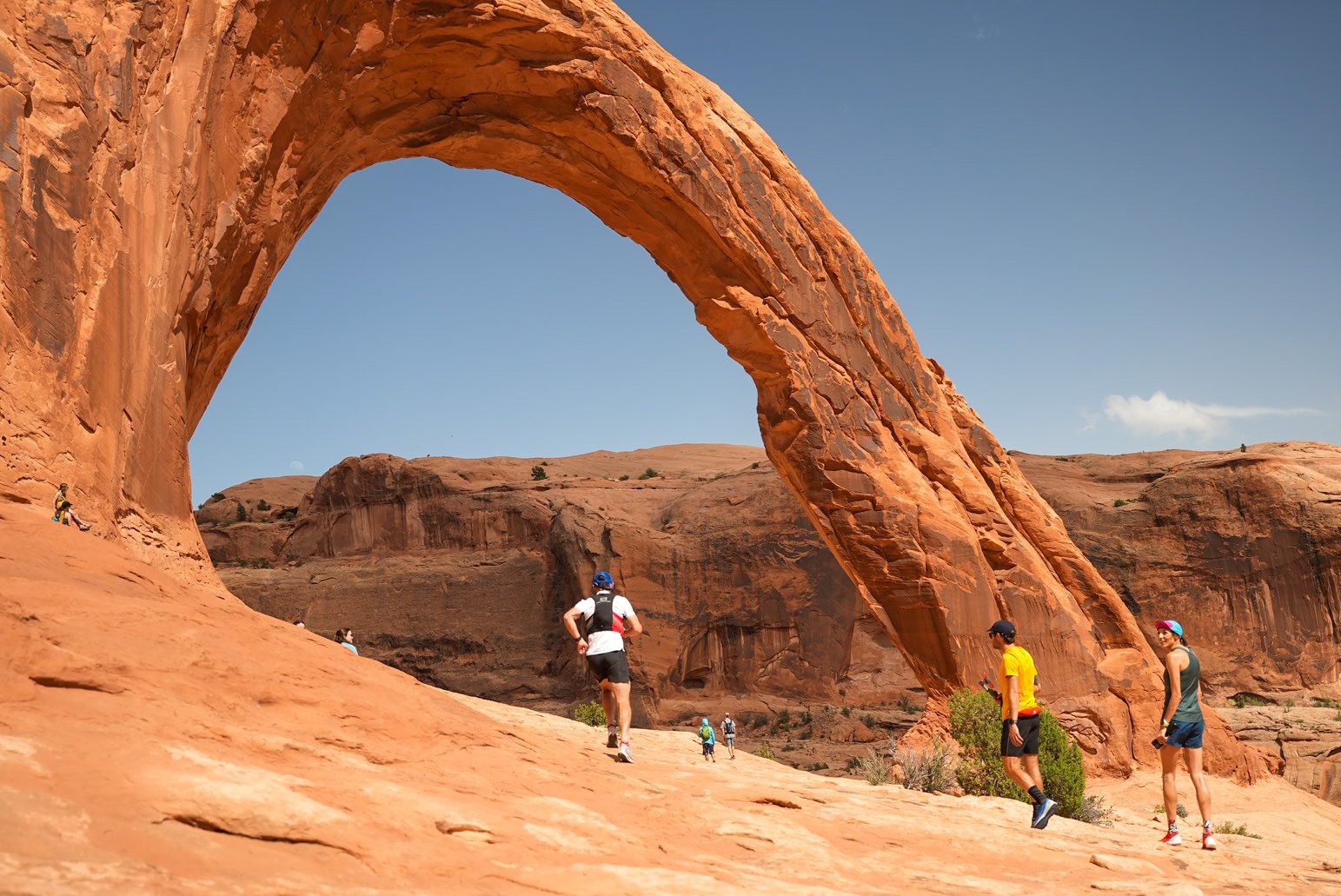 The Salomon team let us know that we would have the opportunity to run a time trial the next day, of around 10.5 miles (1 loop) for the shorter-distance crew and 21 ish miles for the long-distance crew (2 loops). In honesty, personally, I was quite nervous at the idea of running this hard as I had been on a running break for a while due to some medical issues, and recently resumed some mileage in time for the camp. However, after some pep talks by the lovely Salomon team (thank you Courtney!) and my camp teammates, I decided to just give it my best shot, and not put pressure on myself to hold a certain pace. To run it, to take it in, to appreciate the opportunity in front of me – that was the plan. 
We all went to bed in high spirits and keen to play and run fast on the trails of Moab in the morning for one last hit-out. 
Day 4
Ready to roll, we drove to the start of the course, recce'd and marked out by Courtney and Olivia the day before. The banter and good vibes filled the atmosphere, and I knew it was going to be an excellent morning. Despite a few days of lots of climbing and mileage (for some!), we all still had energy, because energy is contagious – I'm sure of it.
I loved the opportunity to run this loop with Bonnie, we chatted all about life, navigated the single track, the rocky technical sections, the slick rock, and the small amounts of climbing to push each other through the course. There were some amazing runs by the team, especially some of the paces held over technical trails and distances. I felt motivated to improve my own running technique, and aspire to be as humble and approachable as many of these high-level athletes no matter where life takes me.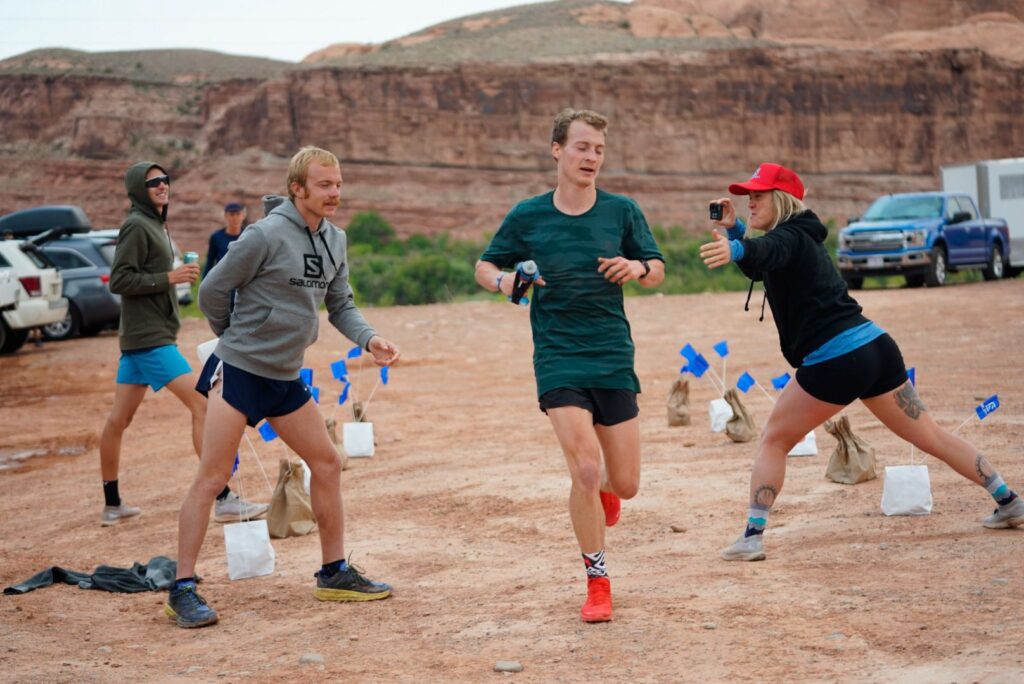 The post-time trial laughter was high, with a few sneaky beers, gummy bears, random dancing, and jokes, all at 9am in morning. Ah, the life of adventure athletes! 
It was a very high note to end the camp on.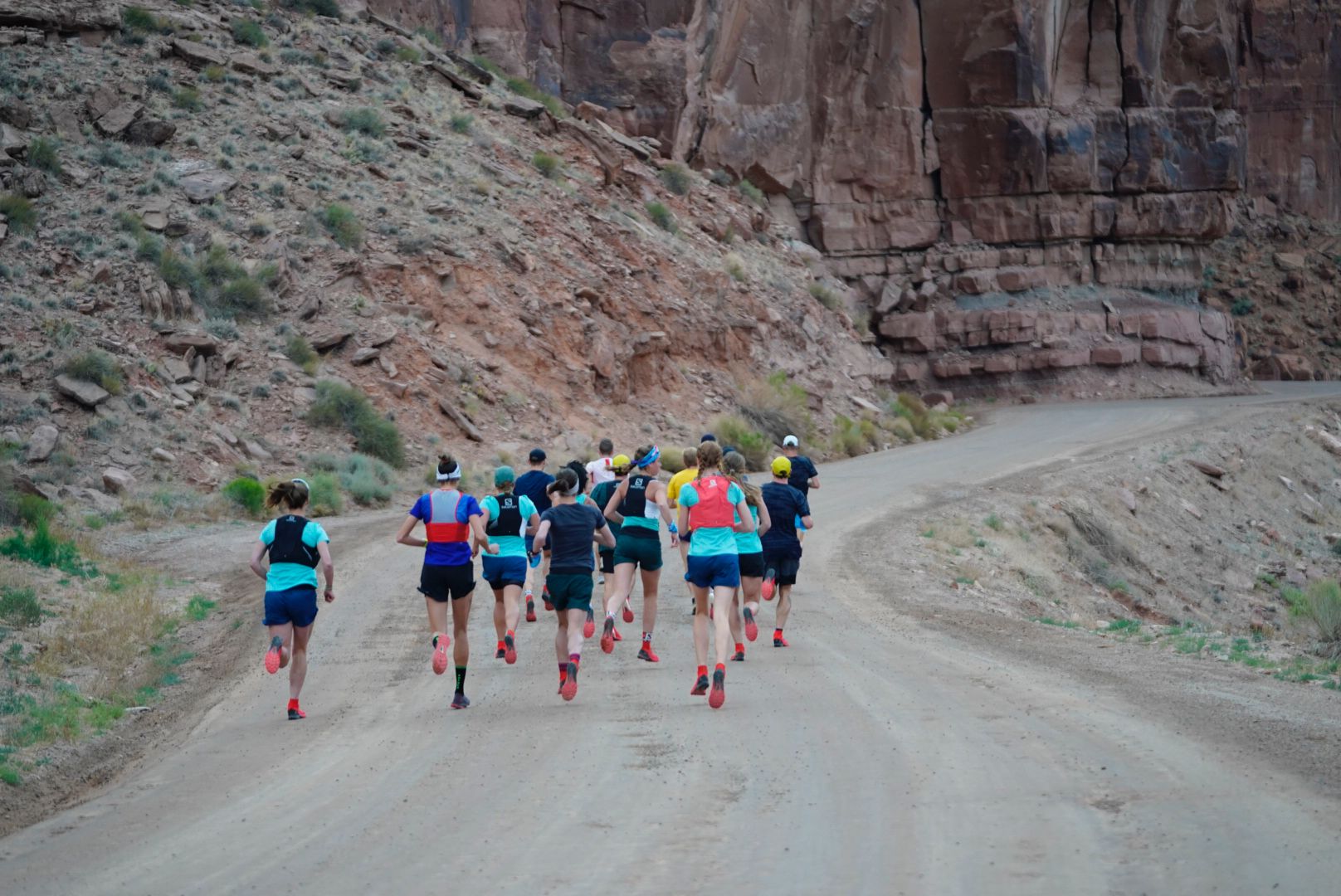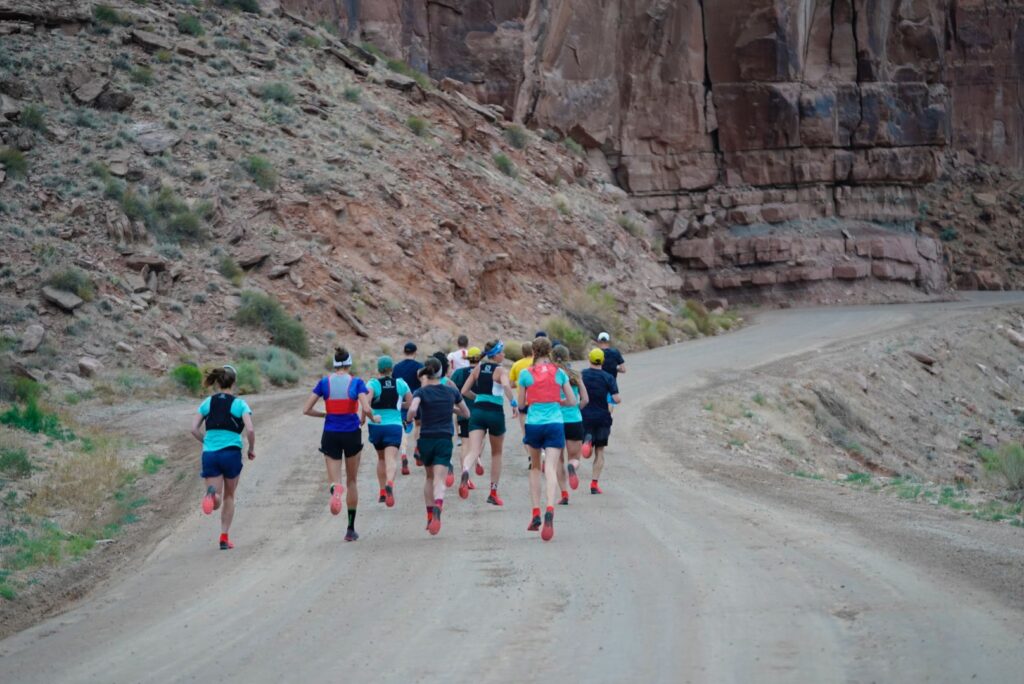 The Salomon Running Academy is an opportunity I will never forget. After a very testing 1.5 years since Covid came into this world, the opportunity to attend made many of the harder memories be replaced by a focus on getting fit, healthy and prepared to attend the camp. Soon the harder memories were replaced by wonderful memories of running through Moab with an amazing and supportive group of people from all walks of life. It is one of those experiences that you wish you could relive again and again. However, the great thing about life is there is always time for another adventure, to which you can feel the same exhilaration and that, 'this is really living' feeling. 
Until the next adventure. Thank you everyone for making The Salomon Ultra Running Academy an experience of a lifetime.