Best Ultramarathon Shoes
When you think ultramarathon, what often comes to mind is crazy long distances, rugged terrain, ascents and descents (elevation gain, maybe?), varied weather, aid stations, camaraderie, and a massive sense of accomplishment. An ultramarathon shoe is a tool and a very important one at that, that must be tried and tested in training so the runner can rely on it on race day. It has to endure the weather, terrain, and distances. Trail-running is a sport is becoming increasingly popular (especially in light of recent world events), so I thought this may be a good post to explore as the running community expands. In no particular order, I've looked at a few popular long-distance, ultra-marathon running specific footwear (trail ultras) – the tech, the fit, and the cost-point. 
Consider what terrain you'll be spending a significant amount of time on, the distance covered, and potential weather conditions. Why? Because you'll need to consider the sole and materials of the shoe, so they best suit the conditions. Personally, I like a shoe that works well in mud, on rocks and sandstone escarpments (where I run in Australia has a ton of this) and sand. I also like a sole where I don't feel sharper surfaces or rocks putting pressure on the bottom of my feet and metatarsals. 
Shoe 1: Hoka One One Speedgoat 4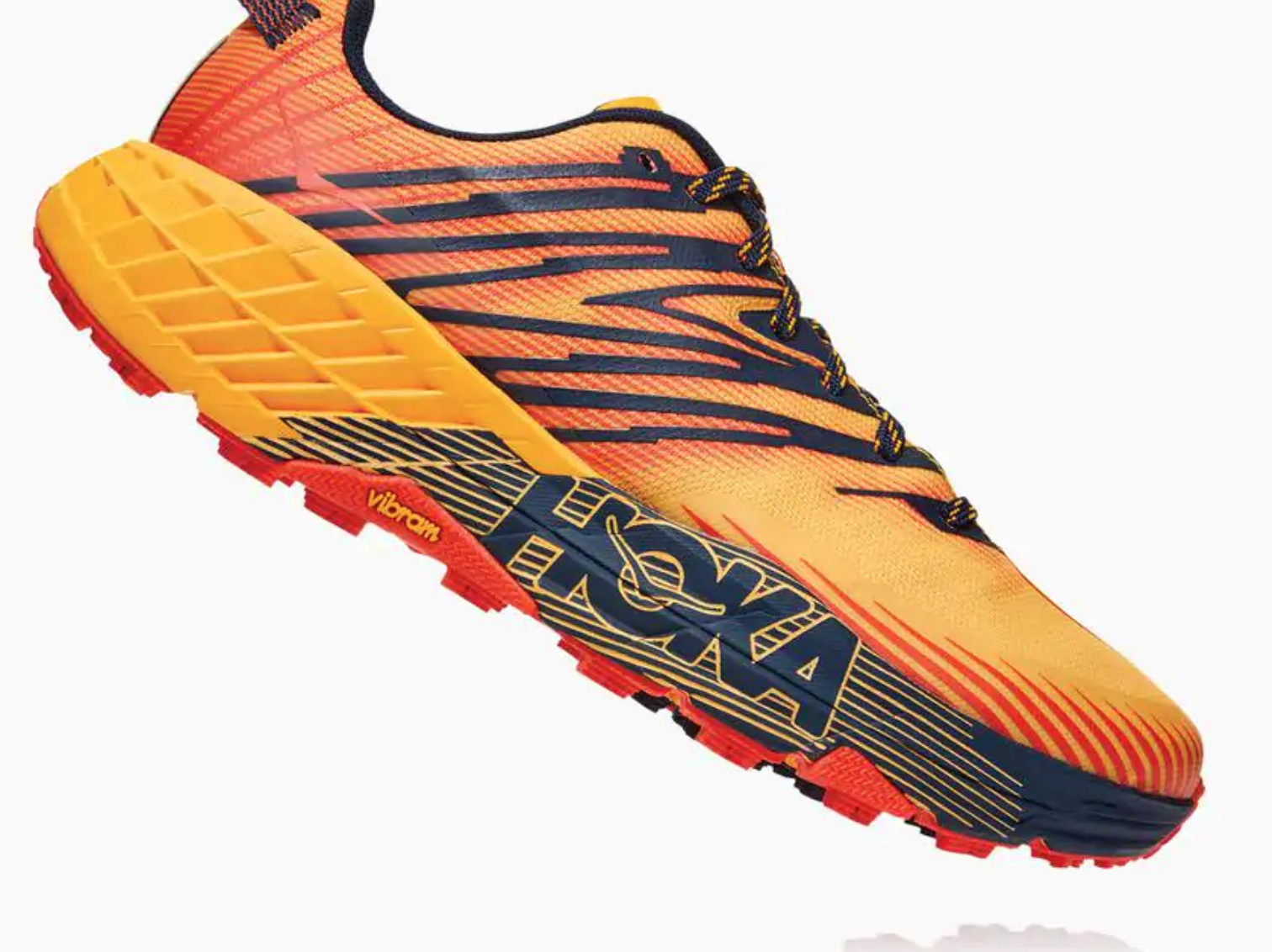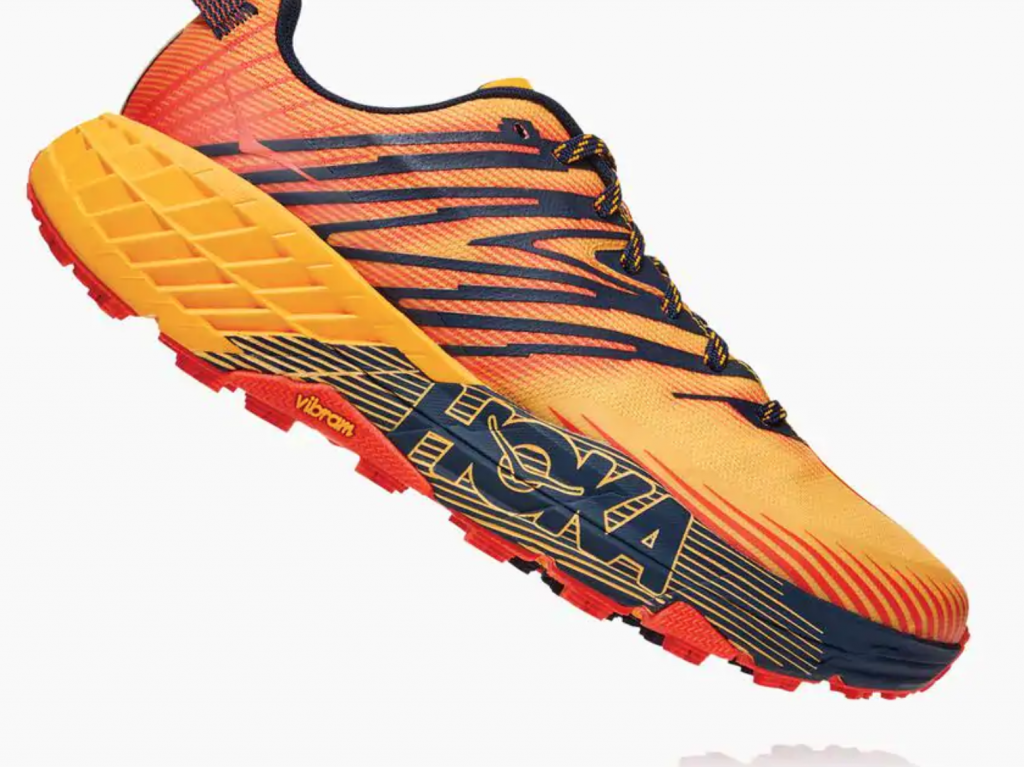 In the trail and ultra community, this is a well-loved shoe. Having taken a pair for a spin myself, I really enjoyed how it felt like a true 'race' trail shoe. Lightweight, well-cushioned, and responsive. The sole isn't overly aggressive either, so you can run a variety of trail terrain in them. However, the mid-sole of the shoe is particularly thick, so if you like that close to ground contact, and to really feel the heel-to-toe push off, this may not be the shoe for you. After all, Hoka are known for their cushioned shoes, with the rocker feature. If you know your trail shoes, you shouldn't be surprised about this! The sole is Vibram, with excellent traction/grip- so it does work well on the trails. 
The stability is more on the neutral side, as to be expected from a trail shoe. This allows for better traction and responsiveness on uneven ground and reduces the risk of a dreaded sprained ankle. One thing I did notice about this shoe, is it is better suited for a narrow foot, such as my own. I struggled to find a trail shoe that fits as well as the Speedgoat did. It does fit true to size and width, from the description. 
This shoe has a heel drop of 4mm and weighs around 9.2 ounces for women, 10.8 for men.
Shoe 2: Salomon S Lab Ultra 2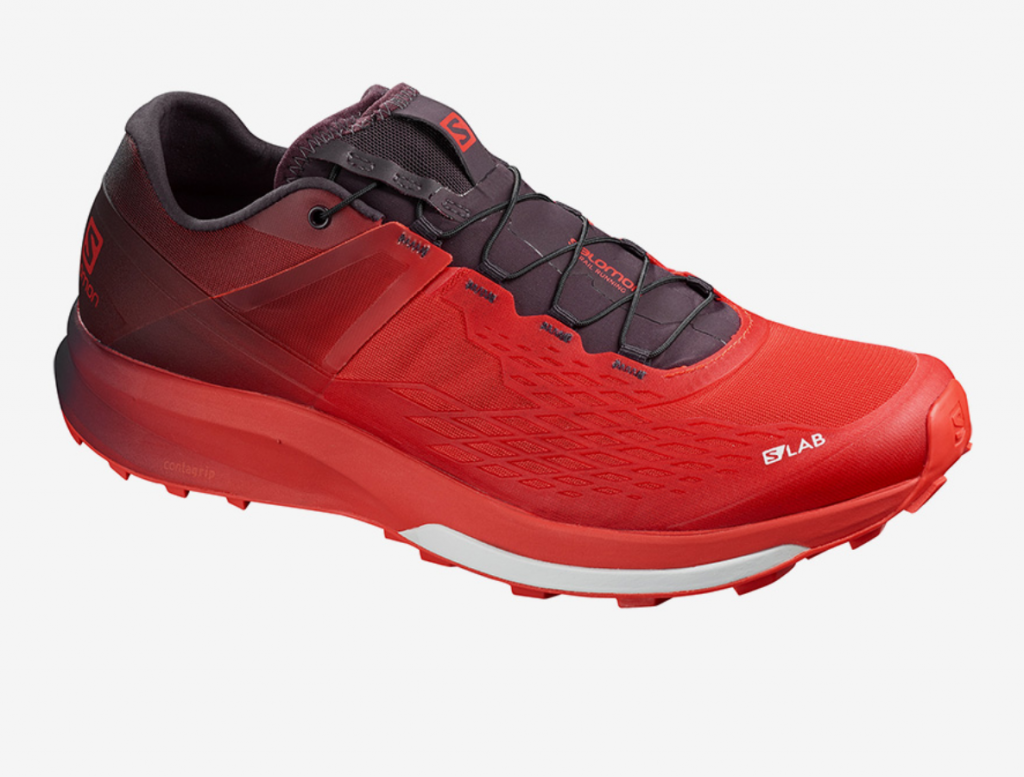 This is also a highly-discussed and popular shoe in the trail-running world. Salomon promotes this as their ultramarathon specific shoe. Being the 2nd generation model, Salomon has had some time to up the game on the technical features. According to their website, they have improved the weight of the shoe, the durability and kept all the comfort features onboard. The shoe, in essence, retains its speedy trail race purpose. Salomon is known for making shoes that are durable and can deal with almost all terrain. Mud, snow, sand, tree-roots, wood-chips – you name it. The midsole is made of long-lasting polyurethane foam, which Salomon describes as ideal for ultra-running. Their outsole is made of what they term their 'premium Wet Traction Contragrip'. Since it is a trail-racing designed shoe, I have read from reviews that it generally doesn't last as long as others, especially if it has been put through the trials of an ultramarathon, or training for one.
This shoe weighs in at 285g (men), and an 8mm heel drop. It prices at $180, however, Salomon is offering it for $135 currently.
Shoe 3: Saucony Peregrine 10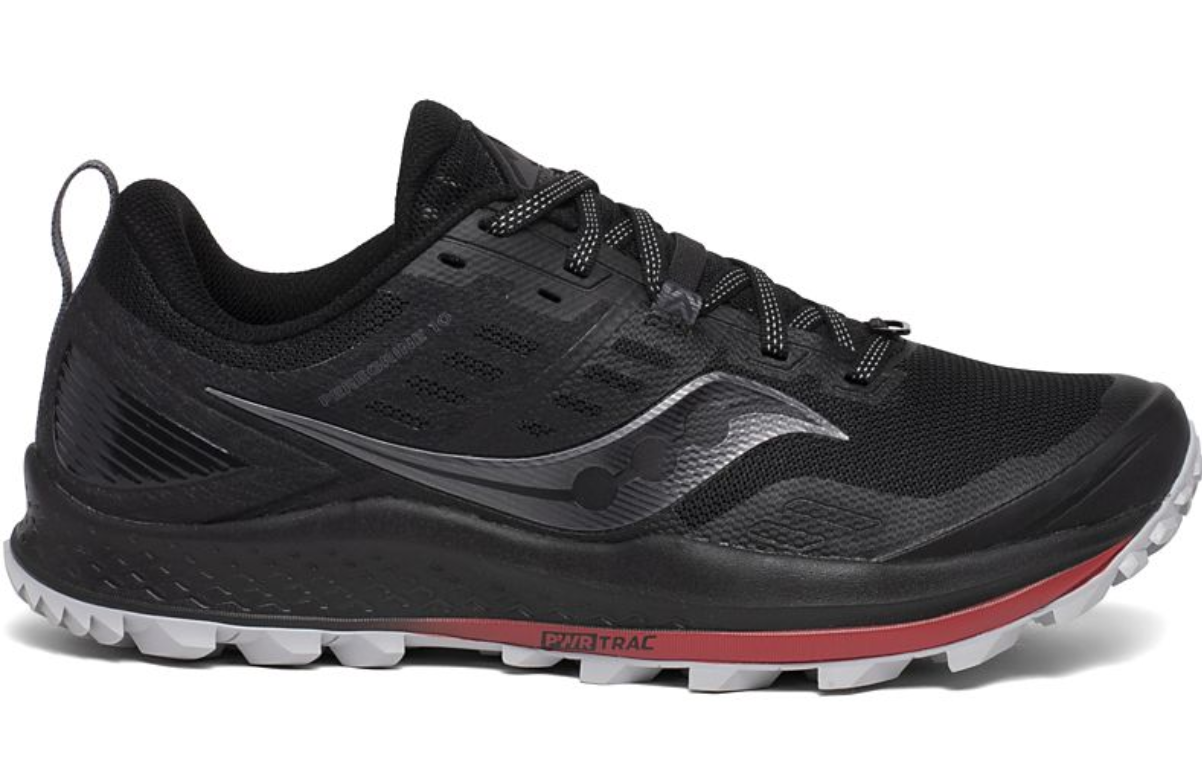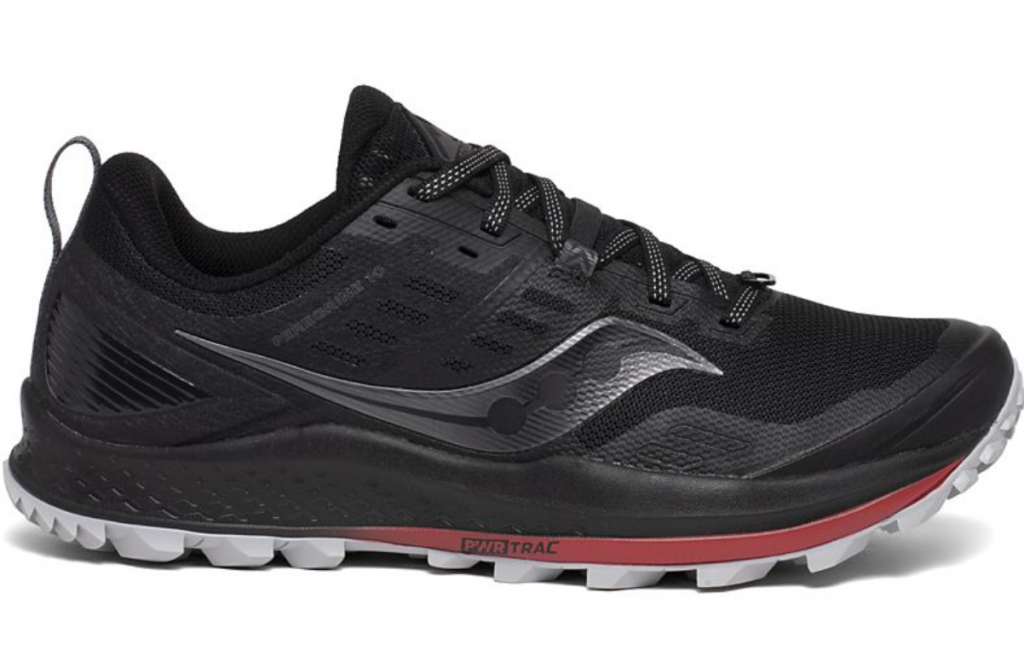 Saucony promotes this as one of their best trail-running shoes, perfect for uneven and varied terrain, climbing, and descending. It is a neutral shoe, as per most trail running shoes, and is cushioned so they have comfort but still retain that responsive edge. This shoe is great for rocky terrain. Saucony has integrated a rock plate into the sole of the shoe, so you'll be right on sharper stone surfaces. Further, the outsole has been made to work well in tough conditions that promote wear and tear. Some reviews have said the shoe is quite flexible and therefore is very responsive. Make sure to break this shoe in before you use it for longer runs, including an ultramarathon. 
This shoe weighs 10.7 ounces for men (303g) and 9.3oz for women (264g), and has a 4mm heel-to-toe drop. It currently retails for $120 as per Saucony's website.
Shoe 4: Salomon Sense Ride 2
Different from the S Lab Ultra discussed above, this shoe is perfect for both training and racing and works well on most terrain. This is the perfect shoe if you're new to ultramarathon training and don't want to invest in a specific racing shoe just yet. Salomon discusses their technologies for each part of the shoe. The outsole is what they label, 'Contagrip MA', which is a sole that is composed of different compounds of varied densities. In utilizing this material, different parts of the sole of the shoe can be harder or softer, as required for the style of shoe Salomon are designing. This ensures that the shoe will likely last longer on varied surfaces. Where the shoe is more likely to wear down (the edge of the heel, as an example), the compound will be higher density and more rigid as a result. The Midsole of the shoe uses 'Vibe' technology (it is written on the side of the shoe) – to which Salomon explains "attenuates vibrations" to optimize shoe responsiveness in contact with the ground. To put it more simply, the shoe is designed to absorb shock and adapt appropriately for the comfort of the wearer. The Chassis (the framework or membrane of the shoe to put it in other words, i.e, the insole board or structure), is designed to prevent feeling rocks or sharp surfaces on foot.
I do like how they used a quick-lace system for this shoe. It makes life a little easier. If you're not a fan of this, you could buy laces to lace the shoe normally. I also like the rigid toe box so if you hit large rocks with the front of your foot, or trip up, you don't get a nasty bloody toenail as a result. This is a big must for me when buying a durable trail shoe. 
The Sense Ride 2 has an 8mm heel drop, and weighs This shoe won't break the bank, at $84, down from $120 as per Salomon's website.
Shoe 5: Asics Gel-Fujitrabuco 8
I have personally used these shoes and really enjoyed them. My feet feel supported for a trail shoe, and I don't feel the rocks underfoot. For me, this is a big bother if the trail has a lot of stones and I know I'll be out there for a while. The shoe has a rock protection plate in it, which is great. Asics praise this trail-running shoe for its comfort and durability, alongside excellent traction on the sole. I can confirm that the sole grip on this shoe is great, I've tested it out in some pretty muddy conditions, such as Boise's wet, muddy foothills sand. It makes for a whole lot nicer of a run. 
In terms of shoe tech, Asics claim that their ASICSGRIP outsole has bettered the traction on the shoe for wet and slippery surfaces, and uneven terrain. Stability is also an important factor for those who require or desire a bit more support, especially over the ultra-distance. Asics explains that they have improved this on the latest model of the Fujitrabuco, compared to the 7. The shoes also have reflectors on them, great for racing or running at night (in which most ultra's you will be!)
One thing I did notice was the shoe isn't too heavy, even though it looks it from the photos online. I was quite surprised when it arrived and felt how light it was compared to my expectations. It weighs around 12.2oz or 346grams, with an 8mm heel drop. These shoes won't hurt the wallet too much, coming in at around $130. 
What shoes do ultra-marathon runners wear?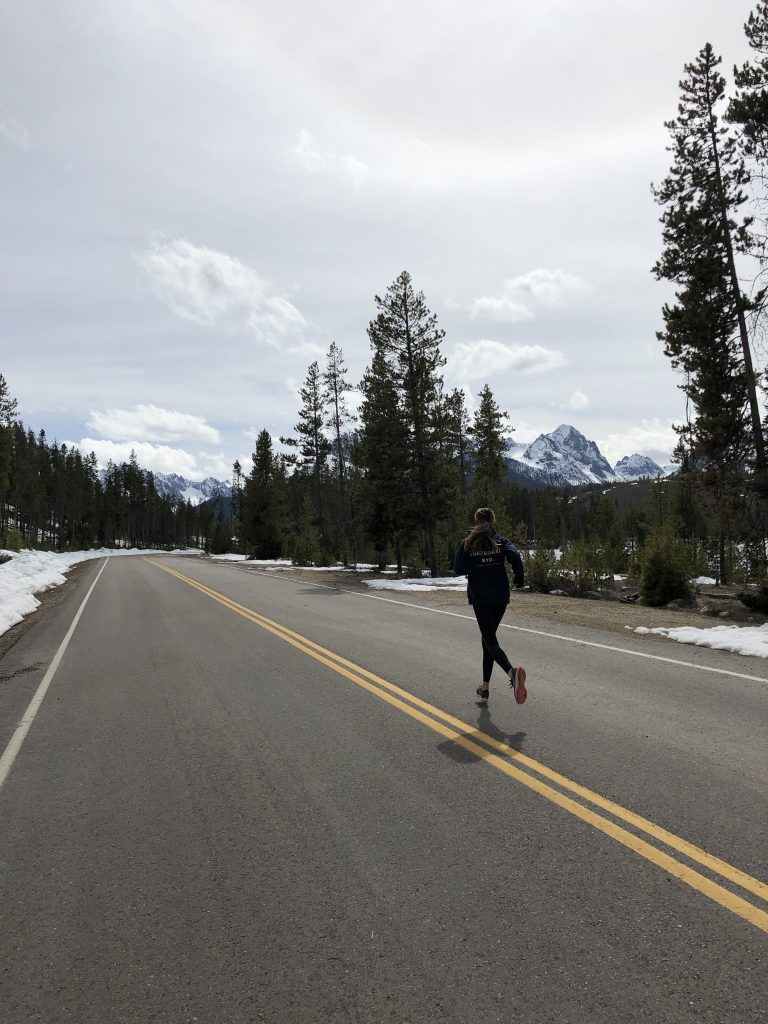 Ultramarathoners wear shoes that are going to last a few tough training sessions, race day, and perform optimally on trails which vary in terrain, incline and can last in unpredictable weather conditions. There isn't one specific shoe that is going to work better than another as it isn't one-size-fits-all. Also, most people are looking to spend within a range to suit their budget. I recommend trying shoes on in-store if this is possible, or ordering a few pairs and returning the ones that aren't suitable. Most places allow for this, especially in these times. Otherwise, read up as much as you can on shoes, and get the advice of teammates, friends, or family in the sport (this is where this post can help out as well!) You'll assist yourself on the path to achieving your best and being the best ultramarathon runner you can be in a pair of shoes which you feel the best in and are right for your foot type. Which leads perfectly into the next question….
What are the best shoes for running ultramarathons?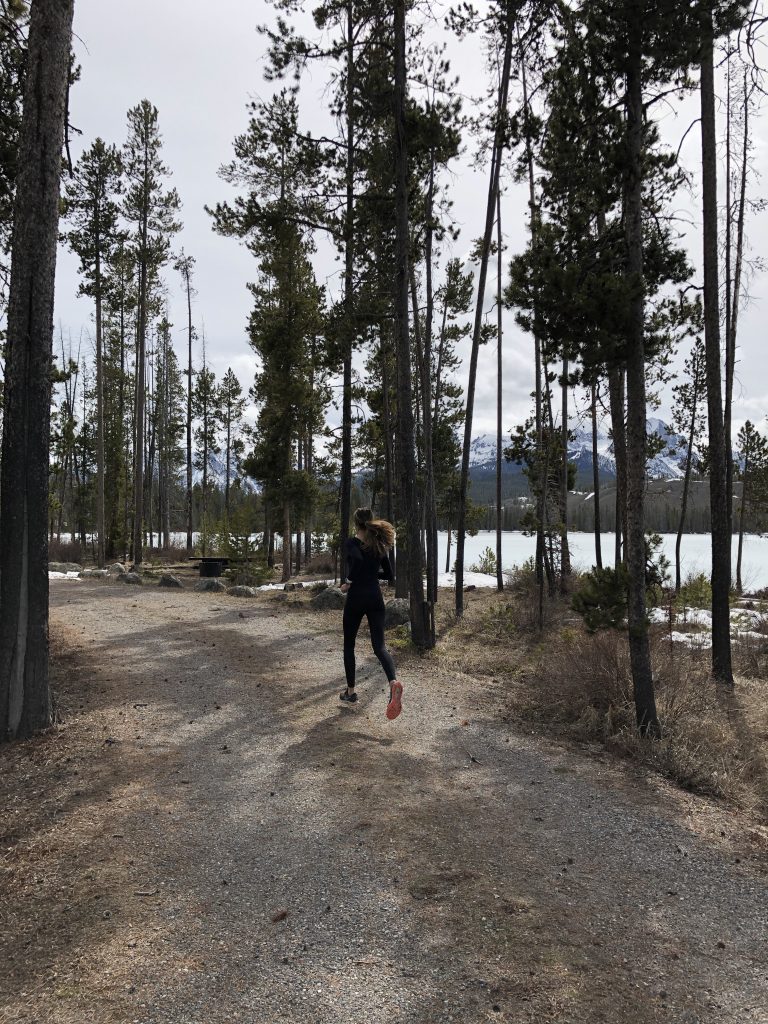 Any one of the shoes discussed above may be right for you and your goals, training load, foot type, and injury history (if any, hopefully not too much). There are a few more brands that I didn't discuss which do good ultramarathon running shoes. Here are some you can check out:
As I always stress, take into account your foot type. For example, I have narrow feet, one foot is half a size bigger, and I pronate slightly more. So I'm going to look for a shoe that is slim fitting, doesn't irritate the heel or Achilles of my bigger foot, and has slightly more stability or a stability piece integrated into the model of the shoe. Most ultramarathon shoes are neutral in design, as this is best for varied terrain and prevention of ankle sprains. The shoe is more flexible and your foot can adapt to the changes in terrain easier with this type of fit.
It's also important to consider cushioning and heel-to-toe drop, as the higher the shoe is off the ground, the more likely you are to sprain an ankle. For me, this is a no-go, particularly when fatigue hits, and my step or stride is prone to becoming more clumsy in a race or session. 
What shoes do elite ultramarathoners train in?
The best wear the shoes they feel most comfortable and confident in. They definitely trial and test their shoes before race day, whether it's in speed specific, race-specific or base-building training sessions. Know the shoe and how it works. I know of elite ultramarathoners who swear by Salomon and others who love Saucony. It really is about personal preference. Often companies that align better with the outdoors scene, trail running specifically and are known for durable, reliable gear, will draw in the ultramarathon crowd on a larger scale. 
 Keep in mind, most elites have a sponsorship of some sort, so it is likely they'll be sporting a specific model of their sponsorship line of shoes. They'll probably promote them too, on social media and on race day. Also, to end on a nice note, I saw plenty of these beautiful wildflowers which have just started to bloom on the trails today. What a beautiful time of year to be clocking in mileage….